Filtered By: Scitech
SciTech
Govt: 56 provinces 'critical' as Hagupit approaches PHL
At least 56 provinces in parts of Southern Luzon, Visayas and Mindanao have been deemed critical areas as Typhoon Hagupit approaches the country.
The list was disclosed during a meeting of the National Disaster Risk Reduction and Management Council and PAGASA on Wednesday afternoon.
Of the 56 provinces, 44 are in Alert Level C, and may suffer heavy damage to agriculture and disruption of travel and electrical power.

Provinces under Alert Level B are expected to suffer moderate damage to agriculture with rain of five to 10 mm/hr (moderate to heavy) and winds of 30 to 60 kph.

Metro Manila is in the list under Alert Level A, with rain of 5 to 10 mm/hr (moderate to heavy), and winds of 30 to 45 kph.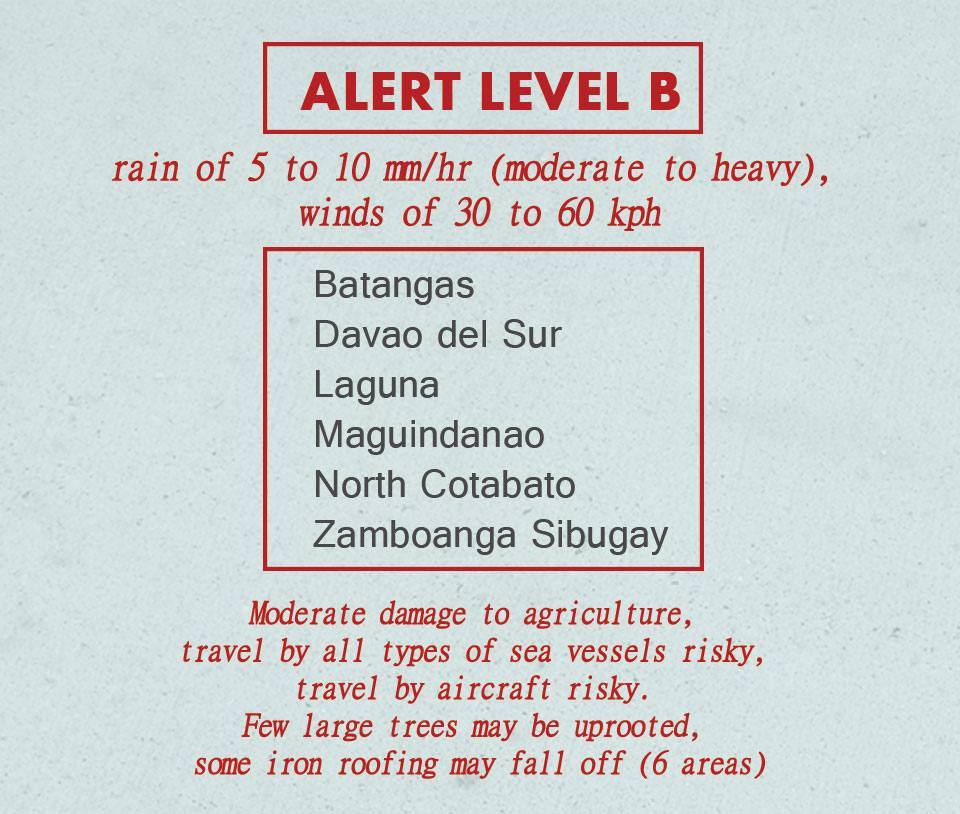 Standby funds
A separate report by radio dzBB's Divine Reyes said the Department of Social Welfare and Development has set aside a standby fund of P18,000,771.68 in its field offices.
NDRRMC executive director Alexander Pama said the agency would adopt a "twinning system," wherein authorities in a region would take over its twin region's regional operations if the latter was severely affected by the storm.

"Kung tatamaan pati ang mga magreresponde, magkakaroon ng twinning," he said.
Food, supplies sent
The Philippine government on Wednesday sent food and medical supplies to central provinces on the path of a category 3 typhoon, with many of them still reeling from devastation brought by super typhoon Yolanda (Haiyan) late last year.
Residents of coastal villages and landslide-prone communities were told to move to government-designated evacuation areas, as typhoon Hagupit (Filipino for lash) barrelled towards Eastern Samar province in central Philippines with winds of up to 140 kph and gusts of up to 170 kph.
Hagupit is currently hovering over Palau islands and is expected to pick up strength before hitting eastern Philippines on Saturday. Tropical Storm Risk forecasts Hagupit will become a category 4 typhoon in 36 hours.
"Definitely we will now strictly enforce forced evacuation," said Jerry Yaokasin, vice mayor of Tacloban City in central Philippines.
"We have no more excuse, we have gone through Yolanda, and to lose that many lives, it's beyond our conscience already," he said, referring to typhoon Haiyan which left more than 7,000 dead or missing in November last year.

'Worst-case scenario'

Tacloban City, worst-hit by the strongest storm ever to make landfall, accounted for more than half of the dead from Yolanda. Nearly all of the city was either flattened or damaged.
While Hagupit is weaker than Yolanda's 250 kph winds, it is expected to bring 3-4 metre high storm surges, topple houses made of light materials and uproot trees, said officials at the state weather bureau, adding there was a 75 percent chance the typhoon will hit land.
"We are on a worst (case) scenario," Landrico Dalida Jr, deputy administrator at the state weather bureau Pagasa, said at a media briefing, adding there was a 25 percent chance Hagupit may veer north and miss Philippine coasts as it heads to Japan.
The Southeast Asian country was hardest hit by extreme weather in 2013, said a report by a German government-funded think tank Germanwatch.
Concerns over extreme weather have been exacerbated by an apparent shift in storm paths, with southern regions hit by powerful typhoons in the past three years. About 20 typhoons strike the country each year, most hitting the north along the main island of Luzon. —Joel Locsin with a report from Reuters/NB/KBK, GMA News