Filtered By: Scitech
SciTech
Maysak now a super typhoon, PHL mayors told to 'stand guard'
(Updated 12:27 a.m., April 1, 2015)
Maysak grew into a super typhoon over the start of the week, laying waste to several Pacific islands as it continues to make its way to the Philippines. It is expected to weaken en route to the country, but local government agencies are still bracing for the worst.
The US' Joint Typhoon Warning Center (JTWC)
upgraded Pacific cyclone Maysak into a super typhoon
as of 5 p.m. Philippine Time on Tuesday, March 31.
At the time, the JTWC said Maysak was packing maximum sustained winds of close to 260 kph and gusts of over 300 kph.

Weather service PAGASA, in a 10 p.m. tropical cyclone update, located Maysak 1530 kms east of Surigao City, moving west-northwest at 20 kph.
"Chuuk was devastated," lawyer Kembo Mida said in an email to the Ayuda Foundation relief organisation which is based in Guam about 1,000 km away.

Set to weaken after entering PAR
Maysak is still on track to enter the Philippine Area of Responsibility (PAR) late Wednesday at the earliest, but its effects won't be felt in the Philippines itself until the upcoming Easter weekend.
Upon entry into the PAR, Maysak will be given the local codename "Chedeng."
The JTWC's forecast track as of 5 p.m. indicates that Maysak's strength may peak at 270 kph just before it crosses into the PAR and may weaken to 195 kph by the time it approaches the Philippines on Saturday.
The same forecast predicts possible landfall in Aurora on Sunday with a strength of 176 kph.

Additional data from The Weather Company indicates that Maysak/Chedeng will bring rain to Bicol and Eastern Visayas as early as Saturday.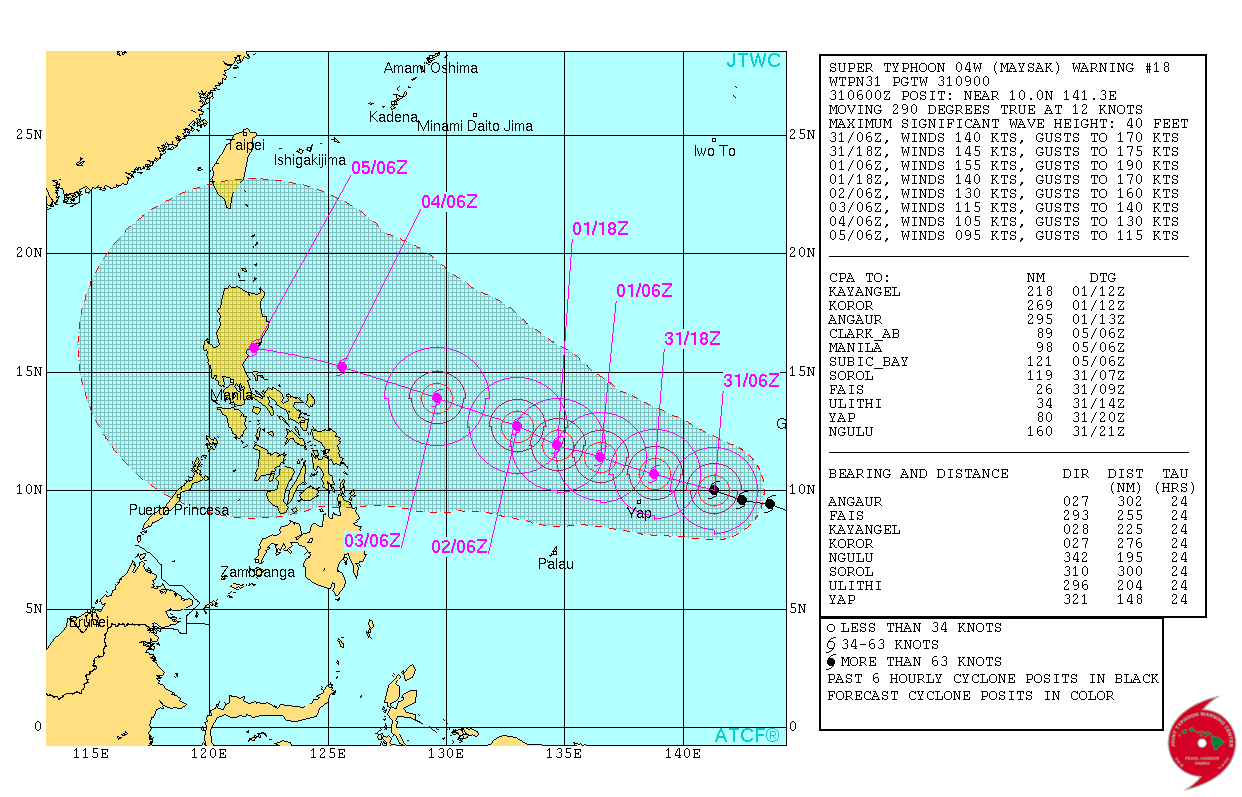 Government preparations
However, although it may no longer be a super typhoon upon reaching the country, Maysak/Chedeng will still be a formidable cyclone to contend with.
"Malayo pa lang ang bagyo, ready at listo na dapat tayo sa posibleng hagupit nito," Roxas told provincial governors and mayors of cities and municipalities.
Roxas, who is also the vice chairperson of the NDRRMC, said it would be the mayors who will be the first responders in disaster situations.
"They should man the command centers in their respective localities," he said. —With a report from Agence-France Presse and Amanda Fernandez/NB, GMA News