Marsila's father Mansul, the man with kind eyes, earns a living by farming agar-agar, a kind of seaweed used for food, cosmetics, and bioplastic. It is the main livelihood in many impoverished communities in Tawi-Tawi. Rows of seaweed growing just under the sea surface cover hectares of coastline, thriving in places with a gentle current and generous sunlight. Agar-agar is easy to cultivate and grows year round. But even as local and international demand for the raw material continues to rise, small-time farmers here earn a pittance.
Mansul only brings home around 6,000 pesos (114 USD) on a good month, not nearly enough for the needs of his family. They scrape by. Options were limited for the man who only finished two years of basic education.
But it wasn't just poverty that sealed his fate early on. It was also poverty's terrible inward twin: despair. Mansul's father, grandfather, uncles, and neighbors all eked out a meager existence from the sea. And so, at a young age, too young in fact, Mansul surrendered to a gnawing sense of the inevitable.
"I thought it would be more useful to start earning early instead of going to school," Mansul explained. "Why study if I would end up a fisherman too?"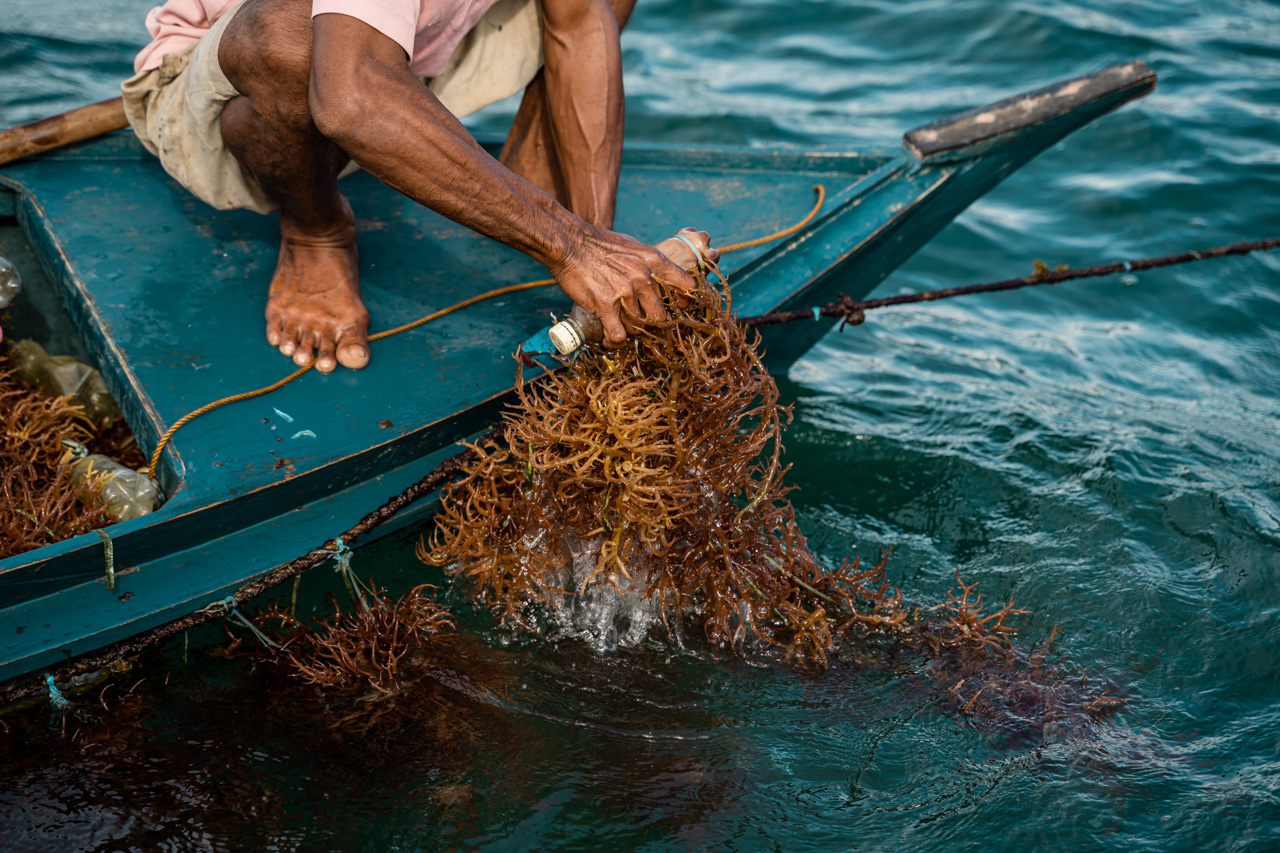 Harvesting agar-agar.
But for his children, the fisherman, his face pitted and pockmarked with regret, now permits himself to dream. "I want Marsila to be good, like the other kids who go to school." Mansul said. "She's very bright. I can see that she understands the lessons right away, without the need for repetition."
After class, Marsila practiced her writing under the watchful guidance of Teacher Sidang. Hers was a tiny world, radiating from their house to the edges of the mangrove forest, a tangled no man's land where large crocodiles still lurked. For Marsila, each day with Teacher Sidang was a special occasion, a break from a daily life of planting cassava, playing with their cats, and being a dutiful daughter.
It wasn't just Marsila's vivacity that endeared her to Sidang. She had a kindness and concern that seemed preternatural for her age. These lessons meant so much to the young girl because she wasn't just learning for herself.
She was passing on her precious knowledge to her illiterate parents too.
Marsila and her parents presently sat near the door of their single, shared room. It was fastidiously clean and well-ordered, an emerging theme in this community, as if it were a last defiance against the indignity of being poor. Marsila read her modules out aloud, pausing to allow her mother and father to follow along.
Ang mga sumusunod na larawan ay halimbawa ng kulay ng itim.

Madilim ang langit sa panahon ng bagyo.

Ilan pang halimbawa ng mga bagay na may kulay itim.
And what were these lessons for? In their advanced years, Marsila's parents did not think this education would be useful for further employment. Bu it could prove handy in case they needed to sign documents, which, to the illiterate, can be a terrifying affair. And there was another reason why Marsila played the role of teacher in their household. It was late February, and while this remote community had not yet been gripped by the frenzy of catch phrases, campaign rallies, and colors of the fast approaching national elections, it was, nonetheless, a much anticipated affair.
Marsila, all of eight years old, was determined to teach her mama and papa how to vote on their own.