Filtered By: Sports
Sports
Pacquiao 'sincere' in desire to make bout versus Mayweather for charity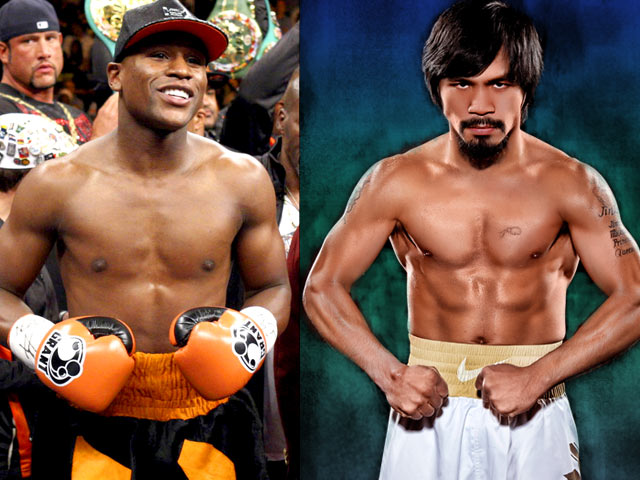 Manny Pacquiao is said to be sincere in wanting a charity fight with Floyd Mayweather.
The looming announcement of his rematch against Timothy Bradley does not mean that Manny Pacquiao has completely forgotten about his challenge to Floyd Mayweather for a charity fight.
"I spoke to Manny tonight and he said, 'With both of us being wealthy, it's our turn to pay back the people and to give to the less fortunate.' That's a quote from Manny. This is a statement that Manny has made that's sincere," said Pacquiao's right-hand man Michael Koncz
in an interview with Ring Magazine's Lem Satterfield.
"Everybody that knows Manny knows that he does tremendous humanitarian work, and that he's always helping the less fortunate. The drug testing is not an issue. There is nobody getting paid. The promoters would be allowed to withdraw their expenses, and the purses would go to legitimate charities."
Koncz added that Pacquiao finally talked because of past statements made by Mayweather claiming that the eight-division world champion is desperate for a fight because of his tax woes.
"The fact that Floyd made the comment a few weeks ago that we're like an old dog chasing a bone and we need the money and that's why we want to fight him, that's totally not true," Koncz added.
"The fight would mean history, and Manny wants the fight with Floyd, and if that's what the fans want, then that's No. 1. No. 2, I don't believe that its ever been done before where the entire purse has been given away to charity in a fight of this magnitude. Manny is dead serious about that, and he's willing to do it."
However, before a Pacquiao-Mayweather fight - for charity or not - can be made, the fighting Congressman needs to hurdle Bradley in April. Mayweather has often lambasted Pacquiao based on his losses to Bradley and Marquez, and another defeat to the reigning WBO welterweight champion might mean that the mega-fight the boxing world has been dreaming about since 2010 will never come into fruition.
Arum,
in a different interview with Satterfield
, noted that they are close to formally announcing the Pacquiao-Bradley rematch.
"I believe that the issues are being narrowed down, and I'm optimistic," Arum said.
Koncz added that the choice was pretty easy to make for Pacquiao. "Marquez took himself out of the picture early, and Ruslan [Provodnikov], he's a tremendous fighter and he has a good style. But again, we have to look at the marketability of the fight and what we think," he said.
"We want this fight because No. 1, that's Manny's request. Manny wants to get back what he lost on a controversial decision to Bradley, and that's his WBO championship belt. He wants to prove to the fans that it was a very controversial win and that the outcome could be different this time."
- AMD, GMA News