Filtered By: Sports
Sports
PHL figure skater Michael Martinez advances to next round in Olympics
(Updated Feb. 14, 4 a.m.) Michael Christian Martinez, the first Filipino and Southeast Asian figure skater to compete in the Winter Olympics, has advanced to the free program, set for Friday.

Skating to the evocative love song from the movie "Romeo and Juliet," the 17-year-old Martinez finished 19th among the top 24 who qualified. He got a score of 64.81 in the short program at the Iceberg Skating Palace in Sochi, Russia on Thursday.

Martinez, the sole Olympian of the Philippines in 2014, was the fifth to perform in a field of 29 other skaters from 21 nations.

The Pinoy teen was described in the Olympic broadcast annotation from Sochi as a "charismatic performer" who showed "good flexibility" and "great performance skill for such a young man." The skating competition was broadcast live in the Philippines on TV5.

Leading the pack
Leading
the pack of qualifiers
is Yuzuru Hanyu of Japan with a 101.45 score, a new world record.
Hanyu gave a stunning display to put him on the road to Olympic gold as Russian veteran Yevgeny Plushenko called time on his long career after withdrawing injured from the Sochi Games.
In a dramatic night of action at the Iceberg Skating Palace, 19-year-old Hanyu set a new world record score in the men's short program to open up a 3.93-point lead on three-time world champion Patrick Chan of Canada.
Two-time gold Olympic medalist Plushenko had earlier stunned the crowd when he withdrew before he competed, complaining of a recurring back injury.
"Charismatic" Martinez
Martinez was described in the broadcast annotation from Sochi as a "charismatic performer."
He avoided spills and other deductions that other skaters received. Martinez did have some landing problems but executed his triple axel, inverted camel and triple loops smoothly.
He closed with a Biellmann spin, a catch-foot position that involves pulling the free foot above the head from behind.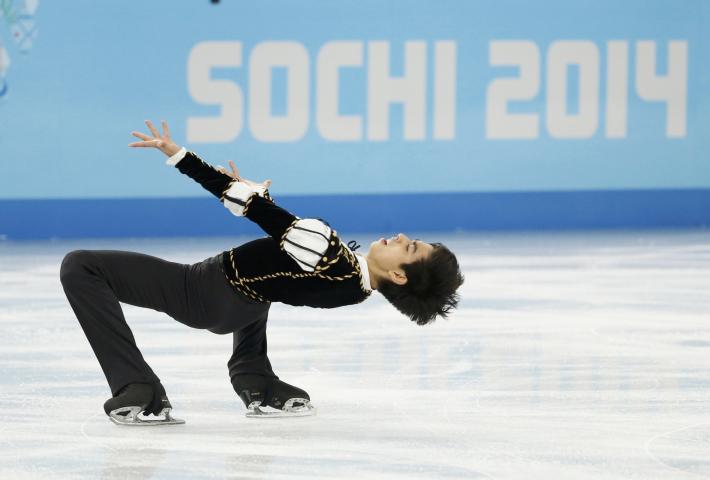 Michael Christian Martinez of the Philippines does a "Mr Frick," a spread eagle cantilever, during the Men's Figure Skating Short Program at the Iceberg Skating Palace at the Sochi Winter Olympics on Thursday, February 13. Lucy Nicholson, Reuters
For the skating events, participants first go through the short program, where they are given a maximum of two minutes and 50 seconds to complete seven required elements, mainly a double or triple axel jump, a triple or quadruple jump after connecting steps, a jump combination, a flying spin, a camel spin, a spin combination and a one-step sequence.
Martinez got a score of 6.21 for his skating skills, 6.04 for transition, 6.46 for execution, 6.36 for choreography, and 6.43 for interpretation timing, giving him a program components score of 31.50, the Sochi Games official website said.
He also got a score of 33.31 for the technical elements of his performance, with his triple axel getting a 9.07 score from the panel of judges.
Martinez's score of 64.81 put him just behind Uzbekistan's Misha Ge (68.07).
Martinez will compete Friday in the free program where a skater is free to execute his own routine and is given four minutes and 30 seconds to perform.
Gliding into the hearts of Filipinos worldwide
Moving to the love theme of Romeo and Juliet (also known as A Time For Us), Martinez of Parañaque glided into the hearts of Filipinos worldwide and Winter Games spectators.
He overcame asthma in childhood and the Philippines' tropical climate to become a Winter Games Olympian.
"I literally grew up in the hospital as I was very sick. I couldn't take up any sport. I tried outdoor sports when I was younger, but I easily got asthma attacks, so I stopped," Martinez recalled.
"I had asthma maintenance medicine when I started skating, since the cold in the rink makes me sick too. But year after year my health keeps improving, so my mother fully supported me to continue skating. She said it's better to spend the money on skating than in the hospital," he added.
Martinez began figure skating in 2005 when he was still eight years old. His formal training started in 2010 in the United States.
"He was shopping with his mother in a mall in Philippines when they walked past an ice rink and he saw skaters spinning and jumping. He told his mother he wanted to try figure skating, and he immediately enjoyed it," said an entry on the
website of the Sochi Games
.
Martinez spends 15 hours training during the low season and 25 hours in the high season. "During both seasons he divides his training time between Manila, Philippines, and California, United States," the Sochi Games website quotes the International Skating Union.
The ISU ranks Martinez at 30th in the world as of February 3, 2014. He was fifth in the 2013 World Junior Championships in Milan, Italy where he gave a personal best score of 67.01 in the short program.
Also prior to Sochi, Martinez' season best was 64.03 in the short program of the JGP Riga Cup in Agust 2013
Mall skating rink
It would not have happened without
indoor ice rinks at malls
. Unlike countries with winters, Filipinos cannot learn on frozen lakes or rinks at public parks.
In addition, aspirants who wish to be world-class figure skaters like Martinez need money. A top-caliber skater may shell out P50,000 to P75,000 per month for lessons and equipment.
"A skater has to go the extreme, he has to choose between going to a regular school and training," said Noel C. Resultay, the operations manager for ice skating at SM Southmall, where Martinez trained. "Michael opted to have a home study program to concentrate fully on his training."
"World-class Filipino"
Even before Martinez qualified, netizens watching the televised performance—some of whom were watching the event for the first time—were tweeting messages of encouragement:

I think we have another World Class Filipino who will wow the world in the coming years. .. @MichaelOlympian

— Jim (@Jimparedes) February 13, 2014

Great song choice, flawless performance, 17yr old & from a country with NO winter- how can you not be proud of this boy! @MichaelOlympian

— Lia M. Del Castillo (@LiaManalac) February 13, 2014

While waiting for his score, @MichaelOlympian proudly displayed the name of the Philippines stitched on his jacket. We saw that. #Sochi2014

— Tonyo Cruz (@tonyocruz) February 13, 2014

Inaalay ko ang lahat na kurakot na pulitiko, ma qualify lang si #MichaelChristianMartinez

— ???????? ?????? (@j5c23) February 13, 2014

In an e-mail to GMA News, Martinez's mother Ma. Theresa expressed happiness at his advancing to the free program and thanked his supporters in the Philippines.
"Thank you sa mga prayers niyo. Maraming salamat," she said.
Here's Mrs. Ma. Theresa Martinez's email to @gmanews after Michael's performance. | via @mariaausente pic.twitter.com/MEqTcjoEdL

— GMA News (@gmanews) February 13, 2014
— with reports from Renee Fopalan and Reuters/AMD/JDS/ELR/HS, GMA News