Filtered By: Sports
Sports
Meet figure skater Sofia Frank, Philippines' representative to Nebelhorn Olympic qualifier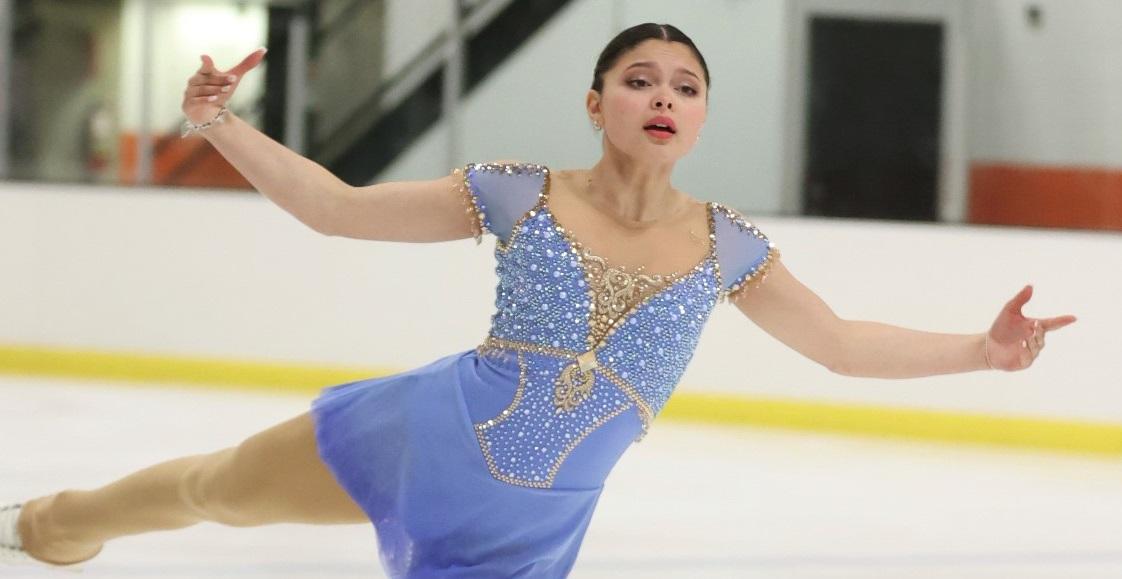 LOS ANGELES — Sofia Frank was only three years old when her father brought her to the Pasadena Ice Skating Center to cool off one hot summer day.
There, she saw little girls wearing pretty outfits, stumbling to make their way on the ice and doing little jumps.
"I immediately fell in love with ice skating and I asked my parents that I wanted to be able to do the same! I asked my parents if I can have lessons too," she said.
Sofia is the third child of Binibining Pilipinas Maja 1990 Precious Tongko and Noah Frank. Both parents are supportive of her passion for figure skating, which also spilled to her sister Natasha.
When she began dedicating herself into the sport, she would wake up at the crack of dawn just to be able to take her lessons and still head to school.
"It is not the normal schedule a young student keeps but it is what I love to do," she said. "I love the feeling when you first step on the ice, the thrill of hearing the whistle from my skates after I land my jumps gives me satisfaction like no other."
Her first coaches were Natasha Adler De Guzman and Ouida Robins and she worked with them for 10 years.
To support her dream of becoming an elite figure skater, Sofia's whole family moved to Colorado Springs in 2018 to train at the World Arena, where Olympians train.
"I am currently under the dotting tutorage of the world renowned and Olympic coach Tammy Gambill and her elite team," she said.
Because of the demands of her training schedule, Sofia opted to go to an online school at Denver High School.
Aside from her primary ice skating coaches, Sofia also has secondary coaches—a ballet coach, choreographers, and a fitness coach off-ice for conditioning and strengthening.
Now 15 years old, Sofia has been selected as one of the Philippine representatives to Nebelhorn Trophy, a qualifying tournament for the 2022 Winter Olympics in Beijing.
We were able to catch Sofia during a break from her rigid six hours a day, six days a week practice schedule and below are excerpts of our conversation:
You are only 15 years old and you are already joining the Philippine team to vie for a slot to the 2022 Beijing Winter Olympics. Did you ever dream about this since you have been ice skating since you were age three?
Yes, this has been my life long goal since I have been working on it since I was three years old. It's so exciting!
Where were you when you found out about it and what was your reaction?
I was so surprised, so excited and so ecstatic when I heard about me representing the Philippines. I can't remember exactly where I was when I first heard about it but I think I was either at home or at the rink where I usually am.
I am sure you practice hard six days a week, six hours a day. Do you feel it was all worth it or do you feel you missed on things and parties for being a teenager?
At first it was hard for me because I could not hang out with my friends. But I am happy I did because of what I have achieved. I am happy with my decision.
Do you feel you are training more now?
Yes, I am training a little bit more than usual now. I am doing harder stuff and we are trying to make everything perfect, sharper and more graceful.
Tell us about the moment you fell in love with ice skating.
I loved it ever since I was little. It really makes me happy. I fell in love first with the dresses of the ice skaters and then I tried ice skating. Before I knew it, I was hooked.
Do you have a costume designer for your ice skating dresses?
My mom. She designs my costumes or outfits for ice skating.
Wow! Your mom is really talented. Talk about your parents and how they support you.
They are my Uber drivers. They drive me around and bring me to all my practices. It is so great to have them around.
Aside from designing your ice skating clothes, what values have your mom, who is also a former Bb. Pilipinas Maja, also taught you?
Everything that she does inspires me a lot. I want to be like her when I grow up.
You have a younger sister Natasha who is an ice skater too. Do you give her tips on ice skating?
She doesn't like me to give her tips. She does not like to take my advice. She says, "I am not going to listen to you" so I try not to coach her.
How do you see yourself five years from now? What are your goals?
I still see myself ice skating five years from now. And going to college as well.
You are enrolled right now in an online school, Denver High School. How challenging is it to be going to school online?
The reason I switched schools is because of my very hectic skating schedule. I needed to balance out everything because of my busy schedule because of ice skating, I barely have time to finish all my classes. Going to an online school was difficult in the beginning but I got the hang of it now.
Do you feel that you have no more time for your social life?
Mostly on weekends, I get to hang out with my friends. We either have brunch or go shopping.
When you are not ice skating, what do you do?
I go to school. I really do not do anything else.
I know you love books. What kind of books do you like?
I love reading mystery, fantasy and adult fiction.
You recently won also the gold medal in the Cup of Colorado last weekend. Can you tell us more about that?
Yes, that competition was very intense. It really prepared me for the bigger one. It is really nice to go out there and compete as a senior.
And your drive to excel not only in school but also in your extra-curricular activities?
I just love to constantly improve myself on everything. That drives me.
When was the last time you were in the Philippines?
I have never been to the Philippines. But if I ever go, I would like to go to the beaches. I heard it is really nice over there. I also love Filipino food.
Do you speak Tagalog?
Konti lang.
What do you think is the secret of your success?
There is a quote from Theodore Roosevelt where he said, "Believe you can and you are halfway there." That is the quote I live by when I was little and I still believe in it. I always say it to myself.
—MGP, GMA News