Filtered By: Sports
Sports
MPL PHILIPPINES
RSG PH sweeps Nexplay Evos, solidifies hold on 3rd spot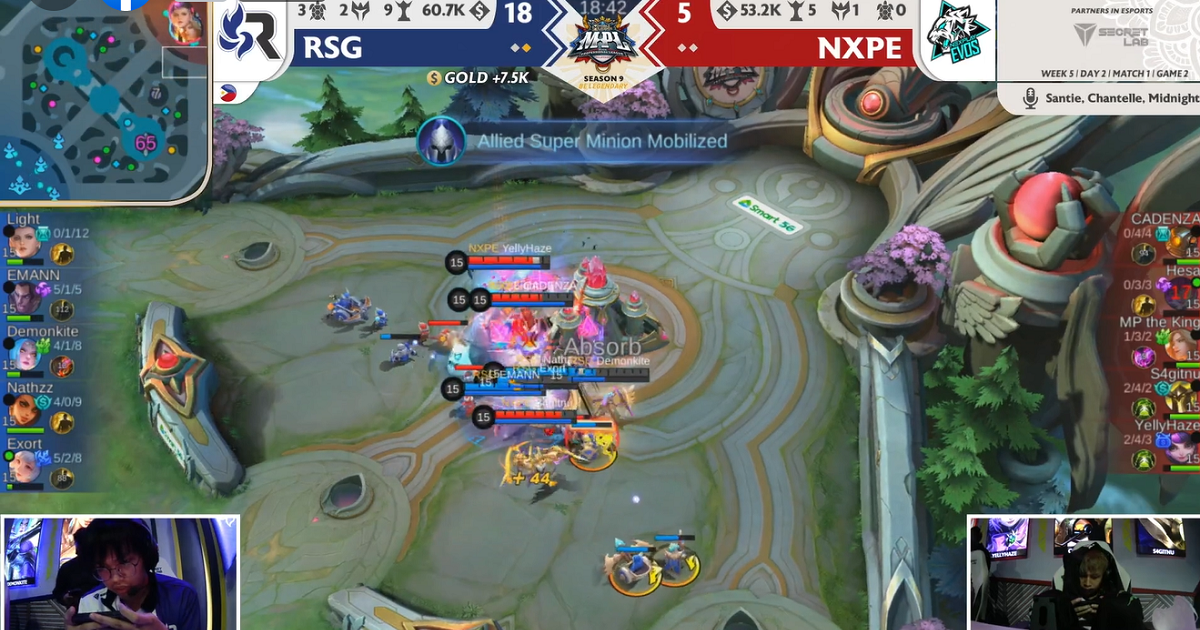 RSG Philippines scored their sixth win of the season with a dominating 2-0 sweep of Nexplay Evos in Week 5 of the Mobile Legends: Bang Bang Professional League (MPL) Philippines Season 9 on Saturday.
RSG completed both games of the series in less than 19 minutes with both matches ending with a superb 18-6 kill lead in their favor.
They now boast 16 points and sit at third place while NXPE fell to fifth place with 11 points.
NXPE's surprising Khufra exp lane in Game 1 was quickly punished by a red hot Nathanael "Nathzz" Estrologo (Yu Zhong) who took two kills at the 1st minute mark.
RSG banked on the early game superiority right away to post a 7-3 kill spread by the 7th minute.
The Coach Panda-mentored squad then converted a 10th minute 3-1 tradeoff into a 12th minute luminous lord take to cruise to an easy opening win.
RSG did not let up in Game 2 as they easily imposed their will, taking a 3k gold lead on a 4-0 kill spread at the 7th minute that they extended to a whooping 10-0 kill tally by the 10th.
Although Michael "MP the King" Endino (Lancelot) managed to extend the match after taking a clutch luminous lord steal in the 13th minute, it didn't take long for the sweep as RSG scored a decisive pick off on Jhonwin "Hesa" Vergara (Beatrix) leading to an unstoppable final base turret push.
—MGP, GMA News