Filtered By: Sports
Sports
Alcaraz ends Djokovic's reign to win Wimbledon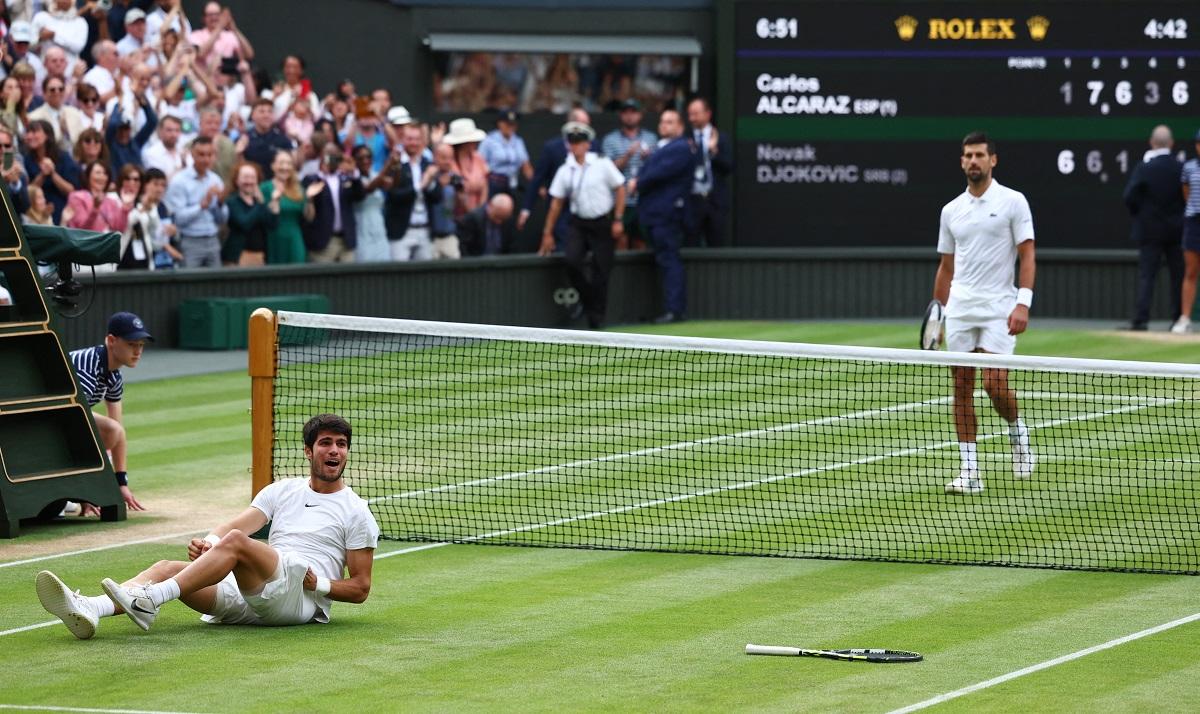 LONDON — When Novak Djokovic fell face down on the dusty Center Court baseline early in the fourth set of Sunday's blockbuster Wimbledon final against Carlos Alcaraz, for a second he looked in no hurry to rise up and rejoin batt
Of course, he did, because you do not have 23 Grand Slam titles in the bank by ducking a fight in moments of crisis.
But this time, not even the elastic-limbed Serb's warrior spirit nor the tennis super-computer lodged between his ears could prevent the force of nature on the other side of the net from seizing his Wimbledon throne.
Young pretenders have repeatedly tried and failed to take Djokovic down at Wimbledon -- Matteo Berrettini in the 2021 final and Nick Kyrgios last year.
But this time, the 36-year-old could not resist the most special of them all as Alcaraz, 16 years his junior, completed a remarkable 1-6 7-6(6) 6-1 3-6 6-4 victory to become the youngest winner since Boris Becker in 1986 and only the third Spanish man to win the title after Manuel Santana and Rafa Nadal.
That he did it with Djokovic still at the peak of his powers and halfway to a calendar-year Grand Slam, made it feel like a seismic moment in men's tennis.
"I've won some epic finals that I was close to losing so it's fair and square," Djokovic, who saved match points when beating Roger Federer in 2019, told reporters.
"Credit to Carlos, he showed amazing poise in the crucial moments to play attacking tennis and close out the match the way he did. Some regrets, I had my chances, but credit to him. He was a deserved winner today."
Crowd appeal
Alcaraz's infectious personality and crowd appeal is a godsend for a sport that has waved goodbye to Federer and Serena Williams and is preparing to do so to Rafa Nadal.
But he played down talk of a changing of the guard.
"I did it for myself," he told reporters later wearing the distinctive bucket hat adopted by some of the Spanish media.
"Beating Novak at his best, in this stage, 10 years unbeaten, making history, it's amazing for me. It's great for me and I think for the other young players."
If further proof were required that Alcaraz, who was four when Djokovic won his first Grand Slam tile, is the future, it was provided in spades during a thrilling roller coaster of a final played out in front of a transfixed Centre Court crowd, including Spain's King Felipe, that broke out into chants of "Carlos Carlos" throughout the match.
The bull-like Spaniard, playing only his second Grand Slam final compared to Djokovic's record 35, might have folded after being schooled by the master in a 34-minute opening set.
But he shrugged that off, plugged into the crackling energy inside the old arena and seized control with the sort of spellbinding shot-making and clear thinking that might have had Djokovic feeling like he was playing himself in a mirror.
Stunning quality
Djokovic, bidding to match Federer's record eight men's singles titles and move level with Margaret Court's all-time Grand Slam haul, rued the backhand he netted when he had a point for a two-set lead in a tense tiebreak at the end of an 85-minute second set of stunning quality.
When Alcaraz then broke Djokovic's serve in a leg-sapping 26-minute duel on his way to taking the third set and threatened to break early in the fourth he was in total control against a rattled Serb, irritated by the crowd and the wind.
Djokovic, hanging on desperately to his unblemished 10-year record on the world's most iconic lawn, was not done though and dragged the contest into the fifth-set decider it deserved.
Few would have bet against him prevailing, after all in the previous 77 matches at Wimbledon in which he won the opening set, he had gone on to win. But Alcaraz changed the script.
At 1-1, Djokovic had a break point and sent Alcaraz to all corners of the court, only to thump a high volley into the net with the court open. One game later, he destroyed his racket into the wooden net post after Alcaraz drove a backhand winner past him to snatch what turned out to be the decisive service break.
Djokovic duly earned a second warning of the match, after an earlier one for taking too long to serve, and was lucky the shards of his mangled frame did not fly into the crowd.
The only question then was whether Alcaraz could hold steady and grab the title. Djokovic forced the top seed to serve for the trophy, the ultimate test of nerves.
But Alcaraz was ice cool. A teasing topspin lob, a stretching volley and beefy first serve got him to match point and then a hefty forehand ushered in a new Wimbledon era. — Reuters