Filtered By: Topstories
News
PNoy gives Galing Pook Awards to 10 outstanding LGUs
President Benigno C. Aquino III on Monday gave 10 outstanding local government units (LGUs) the Galing Pook Awards for exemplary programs on health, education, justice, and community building. The awarding ceremony in Malacañang Palace recognized the 10 best new and innovative local governance programs that led to an empowered citizenry and "enhanced service delivery."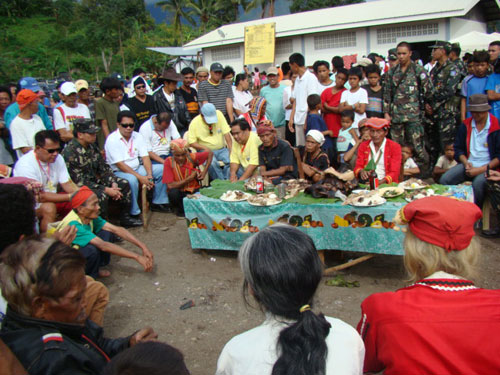 Misamis Oriental's Sitio Lantad: From a war zone to a trade and commerce hub
The 10 outstanding local government units include:
Albay Province: Health strategy for MDG attainment

The province gave top priority to the Millennium Development Goals in 2007, and was certified by Philippine Health Insurance Corp. as "close to universal health coverage." This helped reduce child mortality, improve maternal health care, eradicate extreme poverty and hunger, and ensure environment sustainability.
Real, Gen. Nakar, Infanta and Panukulan in Quezon Province: Community-based mental health management

After the 2004 flash floods claimed the lives of thousands in the municipalities of Real, Gen. Nakar, Infanta and Panukulan, mental distress was rampant among the survivors. With community-based mental health support program including psychiatric consultations and administration of medicines, cases of post-traumatic stress disorder and other psychological problems significantly dropped.
Limasawa, Southern Leyte: Poor municipality can eliminate malnutrition

The 6th class district proved that discipline and "ingenious strategies" could help address malnutrition. With its "innovative nutrition plan," the prevalence of malnutrition among pre-school and schoolchildren and adults was significantly reduced.
Alimodian, Iloilo: Bringing high schools closer to home

The collective effort of the LGU, Department of Education, and Parent-Teacher Association helped established four new high school campuses in town, where there used to be only two high schools accessible to its youth.
Bohol Province: Rabies prevention and elimination

A massive campaign against rabies allowed Bohol to declare the province as rabies-free. The Rabies Prevention and Elimination Program, which started way back in 2007, was initially spearheaded by 124 government employees, and is now taught to elementary students.
Maribojoc, Bohol: LGU-led cadastral survey

Boundary disputes among neighbors were reduced after the municipal government of Maribojoc joined the Department of Environment and Natural Resources' Land Administration and Management Project 2. The land survey also raised real property tax collection and reduced land-grabbing incidents.
Sarangani Province: Justice on Wheels

Disposition of cases involving indigent litigants was fast-tracked after the Justice Enhancement and Empowerment Program was promulgated. A bus, which was converted into a courtroom and deployed in municipalities, was able to "halved provincial jail inmates."
Misamis Oriental: Turning red to green

From a war zone to a hub of trade and commerce, this was the master plan of Misamis Oriental. Indeed, this dream came to life "through sincere and concrete efforts to reach out and make a difference in people's lives." Roads were built, giving access to and from Sitio Lantad, and subsequently earned the "trust" of Higaonons, the province's indigenous people.
Upi, Maguindanao: Rural community e-center

Community e-Center in Upi, Maguindanao paved the way for its citizen to "better access" information that could "improve their situation." The center offers information and communications technology services that lead to its venture into the broadcast media in Maguindanao province.
Zamboanga del Norte: Empowering the Subanen people

The indigenous Subanon tribe was encouraged to "participate in community development and government processes" with the help of the Provincial Indigenous People Coordinating Unit. The organization was able to empower the Subanons "economically, socially and politically."
Seven of the 10 LGU awardees on Monday were recipients in the past, including Sarangani, Misamis Oriental, Upi, Zamboanga del Norte, Infanta, Bohol and Albay. The Galing Pook Foundation received 137 entries for this award, of which, 55 were from Luzon, 33 from Visayas and 49 from Mindanao. The Galing Pook Foundation works in partner with the Ford Foundation, Land Bank of the Philippines, Development Bank of the Philippines, and Local Government Academy.
— With Rouchelle Dinglasan/VS, GMA News