Filtered By: Topstories
News
Government, not corporations, in charge of post-Yolanda rehab – OPARR
"Sinubdivide ng OPARR (Office of the Presidential Assistant for Rehabilitation and Recovery yung devastated areas into 24 development areas, at ibinigay (sila) to corporations. Maraming problema na ang lumabas diyan. To some extent, that is unconstitutional and in violation of the
Local Government Code
," PMCJ National Coordinator Gerry Arances said in an interview with GMA News Online on Wednesday.
"Sino ba dapat ang nagde-develop ng isang ekonomiya o ng isang lugar? Governance issue iyan. Hindi mo puwedeng ibigay ang papel na [iyan] sa corporations," Arances said, adding the matter should be left to the national or local governments.
The 'adopt-a-town' mechanism
Presidential Assistant for Rehabilitation and Recovery Panfilo Lacson said at a forum in January that they "put up for adoption" 24 development areas consisting of 171 cities and municipalities that were damaged by Typhoon Yolanda last November.
"At least nine development sponsors (took) the lead in the construction and rehabilitation of 16 out of 24 area cuts. Ten sectoral sponsors likewise committed to support the needs for education, health, housing, and livelihood sectors," Lacson said then at the Experts Forum on Rebuilding Communities and Ecosystems After Yolanda.
"They will be shepherding the efforts in their (chosen) areas. And we will fill in the gaps," he said in a separate interview.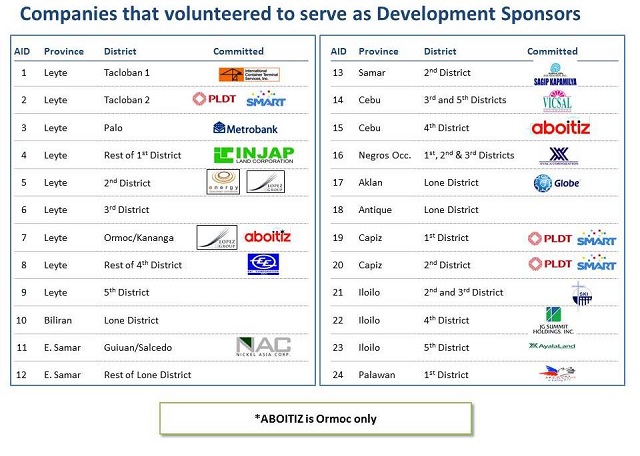 Development sponsors have "adopted" some of the areas hit by Typhoon Yolanda in November. (Handout photo)
Corporations not in charge
The role of these development sponsors in the "adopt-a-town" scheme was not clearly defined in
Reconstruction Assistance on Yolanda (RAY)
, which is the "government's strategic plan to guide the recovery and reconstruction of the economy, lives, and livelihoods of people and communities in the areas affected by Typhoon Yolanda (Haiyan)."
It said that the private sector "will be a major source of finance", but defined this funding as "complementary" to public financing of recovery and reconstruction.
However, lawyer Karen Jimeno, who handles communications and external affairs at OPARR, told GMA News Online over the phone Friday that the development sponsors are not in charge of the rehabilitation of the areas and are "not taking over [for] local government units (LGUs)".
Aside from donating cash or supplies, they act as "overall shepherds in coordinating with other donors and [making] sure that they are in accordance with PARR," she said.
"They are in charge of coordinating with other donors. They talk among themselves to avoid overlapping [efforts]," Jimeno said.

LGUs are included in this coordination since they know what their areas need, she added. "LGUs submit provincial plans to PARR, which we then submit to the President," Jimeno said.
The provincial plans list down the things that local governments need in infrastructure, resettlement, social services, livelihood, and support. Jimeno said that these do not include the needs that the private sector has already addressed.
Only when these plans are approved does the government shell out public funds to "fill in the gaps" that the private sector left in the rehabilitation of Yolanda-affected areas.
Jimeno said that one of the advantages of having the private sector's support is that companies and foundations have funds readily available.
"They are not bound by the same laws and regulations [that are involved] when getting public funds," she said. This means that while the government spends time going through bureaucratic processes to craft the
rehabilitation master plan
, the private sector can at least get things done with their own resources.
Jimeno also said that it will be difficult for these private companies to grab land or get favors from LGUs without leaving a paper trail.
"It's not that simple to land-grab [sic] because we have laws in place. They'd have to go through the titling processes. And if they are given special treatment, they can't get away with it without a paper trail," Jimeno said.
"(If we prove that they were asking for special treatment), or yung parang 'o, ibigay niyo sa amin ito kasi pinagawa namin ito', that's a case of graft and corruption. And we will be willing to report that to the right offices."
She also said that if any of the survivors are being denied rehabilitation aid, then they can report this to OPARR. — JDS, GMA News