Filtered By: Topstories
News
27TH PETITION
Centerlaw, more journalists challenge anti-terror law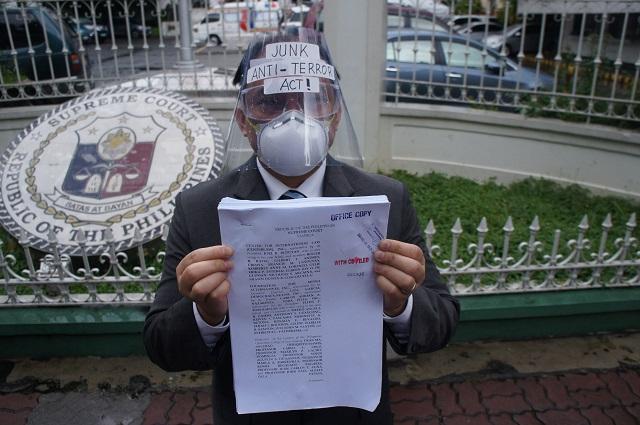 Lawyers' advocacy group Center for International Law (Centerlaw), journalists, law professors, and NGOs on Monday asked the Supreme Court to declare the Anti-Terrorism Act of 2020 unconstitutional.
Centerlaw, Vera Files, the Foundation for Media Alternatives, Democracy.net.ph, and Lyceum of the Philippines law professors, including Dean Soledad Deriquito-Mawis, also asked the court to issue a temporary restraining order against the law.
They filed what is at least the 27th petition challenging the anti-terrorism law, which took effect last month amid fears that it could legitimize government attacks against activists.
Retired justices Antonio Carpio and Conchita Carpio Morales, framers of the 1987 Constitution, lawyers, human rights advocates, artists, journalists, youth leaders, labor groups, online personalities, and activist groups have also filed petitions.
In the new petition, Centerlaw and the other petitioners acknowledged the dangers of terrorism but said the Constitution does not approve of anti-terrorism measures that "only transforms the government into a calculatingly cold and repressive machine."
Filing the case as citizens and taxpayers, they said they stand to "suffer directly from the 'chilling effect' of the unconstitutional impositions" of the law.
The petitioners also said Congress displayed its "misplaced priorities" by enacting the law in the midst of the COVID-19 pandemic.
They challenged the law's "vague" definition of terrorism and other related crimes, the process by which individuals and groups are "designated" as terrorists, as well as its provisions on warrantless arrests, detention, and surveillance.
The petitioners claimed that eight out of nine of the penal provisions in the law violate the Constitution because they transgress rights such as free speech, the right to peaceably assemble and petition the government for redress of grievances, and the right to the freedom of association.
In addition, they said the Anti-Terrorism Council's power to authorize arrests "based on suspicion" violates the exclusive power of the courts to issue warrants of arrest based on a finding of probable cause.
The petitioners also said the passage of the law shows that "even Senators and Members of the House of Representative – all high officials of the land – are grossly remiss, if not abusive of their powers and duties."
"If these senators and representatives can err gravely on the crafting and interpretation of the Act, what more the ordinary policemen and the ill-trained military personnel who are tasked with its implementation?" the petitioners said.—AOL, GMA News