Filtered By: Topstories
News
Robredo to DepEd: Realign P29-B budget to fund distance learning needs, health initiatives for teachers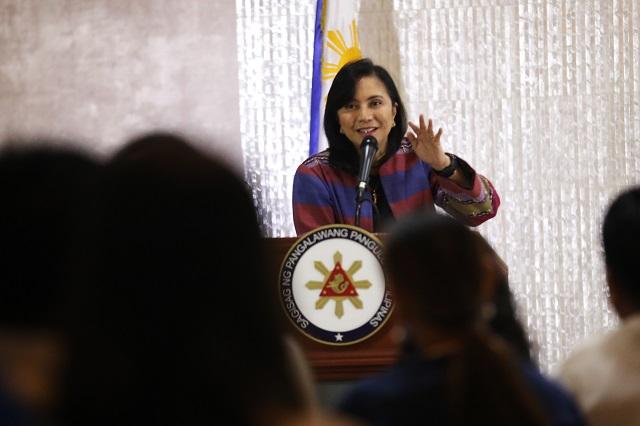 The Department of Education must realign its P29-billion budget for rehabilitation of school buildings for procurement of gadgetS and other equipment for distance learning and hazard pay for educators amid the COVID-19 pandemic, according to Vice President Leni Robredo.
Robredo made the pitch in her letter to Education Secretary Leonor Briones dated August 10, saying that such deprioritization of resources is needed given the looming school opening anchored on distance learning and online classes due to COVID-19 threat.
"Around 29.5 billion was earmarked for the rehabilitation of school buildings for 2020. Given the shift to distance learning, many of these school buildings will be left without children to occupy them, thus deprioritizing the need for the rehabilitation of physical spaces," Robredo, a former college professor, said.
"This amount can be used to procure the needed gadget and equipment for distance learning, as well as address the health concerns of educators."
Robredo said 61% or 14 million households do not have internet access, and that 74% or 34,700 schools in the country do not have the infrastructure to engage in online learning.
While modules are made available under DepEd Commons, Robredo said that her office has received reports that only seven million students have subscribed to DepEd Commons platform or 20 million public students in the country.
"Perhaps it would be prudent for the government to devote significant resources in setting up internet hubs in schools and communities, so that gaps in access are addressed," Robredo pointed out.
Aside from access to modules and internet connection, Robredo called for protection for educators which include:
mass testing, with testing and distribution of results done before classes begin
sufficient fund for physical check up and medicine
provision of supplies such as Personal Protective Equipment, hand sanitizers, among others
on time distribution of hazard pay and
establishing a system for the health and wellness needs of the teachers.
Such initiatives, Robredo said, can be funded by realigning the P700 million budget for the in-service training of teachers.
"Many of these trainings have already, or will be, shifted to online modalities, thus freeing up resources that would otherwise have been used for travel and accommodations," she said.
"Rest assured that we understand the complexity of the challenges before use. We submit these insights and recommendations in the spirit of solidarity so that we may all, as one nation, build the better normal that our people deserve," Robredo added. —Llanesca T. Panti/KBK, GMA News