Filtered By: Topstories
News
Vergeire on Duque calling COVID-19 a 'blessing in disguise': Pandemic is a trigger for reform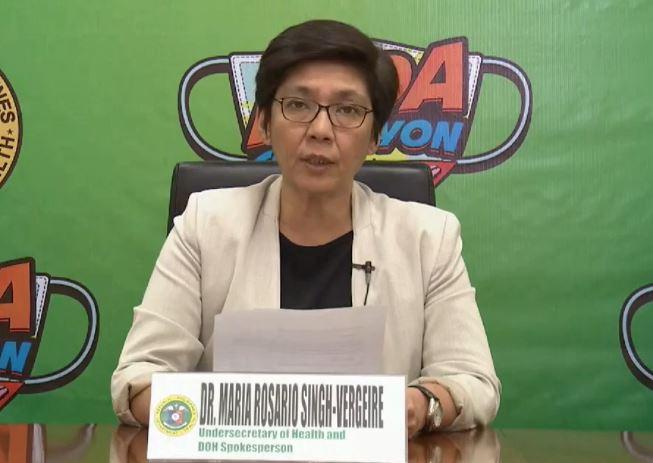 Health Undersecretary Maria Rosario Vergeire clarified on Monday that COVID-19 served as a trigger for the expeditious implementation of the Universal Healthcare Program, after Health Secretary Francisco Duque III drew flak for calling the pandemic a "blessing in disguise."
Vergeire made the clarification after Duque said that COVID-19 pandemic is a blessing in disguise since it is expedited the implementation of the Universal Healthcare law which provides health insurance for all.
At a webinar on Friday, Duque was quoted as saying: "This [pandemic] can also be some kind of parang blessing in disguise, serendipitous, kasi parang na-accelerate 'yung Universal Health Care because of COVID-19, it's a catalyst."
"Although COVID-19 did expose the fissures or the cracks, the weakness of our Philippine health system, it has brought to fore the areas, the provisions of universal health care that need to be accelerated in terms of its implementation," he added.
Reacting to Duque's remarks, Senator Panfilo Lacson said: "Some people are definitely making a killing out of the misery brought upon our people by the coronavirus, coming as it does in many forms we cannot even imagine."
"We have seen the PhilHealth's illegal advance payments to unauthorized health care institutions and grossly overpriced procurement of IT equipment - not to mention its doctoring of financial records."
"Yet, as we hear the Secretary of Health saying that the pandemic is a 'blessing in disguise,' we know for sure we haven't seen the worse for our suffering countrymen, in terms of health and economic well-being," Lacson added.
'Pandemic triggered reform'
Clarifying the matter on Monday, Vergeire said: "Ang UHC po ay reform, at ang reforms po ay may trigger, and iyong trigger sa atin ay itong pandemya. Ang ibig sabihin ni Secretary of Health, na-trigger iyong expeditious processing of implementing Universal Healthcare law."
"Ang Universal Healthcare law po, may timeline kami, after six months [na target results], eight months. But there is a pandemic. Sa aming public health practitioners, ang major reforms po, may trigger po talaga sa kahit anong bansa at anong health system. Ang trigger po natin itong pandmeic situation," she added.
Vergeire also cited healthcare providers and state insurer PhilHealth's benefit packages have all been in accordance to Universal Healthcare law amid the COVID-19 pandemic to ensure that citizens will be assisted in the event that they need medical help.
"He did not mean anything to offend anybody. He was talking about the process on achieving reform, kung anong nakapag-trigger noon," Vergeire said.
The Philippines has recorded 189,601 COVID-19 cases so far. Of this number, 131,367 recovered while 2,998 died.
The number of active cases is at 55,236. — RSJ, GMA News