Filtered By: Topstories
News
Sotto on Duque insisting he had no hand in PhilHealth's IRM: It's negligence, malversation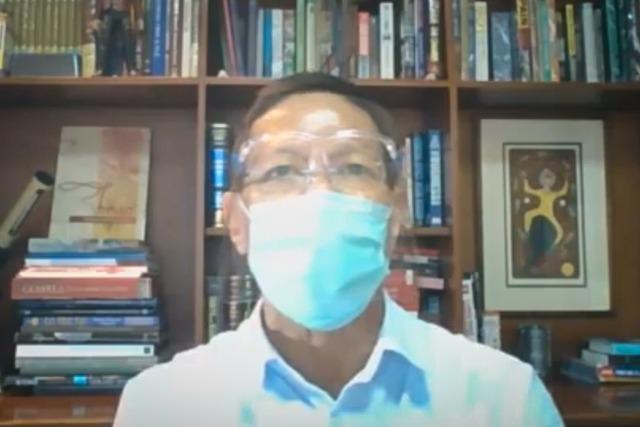 Health Secretary Francisco Duque III is "pleading guilty" to the provision on malversation of public funds under the Revised Penal Code if he insists that he did not have a hand in the implementation of the controversial interim reimbursement mechanism (IRM) of PhilHealth.
Senate President Vicente Sotto III made the remark on Saturday following the recommendation of the Senate Committee of the Whole to file criminal charges against Duque, who also serves as chairman of the PhilHealth board, over the "improper and illegal implementation of the IRM."
"Hindi kayang kumaila ang isang chairman of the board kung merong kinilos 'yung ahensiya mo, na lahat ng kilos dapat ay alam ng board. Therefore 'yung chairman of the board hindi puwedeng hindi niya nalaman lahat 'yun," Sotto said in a radio interview.
"Hindi puwedeng excuse 'yun. Kapag ginamit mong excuse 'yun, you are pleading guilty to the Revised Penal Code Article 217 dahil negligence. Hindi puwede," he added.
Article 217 of the Revised Penal Code defines and prescribes the penalty for malversation of public funds or property.
It states that "any public officer who, by reason of the duties of his office, is accountable for public funds or property, shall appropriate the same or shall take or misappropriate or shall consent, through abandonment or negligence, shall permit any other person to take such public funds, or property, wholly or partially, or shall otherwise be guilty of the misappropriation or malversation of such funds or property."
In an earlier House panel hearing, Duque reiterated that he had no say in the controversial IRM, and that the Senate Committee of the Whole "made baseless findings on mere allegations alone."
"I was impleaded on the IRM when I was not even part of the deliberation and did not sign the said resolution. Ni anino noong aking pirma ay hindi makita," he said.
But Sotto maintained that the entire PhilHealth is under the Department of Health, which Duque heads apart from also being the chairman of the board of the state health insurer.
He added that Duque has committed "632 counts of negligence."
"Sa tingin mo ba patatawarin ang Senado ng mga taong bayan na naririnig nila at nanonood sa hearing, alam nila ang nangyayari? Patatawarin ba kami kung sabihin namin na hindi puwedeng isama yung Secretary of Health, hindi ba?" Sotto said.
GMA News Online has contacted Duque for comment but has yet to receive a reply.
Apart from Duque, the Senate panel also recommended charges against resigned PhiHealth chief Ricardo Morales.
Resigned PhilHealth anti-fraud officer Thorsson Montes Keith earlier claimed that the PhilHealth "mafia," composed of the executive committee, stole some P15 billion through fraudulent schemes, including those involving the IRM.
PhilHealth, in a statement, has since denied such claims. —KG, GMA News