Filtered By: Topstories
News
PNP-IAS files raps vs. 9 cops involved in Jolo shooting incident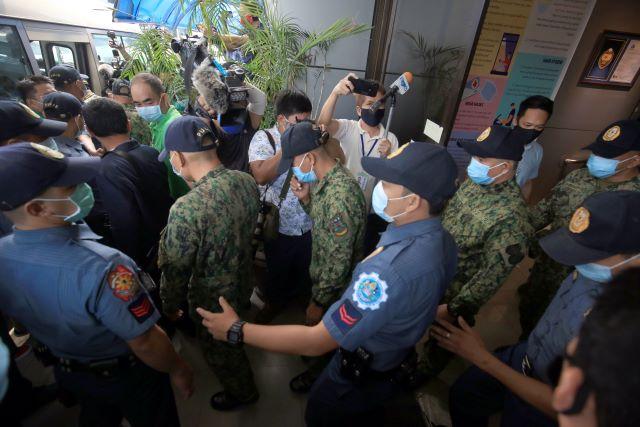 Philippine National Police (PNP) chief Police General Camilo Pancratius Cascolan on Monday bared that the Internal Affairs Service has already filed administrative and criminal complaints against cops involved in the Jolo, Sulu shooting incident in June.
"The PNP, through the Internal Affairs Service, has formally filed admin cases against nine PNP personnel who are respondents in the criminal case for murder and planting of evidence filed by NBI in connection with the death of four Philippine Army personnel," Cascolan said at a press briefing.
Cascolan also said administrative complaints have been filed against the three superiors of these nine policemen for gross neglect of duty — Police Lieutenant Colonel Michael Bawayan Jr., director of Sulu Provincial Police Office; Police Major Walter Annayo, Jolo police chief; and Police Captain Ariel Corcino, chief of the provincial drug enforcement unit.
"'Yung three immediate officers will also be called here. I believe they're already en route to Crame," Cascolan said, adding these cops will also be relieved from their posts.
"These are officers, I think we still need to evaluate if they are needed here... we will determine where will they be based," he added.
The nine policemen involved in the shooting incident are under the restrictive custody of the PNP in Camp Crame. Cascolan said summons had been served against the cops last week.
Earlier, the National Bureau of Investigation filed four counts of murder and planting of evidence against the nine cops involved and recommended the filing of neglect of duty against three local police officers.
On June 29, the soldiers were tracking suicide bombers when the shooting incident happened. They were flagged down by cops in Barangay Walled City despite identifying themselves as members of the military.
The military personnel were instructed to go to the police station for further verification of their identities.
According to a police report, the shooting incident, which then Army chief and now Armed Forces chief General Gilbert Gapay branded as murder, happened when the soldiers allegedly escaped and pointed their weapons at the police officers.
The police officers involved in the incident however could not pinpoint who made the first shot between their group and the four members of the Philippine Army who were killed.
Gapay said charges against the nine policemen are "up for filing." —KG/RSJ, GMA News