Filtered By: Topstories
News
DOH exec: Clustering of COVID-19 cases in Philippines highest in communities, transportation, BPOs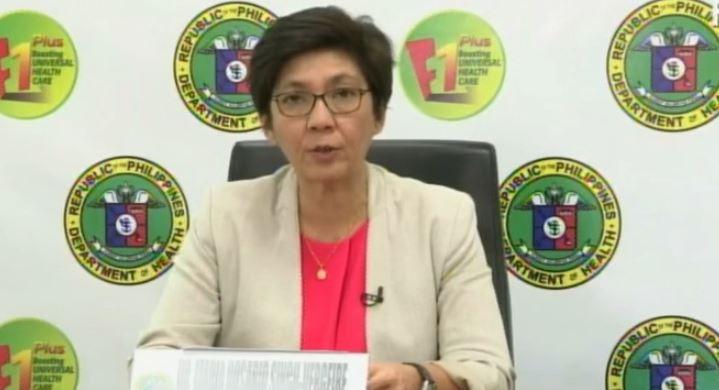 The clustering of COVID-19 cases in the country are mainly found in communities and other settings such as modes of transportation and business process outsourcing (BPO) companies, Health Undersecretary Maria Rosario Vergeire said Monday.
Vergeire said the country has 1,742 instances of clustering of cases, of which 84.9% or 1,480 are found in communities.
The second highest incidence of clustering of cases at 8.09% or 140 was found in other settings which include the transportation sector and nine BPO companies. 5.11% or 89 cases of clustering were found in hospitals and health care facilities, while 1.84% or 32 clusters were spotted in jails and prison facilities.
"Itong other settings, sa transportation ito, including sweeper flights saka nine BPO companies. Itong BPOs,.52% ng total clusters in the country ay sa kanila," Vergeire said in an online forum.
Vergeire, however, clarified that this does not mean that those working in the BPO industry are more vulnerable to being infected with COVID-19.
"Kailangan ang immune system natin, malakas, para di tayo maapektuhan ng [COVID-19] virus. If you do night shift and you lack sleep, of course you become vulnerable pero para magkaroon ng impeksiyon, dapat may exposure," Vergeire said.
"Kung may exposure ka at vulnerable ka, mas madali mo makukuha ang sakit kaya ang factor na titignan natin rito ay exposure," Vergeire added.
Dr. Ranjit Rye of UP-OCTA Research Team earlier said in a Dobol B sa News TV interview that there has been an increase in COVID-19 cases in Bacolod City at 100 per day.
This was confirmed by Vergeire, saying the province of Negros Occidental where Bacolod City is located recorded 3,583 COVID-19 cases of September 5—almost four times the 762 COVID-19 cases it recorded last August 5.
This means that 112.87 per 100,000 people are infected with COVID-19 as of September 5—higher than the 24 per 100,000 attack rate last August 5.
Vergeire said that more than half of the COVID-19 cases in Negros Occidental are from Bacolod City.
"They attributed this to their expanded testing [for COVID-19]," Vergeire said.
The Philippines has recorded 237,365 COVID-19 cases so far. Of this number, 184,687 recovered while 3,875 died.
The number of active cases is at 48,803. — RSJ, GMA News