Filtered By: Topstories
News
Jeepney drivers, senior citizen go to SC to question government's COVID-19 response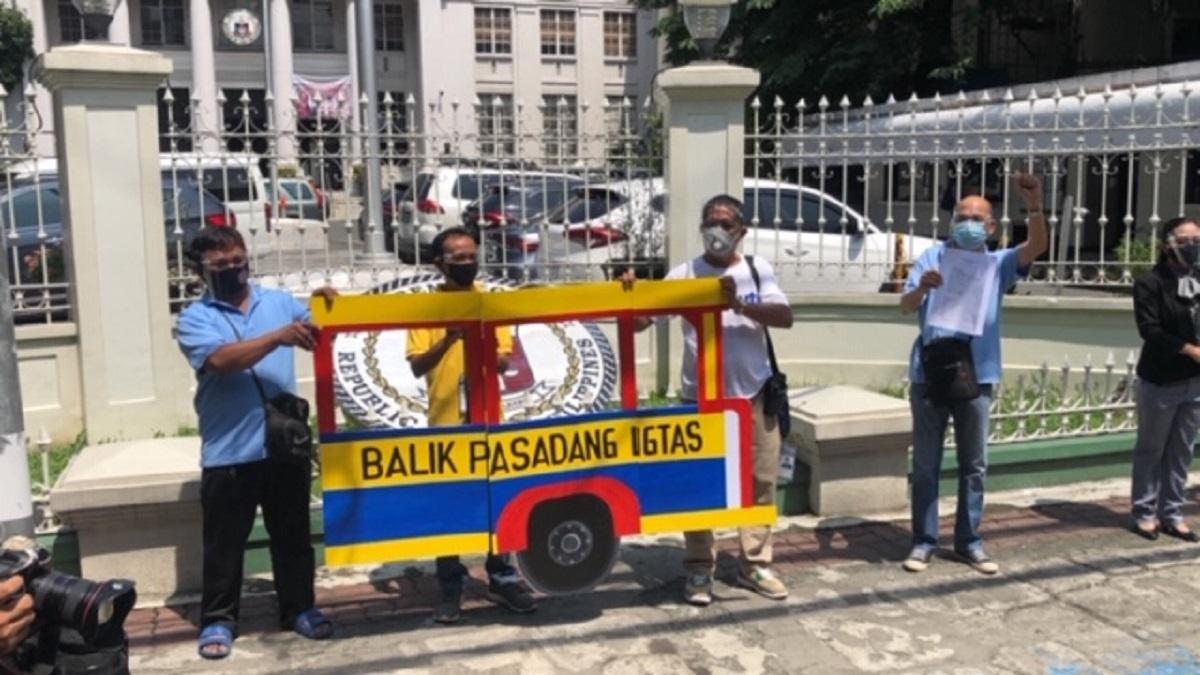 Jeepney drivers and a senior citizen have gone to the Supreme Court (SC) to question what they say are discriminatory government policies on COVID-19.
In separate petitions, jeepney driver groups and a retired government official asked the SC to nullify several government issuances that prohibited or limited public transportation and ordered the quarantine of senior citizens, respectively.
Members and officials of the National Confederation of Transportworkers' Union (NCTU) alleged that the government's prohibition of traditional public utility jeepney (PUJ) operations in previous months had no basis under the law or the Constitution.
The drivers said they lost their main, if not only, source of income when public transportation was halted and limited, leaving them at the mercy of aid from the government and of relatives.
Even some of them who were allowed to operate again have hardly recovered because of limited routes and a decrease in the number of passengers, they said.
They also questioned several issuances by transportation authorities that they said showed an "obvious preference" to modernized jeepneys.
"When Respondents gradually allowed public transportation to operate, traditional PUJs were singled out without sufficient basis and without effort on the part of Respondents to inform traditional PUJ drivers of the fact of and the rationale of the discrimination," the petitioners said.
"There is also uncertainty as to what standards were followed in choosing which among the traditional PUJs were to be allowed to ply the roads. The decision-making process of Respondents is thus patently whimsical and infringed Petitioners' right to due process," they argued.
They asked the court to conduct oral arguments on the case.
Senior citizens
Meanwhile, former National Commission of Indigenous Peoples chair Eugenio Insigne asked the high court to stop the Office of the President and or the Inter-Agency Task Force for the Management of Emerging Infectious Diseases from implementing quarantine measures on senior citizens.
Calling the quarantine on seniors "cruel and inhuman," Insigne claimed that the measure has no legal or constitutional basis and instead violates their rights.
"The days on earth of senior citizens are numbered. Every moment is precious," he said.
"It is the height of injustice for senior citizens who have worked and sacrificed a lot for our country to be arbitrarily deprived of their right to enjoy life in the twilight of their lives," Insigne added.
In response, Vince Dizon, the deputy chief implementer of the national action plan against COVID-19, said the quarantine for seniors is for their protection.
"Iyong mga bata po, kayang kaya po nila ang COVID-19. Pero kailangan po nila maintindihan na para sa kanila po ito, para protektahan po sila kasi sila po talaga ang pinaka-vulnerable na magkasakit ng COVID-19," Dizon said at a press conference. — KBK/RSJ, GMA News