Filtered By: Topstories
News
'VIRUS IS EVERYWHERE'
Sinas observed health protocols but still got COVID-19 —PNP spokesperson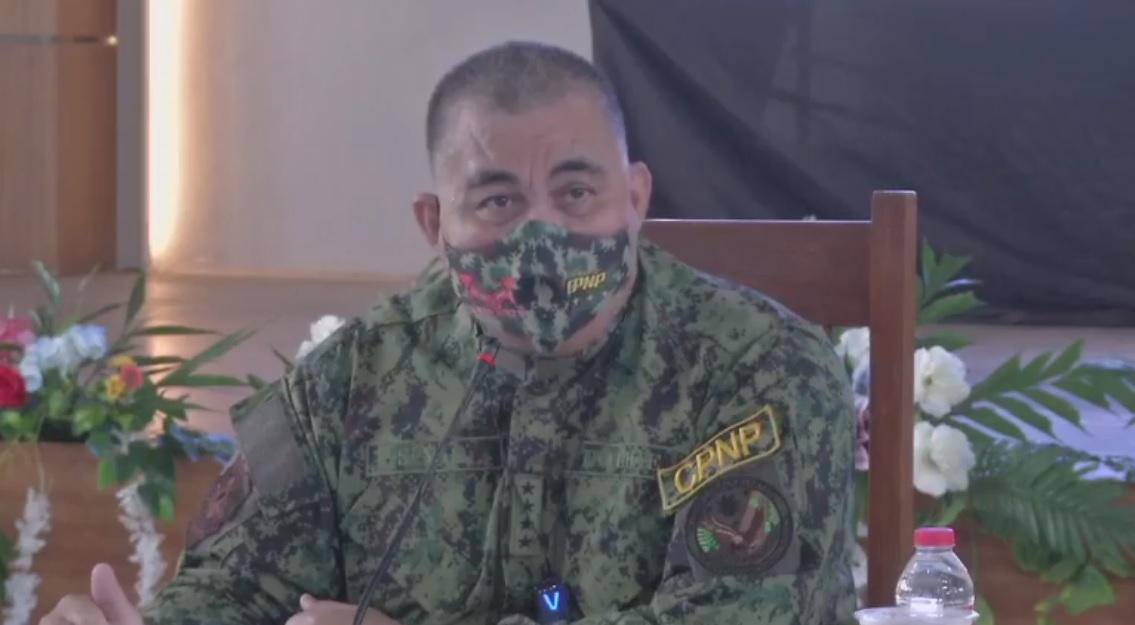 The Philippine National Police on Saturday said its chief, Police General Debold Sinas, takes swab tests and observes health protocols but still contracted COVID-19, a day after the provincial government of Oriental Mindoro called him out for allegedly not doing so.
"Everytime our chief moves po, he never fails to take the swab test. He wears face mask and shield. He has his alcohol with him. He requires all other offls [officials] joining him to do the same," PNP spokesperson Police Brigadier General Ildebrandi Usana said in a message sent to reporters.
"But virus is everywhere po. Even member/s of some royal families tested positive fm the virus. Nobody really is exempt from COVID19," Usana said.
The PNP official gave the comment after the provincial government of Oriental Mindoro issued a statement on Friday saying Sinas skipped COVID-19 health protocols when he visited the province on Thursday.
"Si PGen. Debold Sinas ay hindi dumaan sa pier ng Calapan at hindi siya kabilang sa mga na-profile ng mga kawani ng PGOM. Siya ay dumating sa lalawigan lulan ng helicopter at dumiretsyo sa Regional Headquarters," it said in a statement posted on social media Friday.
[PGen. Debold Sinas didn't pass through the pier in Calapan and was not among those who were profiled by PGOM personnel. He arrived in the province on board a helicopter and went straight to the regional headquarters.]
"Ikinalulungkot ng Pamahalaang Panlalawigan ang pangyayaring ito," it added.
[The provincial government is saddened by this event.]
Sought for comment, presidential spokesperson Harry Roque said the Palace has not received information about the incident.
"No info... PNP should know," Roque said.
Sinas tested positive for COVID-19 on Thursday after the visit.
"I guess our people in Mindoro will understand our chief in that regard who wanted to simply optimize the use of his time to talk with the men in PRO4B about their accomplishments for communities in the island province," Usana said.
"His comd [command] visit was supposed to bring him straight to Palawan to ensure that our troops are well prepared for the plebiscite," he added. Palawan is holding a one-day plebiscite on Saturday for the ratification of Republic Act 11259 dividing the province into three, and the military and police are ensuring peace and order.
Usana said Sinas "is a 24/7 Chief, PNP."
"He works and calls for confs [conferences] with diff units even on wkends, guides everyone about the A-to-Z of improved performance at work, visits wake of our fallen members in the wee hours of the morning, goes to far-flung places on the road to meet with some offls for 2 hrs and then back to homebase after that, sends you msgs at 2 am on items that need to be released to the Press in the morning, etc. They are endless acts of selfless, indefatigable service from the chief," he added.
Usana then called on the public for prayers for Sinas' fast recovery.
"He is positve of virus now. May I reiterate ths simple call from the rest of us in the PNP: Please pray for our chief to recover fast so that he could selflessly work again 25/7 for the best interest of our people," he said.
The number of confirmed COVID-19 cases in the Philippines jumped to 611,618 on Friday after 4,578 new infections were recorded that day, the highest in six months.
Of this number, 546,912 recovered while 12,694 died. The total active cases in the country rose to 52,012, also this year's highest. —With a report from Ted Cordero/KG, GMA News