Filtered By: Topstories
News
China denies presence of Chinese militia vessels in West Philippine Sea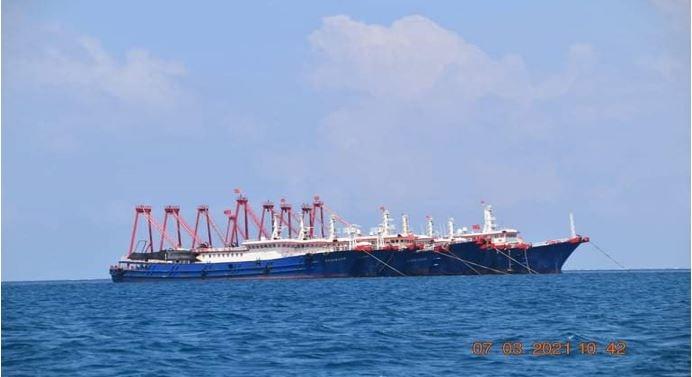 China on Monday denied the presence of Chinese militia vessels off Julian Felipe Reef in the West Philippine Sea.
"There is no Chinese Maritime Militia as alleged," according to an embassy statement, adding that some Chinese fishing vessels only took take shelter recently near the reef "due to rough sea conditions."
"It has been a normal practice for Chinese fishing vessels to take shelter under such circumstances," it said, adding that the reef is part of China's Nansha Islands or Spratlys in the South China Sea.
"Any speculation in such helps nothing but causes unnecessary irritation. It is hoped that the situation could be handled in an objective and rational manner."
On March 20, the National Task Force for the West Philippine Sea (NTF-WPS) said it received a confirmed report from the Philippine Coast Guard (PCG) that around two hundred twenty Chinese fishing vessels, believed to be manned by Chinese maritime militia personnel, were sighted moored in line formation at the Julian Felipe Reef (Whitsun Reef) on March 7, 2021.
Photos of the vessels were released by the Task Force.
The Reef, called Niu'e Jiao by China, is a large boomerang shaped shallow coral reef at the northeast of Pagkakaisa Banks and Reefs (Union Reefs), located approximately 175 Nautical Miles west of Bataraza, Palawan.
It is within the Philippine Exclusive Economic Zone and Continental Shelf, over which the country enjoys the exclusive right to exploit or conserve any resources which encompass both living resources, such as fish, and non-living resources such as oil and natural gas.
"Niu'e Jiao is a part of China's Nansha Qundao. Chinese fishing vessels have been fishing in its adjacent waters for many years," the embassy said.
The Philippines has already filed a diplomatic protest over the incident.
Malacañang said that it will let the DFA handle the situation as the Palace is focused on the COVID-19 pandemic.
China, which insists on historical claim over nearly the entire South China Sea, has expanded its presence in the area, turning several former reefs into artificial islands with military facilities, runways and surface to air missiles.
China and five other governments - Brunei, Malaysia, the Philippines, Vietnam and Taiwan – are locked in years-long disputes over the South China Sea, particularly in its southern part, called the Spratlys.
In 2016, the Permanent Court of Arbitration, following a case filed by the Philippines, invalidated China's sweeping claims over the resource-rich waters. — RSJ, GMA News