Filtered By: Topstories
News
OCTA: Vaccinate 50% of population in NCR, 6 other high-risk areas vs. COVID-19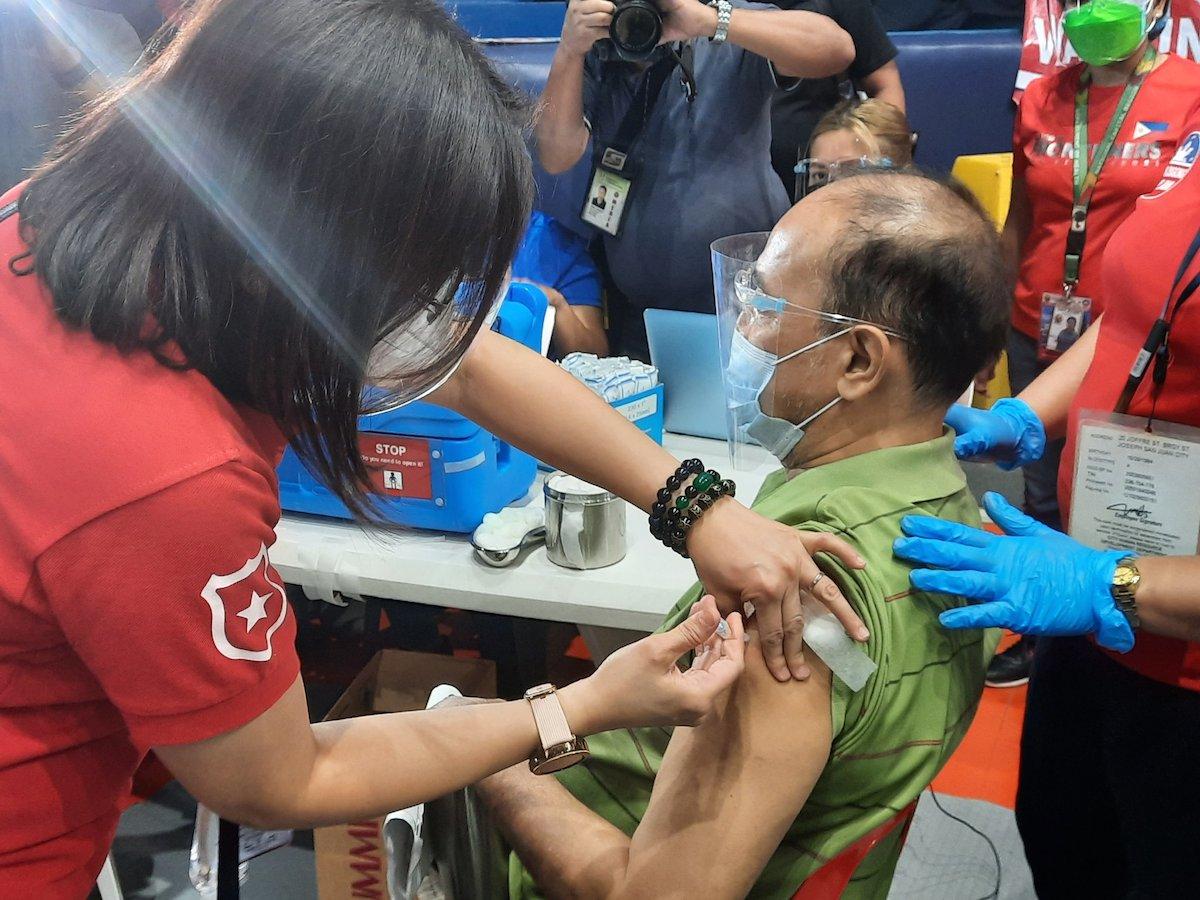 The Philippines' immediate target should be to vaccinate 50% of the population in Metro Manila and six other areas at high risk for COVID-19 to achieve herd containment, the OCTA Research group said Monday.
In a report, the independent team of experts said 50% of the population must be vaccinated in Metro Manila and the cities of Tuguegarao, Santiago, Baguio, Cainta, Cebu, and Imus due to their high COVID-19 attack rates.
This will require 15.96 million doses to vaccinate a total of 7.98 million people.
"In many countries that have vaccinated 50% of the population, there has been an immediate impact on herd containment of COVID-19. This is the immediate target in high-risk areas," the experts said.
OCTA added that 30% to 40% of the population in moderate-high risk areas and 20% to 30% of the population in moderate risk areas should be vaccinated against COVID-19.
Doing this will require 7.3 million doses for moderate-high risk areas and 3.08 million doses for moderate risk areas.
"A rollout of 30 to 35 million vaccines before the end of 2021, allocated by risk level, will help the country recover before the end of 2021," the experts said.
Allocations
OCTA said Metro Manila, Calabarzon, Central Luzon, Central Visayas, and Western Visayas accounted for 80% of the new COVID-19 cases reported so far this year.
These five regions also suffered the highest gross regional domestic product loss in 2020, the group said, citing data from the Philippine Statistics Authority.
OCTA said the regional allocation of vaccines should follow a similar pattern, with 40% to 45% of jabs going to Metro Manila, 15% to 20% to Calabarzon, 10% to Central Luzon, 6% to Central Visayas and 4% to Western Visayas.
They added that remaining doses should be distributed to the rest of the country, with priority given to areas at high risk for COVID-19.
"A national rollout program based solely on population, regardless of risk levels of each province or LGU, will delay pandemic and economic recovery in the country due to global supply chain issues. The country cannot afford to wait another year to reach herd immunity," OCTA said.
Herd immunity vs. containment
Interviewed on Balitanghali, OCTA Research fellow Dr. Guido David said "at least 75%" of the Philippine population must be vaccinated to reach herd immunity against COVID-19.
He said the country is unlikely to achieve herd immunity this year since nearly 30% of the population are children, who are ineligible for COVID-19 vaccines, and 35% of Filipino adults remain unsure about getting inoculated.
"Pero 'yung herd containment, possible na ma-achieve 'yan this year, before the end of the year. 'Pag nagka-herd containment na tayo, makaka-fully recover na tayo, almost back to 'old normal' na tayo pag gano'n," David said.
(But it's possible for us to achieve herd containment this year, before the end of the year. Once we have herd containment, we can fully recover, almost go back to the 'old normal.')
Molecular biologist Fr. Nicanor Austriaco, also an OCTA Research fellow, earlier said Metro Manila must administer 200,000 doses daily to achieve herd immunity within the year.
The Philippines has inoculated over 3 million people as of May 22 and achieved a record-high 229,769 doses administered in a single day on May 20.
However, the country remains far from meeting its goal of vaccinating 50 million to 70 million individuals this year.
The Department of Health on Sunday reported 3,083 new COVID-19 infections, raising the total tally to 1,179,812. Of this number, 50,635 are active, 1,109,226 recovered, and 19,951 died. —KG, GMA News