Filtered By: Topstories
News
Guevarra: Duterte knows not getting vaccinated is a legal choice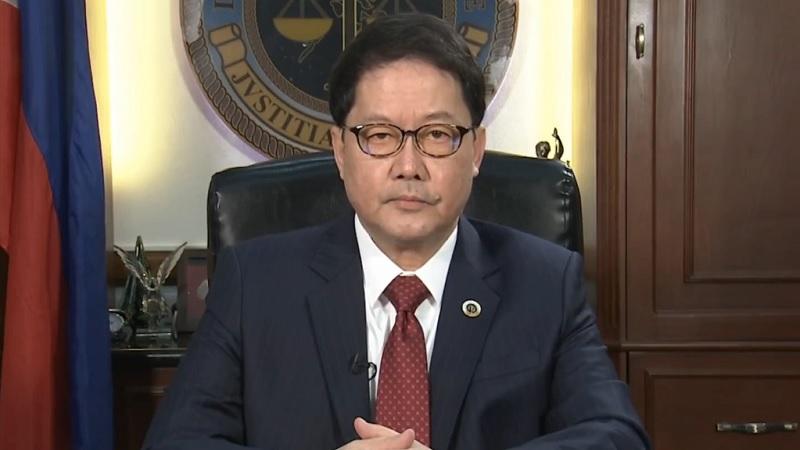 Justice Secretary Menardo Guevarra on Tuesday played down President Rodrigo Duterte's threat to arrest people who refuse to be vaccinated against COVID-19 as the country aims to ramp up vaccinations to bring down the cases.
Duterte's warning on Monday came after he expressed exasperation over Filipinos who allegedly did not take the government's call to take the vaccine.
"I believe that the President merely used strong words to drive home the need for us to get vaccinated and reach herd immunity as soon as possible. As a lawyer he knows that not getting vaccinated is a legal choice," Guevarra said in a text message.
"There is no law as yet that compels vaccination against COVID-19, much less criminalizes it (not getting vaccinated), as presently available vaccines are still in their trial phases."
Asked if he was consulted by the President on the matter, Guevarra said, "He seeks my legal opinion only when he finds it really necessary."
Metropolitan Manila Development Authority (MMDA) chairperson Benhur Abalos said Duterte's threat to arrest individuals who refuse to get inoculated against COVID-19 is meant to underscore the danger of not getting a vaccine.
Meanwhile, infectious disease expert Dr. Edsel Salvaña said it is "difficult" to mandate the public to get vaccinated against COVID-19 since the available vaccines are still under emergency use authorization (EUA).
'No legal basis'
Duterte's threat had no legal basis, according to National Union of Peoples' Lawyers president Edre Olalia.
"There is no basis under criminal law," Olalia said in a radio interview. "Nobody should be arrested without committing a crime."
Olalia, however, expressed concern that the President's words might be interpreted by the police or military as policy.
"These serious matters should not be said in jest," he said in a mix of English and Filipino. "Once the President speaks, this will be cascaded down to the police or military as if it's a law. It's legally untenable."
Health officials have repeatedly said getting the vaccine is purely voluntary even as they touted the benefits of vaccination such as protection against severe infection and hospitalization.
More than two million Filipinos have been fully vaccinated against COVID-19, according to government records.
A total of 8,407,342 doses have been administered as of June 20, the Department of Health said on Monday. Of this number, 6,253,400 shots were for the first dose while 2,153,942 were for the second dose.
The Philippines aims to inoculate at least 58 million individuals this year.—AOL/RSJ, GMA News