Filtered By: Topstories
News
Pimentel: Duterte, Pacquiao should be allowed to settle rift privately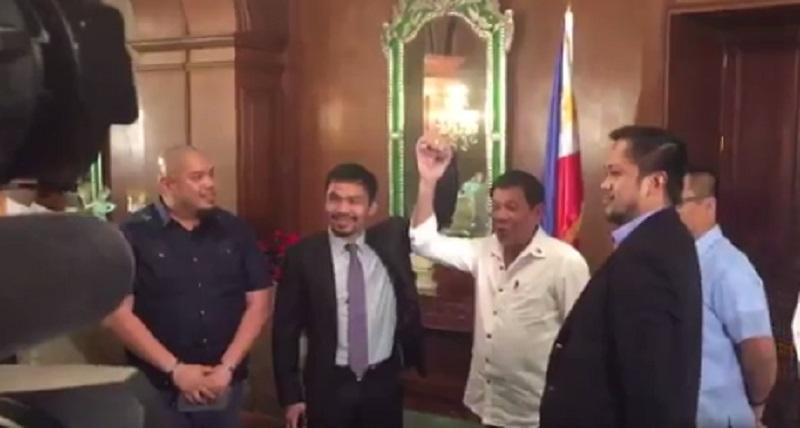 President Rodrigo Duterte and Senator Manny Pacquiao, PDP-Laban's chairman and president, respectively, should be allowed to settle their issues privately, the party's executive vice chairman, Senator Aquilino "Koko" Pimentel, said Tuesday.
In a text message to GMA News Online, Pimentel said Pacquiao and Duterte "should meet" when asked for comment on the President's fresh tirade against the boxing icon-turned-lawmaker on Monday night.
"Allow us to settle the internal issues within the Party, internally and privately," Pimentel said when asked if he is willing to facilitate the meeting between Pacquiao and Duterte.
Duterte, in a public address Monday night, lashed out at Pacquiao for allegedly criticizing him about the corruption issues during his administration.
Duterte earlier criticized Pacquiao after the latter said the country's stance in the West Philippine Sea was lacking.
Pacquiao has yet to respond on media queries regarding Duterte's latest tirade against him. On June 1, he sought a meeting with Duterte to discuss the "simple misunderstanding" within the party.
This request came after Energy secretary and PDP-Laban vice chairman Alfonso Cusi led a national council meeting despite the memorandum earlier issued by Pacquiao calling on party members to skip the event.
Pacquiao asserted that Cusi's call for the assembly was a violation of the party's constitution.
But Cusi pushed through with the even as presidential spokesman Harry Roque said it was Duterte who directed Cusi to "organize, convene and preside" over the party's council meeting.
In a television interview on Tuesday morning, Cusi told Pacquiao to leave the ruling party first before criticizing Duterte. —KBK, GMA News