Filtered By: Topstories
News
Not ideal to 'very abruptly' announce quarantine decisions, Dominguez admits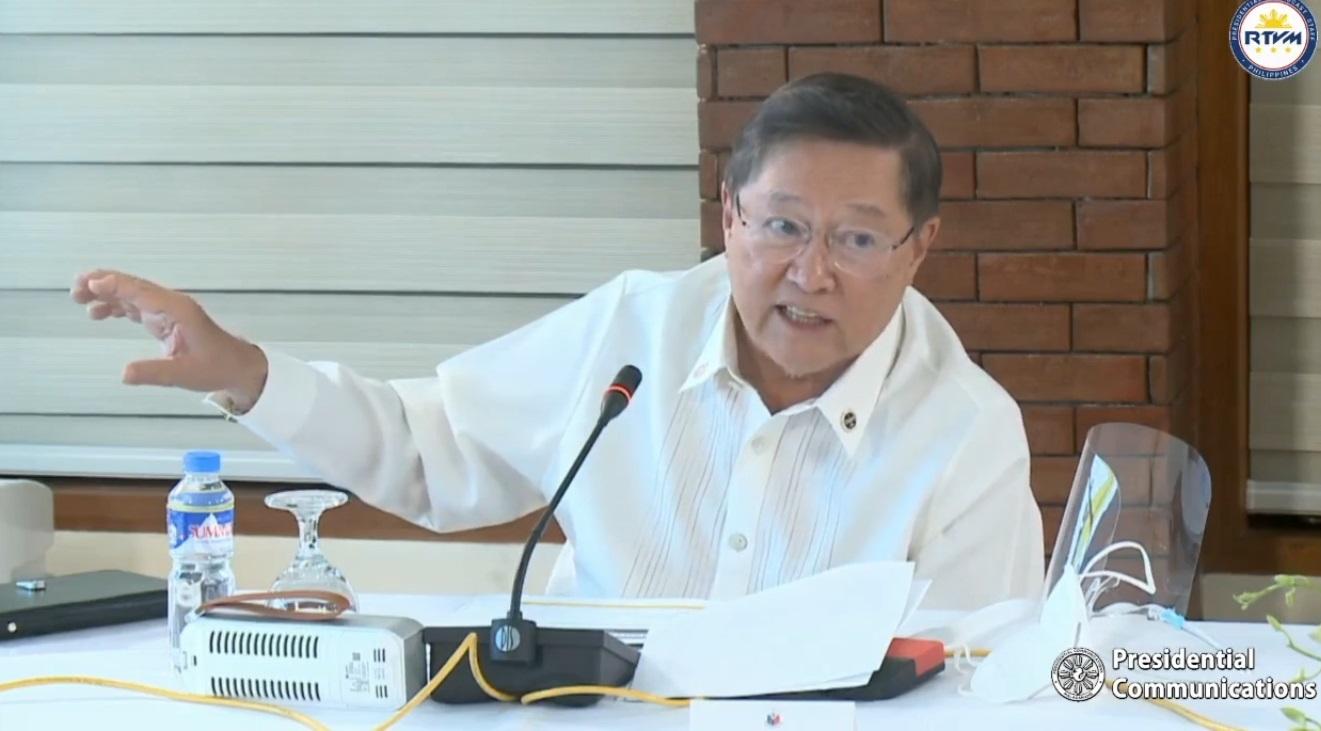 It is not an "ideal" situation to abruptly change course on quarantine protocols, the chief of the Department of Finance admitted Thursday as businesses and business groups lamented the government's sudden decision to retain the modified enhanced community quarantine over Metro Manila.
During the Senate hearing on the proposed P5.024-trillion budget for 2022, Senators Grace Poe and Nancy Binay grilled two of the country's economic managers—who are also members of the Inter-Agency Task Force on Emerging Infectious Diseases (IATF)—over the flip-flop, with the IATF reversing the metro's scheduled shift to general community quarantine a day before it was supposed to happen.
Poe asked Finance Secretary Carlos Dominguez III if consultations were made when the IATF retracted the scheduled GCQ.
Dominguez said the reason behind the retraction was that some IATF members "felt" that not all rules were in place for the opening of the economy.
"They just wanted to make sure that all the rules were in place and they asked for I think four or five days to come up with that," he said.
But Poe pointed out that the IATF "swiftly" came up with the decision despite the upward trajectory of COVID-19 cases at that time.
"I understand that certain protocols have to be in place, but I don't think these protocols will change that drastically within those two days and the reason why I say this is because a lot of businesses are affected by this," Poe said.
"It's actually an issue of trust on the government when they make some tentative decisions like this and I am sure it also frustrates you, Secretary Sonny, because your concern is basically the economy and what they are doing is counterproductive," she pointed out.
Poe suggested assigning a point person who would inform the economic managers of the IATF discussions and where the decision is leading to, in order to prevent another blunder in the implementation of quarantine classifications.
"We understand the concerns you raised…and definitely it's not ideal to have basically changes in announcements very, very abruptly. As you said, it does not contribute to the confidence in decision-making. We accept that," Dominguez replied.
Poe suggested that Dominguez to scold the IATF over the incident.
"Siguro dapat Sec. Sonny pagalitan niyo rin sila. I'm sure makikinig 'yan sila sa iyo," she said.
[Maybe, Sec. Sonny, you should scold them and I am sure they will listen to you.]
At the latter part of the hearing, Binay also quizzed Socioeconomic Planning Secretary Karl Kendrick Chua on the backtrack.
She asked if the IATF is already conducting consultations with local government units and other relevant government agencies on the country's shift to "new normal."
She cited the recent blunder as example, saying this would only "cause more harm" in the country's COVID-19 response.
Chua said there is already an IATF subcommittee for this and explained that what had happened in the announcement of lockdown status was brought about by uncertain events, noting that the situation is very "fluid."
"It doesn't makes sense na i-GCQ mo ang Metro Manila na hindi mo pa kinakausap ang mag-i-implement ng GCQ with alert level, di ba?" Binay pointed out.
[It doesn't makes sense that you will put Metro Manila under GCQ yet you have not talked to those who will implement it, right?]
Binay told Chua that the government should provide uniform protocols for each quarantine classification so that it would not cause confusion to the public and inconvenience business owners who adjust their operations based on the lockdown status.
"Baka dapat for next year, alam na natin kunyari level one, ito ang expectation sa tao, ito expectation sa government, ito expectation sa business owners. Are we discussing that?" Binay asked.
[Maybe next year, we should know what to do when the government, for example, will raise alert level one. So that we will know what will be expected from the public, the business owners and the government.]
Chua said there are already ongoing discussions on that suggestion but that he will convey it again to the IATF.
Despite Chua's assurance, Binay said it seems like the IATF is not open to discussing this with other sectors, including the private stakeholders.
"Parang naririnig ko kasi ang IATF parang ayaw nila dagdagan ang Viber group nila parang sila sila lang," Binay quipped.
[What I heard is the IATF doesn't want to add another Viber group for this.] — BM, GMA News