Filtered By: Topstories
News
COVID-19 RESPONSE
DOH pitches 'singular allowance' for frontline healthcare workers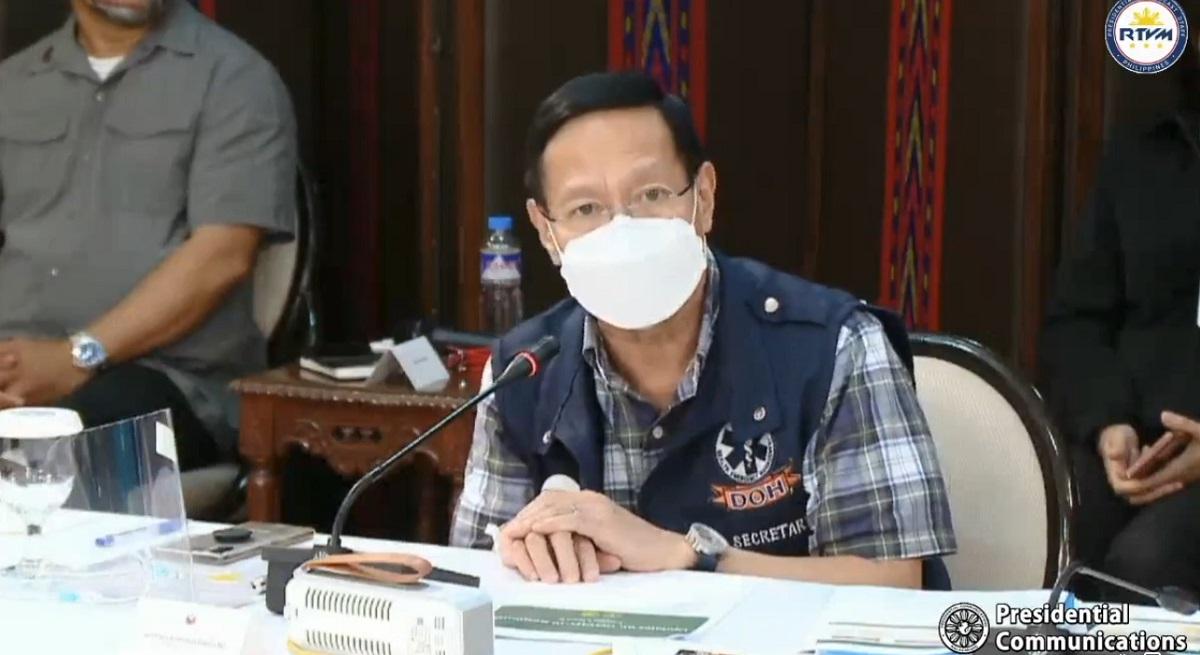 The Department of Health is pushing for a "singular allowance" -- in which levels of risk factor are included in the computation -- for healthcare workers who served at the frontlines in the battle against the COVID-19 pandemic, instead of giving them various types of benefits.
During the joint hearing of the Senate Committees on Finance, Ways and Means, and Health and Demography, Health Secretary Francisco Duque III said the Health Department supports the intentions of Senate Bills 2371, 2398, 2407 that seek to universally accord benefits to healthcare workers who serve at the COVID-19 pandemic frontlines.
The measures mandate a more inclusive benefits system for both public and private healthcare workers who were directly or indirectly exposed to COVID-19 patients, providing them with monthly risk allowances; actual hazard duty pay for all health workers serving in the frontline; accommodations, transportation and meals, and life insurances.
"While we support the bills, we propose a singular allowance will be offered which will cover and substitute all the benefits enumerated in the bills," Duque said during the hearing on Friday.
"In addition, the rate of the allowance will vary according to the risk exposure of the healthcare worker in particular work settings," the health chief said.
DOH's proposal also categorizes healthcare workers into low risk, medium risk, and high risk of exposure.
"The estimated [amount] for this proposal would be P50 billion to pay the 526,727 healthcare workers the following rates: P3,000 for low-risk exposure, P6,000 for medium risk exposure, and P9,000 for high risk exposure," Duque said.
"The allowance will be awarded in full if the healthcare worker physically reports at least 14 days in a month, otherwise the benefit is proposed to be prorated," he said.
The DOH defines a "low risk" healthcare worker as performing administrative duties in non-public areas of healthcare facilities, away from other staff members or away from patients.
Meanwhile, those providing care to the general public who are not known or suspected COVID-19 patients or working at busy staff work areas within a healthcare facility are classified as "medium risk."
Healthcare workers who are entering a COVID-19 patient's room; providing care for COVID-19 patient not involving or involving aerosol-generating procedures such as intubation, cough, induction procedures, bronchoscopies, some dental procedures and exams or invasive specimen collection; and collecting or handling specimen from known or suspected COVID-19 patients are considered as "high risk."
In total, Health Undersecretary Maylene Beltran said that the singular allowance with risk variations proposal will require P50,431,024,000.
Further, Beltran said that the amount required to implement the proposal is broken down into the following allocations: 87% for high risk healthcare workers, 7% for medium risk, and 6% for low risk.
She added that of the total P50.4 billion for the proposal, P49.4 billion will be for the singular COVID-19 allowance, P1 billion for contingency in case of a surge, and P831.06 million will be for COVID-19 sickness and death compensation of a patient. —LBG, GMA News