Filtered By: Topstories
News
42,000 doses of booster shots of COVID-19 vaccine given so far —NTF adviser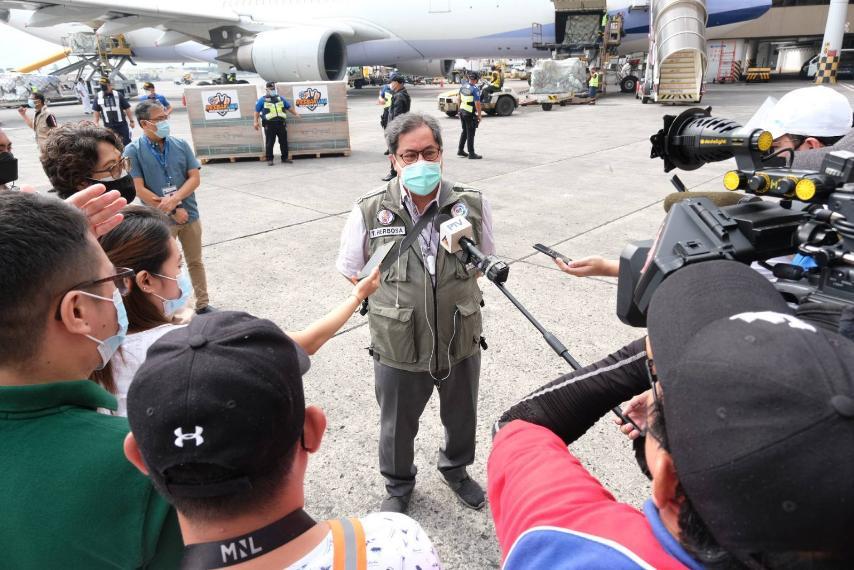 The Philippines has administered 42,000 doses of booster shots of COVID-19 vaccine so far, National Task Force Against COVID-19 adviser Dr. Ted Herbosa said Tuesday.
Herbosa made the announcement during the arrival of 682,360 doses of Moderna COVID-19 vaccine procured by the government.
"We have given 42,000 booster shots so far. It would be nine million [doses to be administered for booster] if we include the elderly," Herbosa said.
"I hope we can give it immediately. By year end, kaya natin 'yang nine million [of booster shots administered]," Herbosa added.
The government only authorized the administration of booster shots for health workers and the senior citizens this month.
Herbosa then said that while the administration of booster shots for seniors and health workers will be allowed during the three-day National Vaccination Days from November 29 to December 1, priority will be given to those who are yet to be fully vaccinated.
The COVID-19 vaccines available in the Philippines which are administered in two doses include Sinovac, Pfizer-BioNTech, AstraZeneca, Moderna, Sinopharm and Sputnik V.
Jannsen and Sputnik Light, on the other hand, are also administered in one dose.
As of Tuesday, November 23, the Philippines' supply of COVID-19 vaccine doses is at 134 million, Herbosa said.
"We have enough for boosters of health workers and senior citizens. We would need to purchase more once the booster is already allowed for the general population, and it is provided for under the 2022 national budget," Herbosa added. —KG, GMA News