Filtered By: Topstories
News
Maritime safety not a priority in RP; Coast Guard struggles to stay afloat
MANILA, Philippines
- Ironically, for an archipelago like the Philippines, maritime safety takes a backseat. What is considered to be the biggest maritime disaster in the world happened on Philippine waters — the 1987 collision between passenger ship MV Doña Paz and oil tanker MT Vector. Post-tragedy reports revealed the dead numbered as many as 4,000, although the official death toll was at 1,856. The country's 36,289-kilometer coastline, one of the longest in the world, is being safeguarded by an insufficient number of vessels and aircraft of the Philippine Coast Guard. Worse, 40 percent of these are not operational. Communication among Coast Guard units is mainly by cellular phone — through text messaging instead of voice calls — supplemented by a limited number of radios. The agency has yet to experience the fruits of the various foreign-funded projects, but in at least two of these projects — the Global Maritime Distress Safety System (GMDSS) and Maritime Safety Improvement Project Phase III (MSIP-III) — the Commission on Audit bewailed the loss of millions of pesos in wasted funds. The Coast Guard itself, on its website, has no illusions about its Herculean task: "The enormous task to perform the multifarious functions of safeguarding the country's vital sea-lanes from maritime lawlessness, preserving its marine resources and promoting Safety of Life and Property at Sea with its limited resources."
' Not ready for sea'
Data from the Coast Guard Action Center show that the agency has 59 vessels and five aircraft, 40 percent of which are either "Not Ready For Sea" or grounded as of July 1.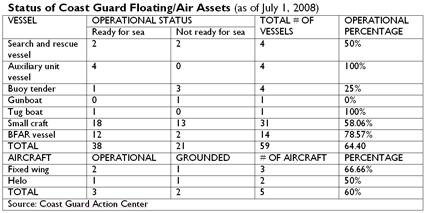 The United States Coast Guard says a "Not Ready for Sea" evaluation means Coast Guard inspectors identified mechanical, structural, or safety deficiencies serious enough to render the boat not fully capable of performing search and rescue missions. "We don't even have an all-weather vessel
na kahit bumabagyo pwedeng gamitin
," said Coast Guard spokesperson Lt. Commander Armand Balilo. An average of 19 tropical cyclones pass the Philippine area of responsibility every year. Of the 14 vessels, six are "not ready for sea" (NRFS) including the search and rescue vessels BRP (Barko ng Republika ng Pilipinas) Edsa II and BRP San Juan; auxiliary escorts BRP Corregidor, BRP Kalinga and BRP Limasawa; and patrol gunboat BRP Palawan. BRP San Juan, BRP Edsa II and BRP Corregidor are on dry dock. BRP Kalinga and BRP Limasawa are undergoing repairs, while BRP Palawan is undergoing engine repair. The Coast Guard has five aircrafts, but two of these are grounded — the Helo 163 and Cessna 1242. Of the 31 small craft assigned to the 10 Coast Guard district headquarters, 14 are NRFS. • All but one of the nine Diesel Fast vessels at the Maritime Security and Law Enforcement Command are NRFS. • Of the 11 small craft in the Coast Guard District of National Capital Region-Central Luzon, two are NRFS. • All two small vessels assigned to the Coast Guard District of Central Eastern Visayas in Cebu are NRFS. • The two Diesel Fast vessels in Southwestern Mindanao, based in Zamboanga City, are ready for sea; each of the DF vessels in the Coast Guard Districts of Palawan and Southern Tagalog are RFS. • One of the three DF vessels in Western Visayas, based in Iloilo, is NRFS. • In the Coast Guard District of Southeastern Mindanao, based in Davao, one of the two DFs is NRFS. • There are no recorded small craft in the Coast Guard Districts of Northern Luzon, Bicol and Northern Mindanao The Coast Guard is also "borrowing" 14 monitoring, control and surveillance vessels from the Bureau of Fisheries and Aquatic Resources. Of these, three are NRFS. 'Txt lang' For communication, Coast Guard personnel depend on the ubiquitous cell phone. In many instances, messages are sent through text messaging, said Lt. Commander Daniel Inri Gayosa, head of the Coast Guard Weapons, Communications, Electronics and Information System Command. Gayosa said the Coast Guard headquarters has distributed cellular phones among the staff manning its 53 stations and more than 200 detachments nationwide. Each cell phone receives a minimum prepaid allowance of P500. "
Siyempre, kulang yung load. Kaya presently nagre-rely na lang sa text e
," Gayosa said. Apart from cell phones, the stations are also equipped with HF (high frequency) and VHF (very high frequency) radios. But Gayosa said not all remotely located detachments have radios. A recent GMA News television report noted that only one radio is working in the operations center of the Coast Guard headquarters in Manila. Gayosa said the agency's current inventory of communication equipment is mainly used for administrative communication such as receiving reports from the various units. "Almost 100 percent — 98 percent — of (the 53) stations have VHF radios
pero sa mga detachment, ang conservative estimate 30 percent lang
," he said. "Supposedly,
dahil sa remote location ng mga detachment, dapat at least may HF sila. But not all has one
." VHF radios are intended mainly for short-range communications. VHF radio signals operate in "line of sight" fashion, generally five to 10 miles. To communicate at longer ranges, MF (medium frequency)/HF radios are needed. Still, Gayosa noted that troubled ships with HF equipment usually call first their parent companies, who will then inform them of the situation.
GMDSS
Maritime communications should have improved had the Global Maritime Distress Safety System (GMDSS) pushed through. GMDSS, a system initiated by the International Maritime Organization, was designed to enhance ship-to-shore communications and provide rapid automated distress alerting through shore-based facilities for Maritime Search and Rescue Communication Stations in 19 sites nationwide. The contract to procure equipment amounting to almost P300 million was entered into between the DOTC and French company Thomson CSF NCS-France (later renamed Thales) in 1998. According to the National Economic and Development Authority and the Mindanao Economic Development Council, the project was funded by the French government. The 2006 Commission on Audit report on DOTC said the contractor abandoned the project in July 2000 "due to a billing dispute" and after more than five years of negotiations between the parties, the termination agreement has yet to be finalized. In a separate audit report in 2003, COA — citing the GMDSS Project Management Office — noted that out of the P295,854,823.62 worth of delivered equipment, 71.99 percent or P212,981,302.93 was not installed by the contractor. "The container vans containing the uninstalled equipment located at various project sites are now in the state of deterioration due to long exposure to open environment while the facilities installed in the completed stations are now beginning to deteriorate due to lack of maintenance. Likewise, the unfinished stations/buildings are in danger of imminent collapse and may pose hazard to the public and nearby structures," the COA report said. "It is worthy to mention that the Department had already expended so much for the above projects and yet no significant progress/development was reported. Such costs and other resources would be wasted and the benefits that could have been derived from the projects could no longer be achieved if the installation of the equipment would not be completed," it added. Gayosa said the Coast Guard, as end user of the project, is not allowed to use the equipment until those were formally turned over. But Gayosa said the Coast Guard is expecting next week the arrival of communications equipment from the Japanese grant-aid project Enhancement of Communications System for Maritime Safety and Security. A Japanese Embassy press release said the 609-million yen project, signed in 2007, aims to establish satellite communications system in 11 stations nationwide, connecting the Coast Guard headquarters and its district offices, "to improve and enhance the PCG's capability for search and rescue as well as counter-terrorism." Twenty-four stations, under the Manila, Cebu and Zamboanga District Offices, will also be equipped with VHF/HF Radio System. Six Metro Manila stations will be equipped with Microwave Communications System in and three stations of the Manila coast will be rehabilitated and upgraded.
ODA loan projects
Data from the 2008 Budget of Expenditures and Sources of Financing show that the Department of Transportation and Communications is the implementing agency of at least 14 ODA-funded maritime projects.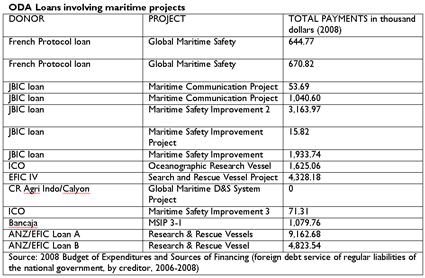 Based on data from the Department of Budget and Management, the government is already paying for these projects. The loans include two French Protocol loans on global maritime safety and five Japan Bank for International Cooperation/Overseas Economic Cooperation Fund (JBIC/OECF) on maritime communication and safety improvement projects. JBIC's Maritime Safety Improvement Project (MSIP) is a 3,516-million yen loan for the emergency rehabilitation of navigational aid facilities — 37 lighthouses and light beacons — in the Manila-Cebu sea road and training required for the operation and maintenance of these facilities. MSIP-2 is a 5,579-million yen loan that also sought the installation and rehabilitation of navigational aid facilities such as lighthouses. JBIC's Maritime Communication Project is a 2,633 million-yen loan amount seeking to ensure efficient and reliable maritime communication services by constructing a Manila Central Coast Station consisting of a transmitting station, receiving station and operation center and a Manila Port Station. It would install maritime radio communication equipment for these stations as well as training equipment and UHF link from the Operation Center to Pagasa and Philippine Ports Authority. Spain — through Bancaja, one of its largest banks, and Instituto de Credito Oficial (ICO), a lending unit — extended loans for an oceanographic research vessel, MSIP-3 and MSIP-3-1. New Zealand Banking Group Limited-Export Finance and Insurance Corporation (ANZ-EFIC) provided loans for research and rescue vessels. The government is still paying for all these loans. But it appears that the Coast Guard has yet to reap the fruits of these projects.
Defective lighthouses
How these projects will be implemented is another story. In the 2004 audit of the DOTC, COA said 13 lighthouses — worth close to P52 million — under the first and second batches of the Maritime Safety Improvement Project Phase III (MSIP-III) were defective. Lighthouses provide navigational safety at sea. The Mindanao Economic Development Council website said MSIP-3, a Spanish ODA project, involves the acquisition of two maritime accident response vessels and construction of marine accident response and support base in Cebu City. It also includes the construction and rehabilitation of 120 lighthouses nationwide. Findings of COA technical staff in 2004 on inspection of a total of 13 lighthouses — seven from the first batch and six from the second batch — showed that the light stations "may only be useful for a short period since the defective marine aids-to-navigation equipment may easily cause the light stations to be non-operational." Nine of the 13 light stations were already not functioning at the time of inspection although they were accepted only last April 2002 and January 2003. "For the 13 light stations alone, the government had expended the amounts of US$1,089,400 or equivalent to P43,576,000.00 for the defective equipment and P8,345,528.43 for the cost of civil works which may be considered useless due to non-functional/non-operational light stations," the report said. La Maquinista Valencia, S.A. bagged the US$13,798,888 contract for the supply and delivery of the marine aids-to-navigation equipment. C.T. Leoncio Construction and Trading and Atlantic Erectors Inc. won the contract for the construction of foundation, erection of towers, installation of equipment including lightning protection systems and commissioning of the First and Second Batches, each consisting of twenty-five (25) lighthouses, worth P14,452,870.63 and 20,142,729.05, respectively. In the 2005 audit on DOTC, COA said the suppliers had been notified in writing about all defective equipment and abnormalities noted in some lighthouses and were asked for replacement.
Insufficient budget
In the 2008 General Appropriations Act, the office of the secretary of the DOTC allotted under operations of "Protection of Philippine Coast" a total of P1,809,623,000 — P1,161,669,000 for personal services, P622,106,000 for MOOE and P25,848,000 for capital outlay. Another P400,000 in MOOE was allotted under "support for operations." The Coast Guard budget falls under the DOTC's Office of the Secretary under "support to operations" and "operations." The Coast Guard budget usually increases through supplemental budgets and subsidies, says COA. The fact that there is no specific line item for the Coast Guard (unlike other DOTC offices such as the Maritime Industry Authority or the National Telecommunications Commission) seems to show that the agency is in the lower rung of the government's list of priorities. "
Kulang talaga
," Balilo said, lamenting the Coast Guard resources. "
Hindi kami makakapag-perform
what is required of us because we lack the facilities, personnel and equipment." A DBM source said the DOTC secretary is the one seeking ODA loans or grants to augment Coast Guard resources. In 2007, the Coast Guard received a total allotment of P1.93 billion, based on COA reports. Of its P1.92 billion expenses that year, P1.37 billion or almost 72 percent was spent on salaries and wages of its 4,000 personnel while P545 million or 28 percent was paid out for maintenance and other operating expenses. The allotments have actually increased: In 2006, The Coast Guard received P1.82 billion and P1.33 billion in 2005.
- GMA News Research