GMA Network makes history during the first leg of Pilipinas Debates 2016
February 23 2016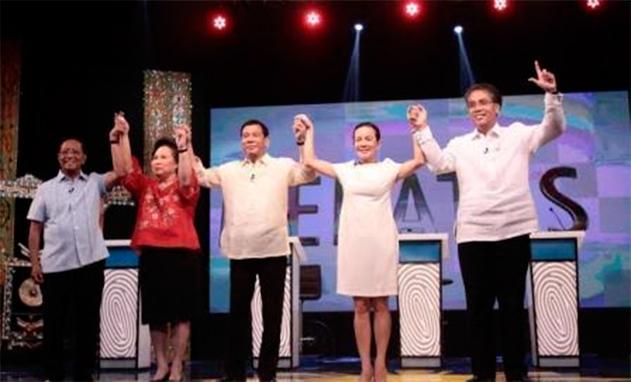 GMA Network made another mark in Philippine broadcast history when it mounted the initial leg of "PiliPinas Debates 2016" - the first presidential debate attended by all candidates in 24 years - which ruled both television ratings and online presence last Sunday.
Nielsen Phils. TAM, the industry's most trusted ratings service provider, reported that GMA's live coverage of "PiliPinas Debates 2016" at the Capitol University in Cagayan de Oro City on February 21, from 5 to 7pm, posted an overnight household rating of 24.8 percent nationwide in NUTAM (National Urban Television Audience Measurement), winning by a landslide over all counterpart programs of its rival network.
The debate, which was organized by the Commission on Elections (COMELEC) and produced by GMA Network and its print media partner Philippine Daily Inquirer, rated highest in Urban Mindanao, where the event was held, posting a 30.5 percent household rating.
Aside from ruling the TV ratings, "PiliPinas Debates 2016" - attended by all presidential aspirants, Vice President Jejomar Binay, Sen. Miriam Defensor-Santiago, Davao City Mayor Rodrigo Duterte, Sen. Grace Poe, and former DILG Sec. Mar Roxas - also dominated online.
Based on data from Effective Measure, the leading provider of digital audience, brand, and advertising effectiveness measurement, GMA News Online got 3,567,404 page views last Sunday. The site's main debates page gmanews.tv/eleksyon2016/debates, which housed the debate's livestream, got 1,028,341 public views.
The hashtag #PiliPinasDebates2016 became the top trending topic on Twitter in the Philippines and worldwide at the time the debate was being shown. Data from Twitter shows that organic impressions of tweets sent by @gmanews generated 13.4 million organic impressions. Impressions are real views of @gmanews' tweets. There were 54,200 clicks on links mentioned in tweets sent by @gmanews and 513,900 clicks on native videos it tweeted.
On GMA News' Facebook page , posts with the #PiliPinasDebates2016 generated 156,215 engagements.

Meanwhile, the on-demand replay of "Pilipinas Debates 2016" continues to be watched. The video posted on YouTube now has 1,049,334 views.
GMA Network also mounted the first-ever 360-degree livestream coverage of a live event in the Philippines during the debate, and one of the first worldwide.
Moderated by GMA News pillars Mike Enriquez and Jessica Soho, the debate became a venue for the presidential bets to discuss their platforms on some of the most-pressing issues faced by the country. Inquirer.net Editor in Chief John Nery served as co-host.
COMELEC will be organizing two more presidential debates, one in Luzon and one in Visayas, and a vice-presidential debate in Manila.