My Kontrabida Girl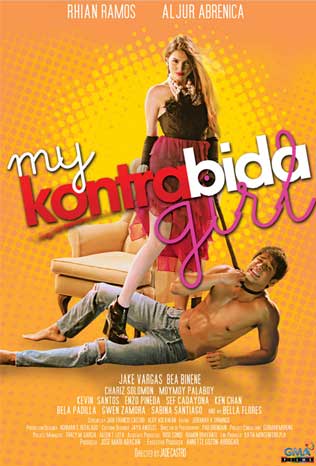 The country's leading soap opera villainess is so effective at her job that people can't stand her in real life! Isabel Reyes (Rhian Ramos), famed actress and soap star, is reviled in the public. And this is largely due to her ability to make audiences believe that she is ruthless and mean.

But after an old man saves her life, Isabel finds herself unable to bring her role to life. In an attempt to save ratings, her network advises her to take a leave and find her mojo.

Through research and conversations with former kontrabidas, Isabel finds Bella Flores - the meanest of them all. And what she learns is that for her to get her mean streak back, Isabel must find the person who has hurt her the most in her past. So she must go back to her childhood town and find a boy named Chris Bernal (Aljur Abrenica).

Chris is still living in the town Isabel left when she was a child. He is a struggling employee and gardener, who works for the resort that his aunt manages. Chris is a pushover, and a people-pleaser. In his bid not to step into conflicts, he often finds himself trapped in difficult situations, including one that involves two women he does not love.

Even Joyce (Bea Binene), Chris' younger sister, asks him to stand up for himself. But the only person he can try to control is her - wanting her to stay away from relationships until she graduates from college. And this includes staying away from Poy (Jake Vargas), another resort employee.

So what happens when Isabel, in her need to regain her kontrabida spirit, comes barging back into his life? Will her need to hurt him as much as she remembers he hurt her backfire? Will her attempts to ruin him change when she realizes that she might still have feelings for him?

And will the Kontrabida Girl finally find her Leading Man?
---
Cast Information
Rhian Ramos as Isabel
Aljur Abrenica as Chris
Bea Binene as Joyce
Jake Vargas as Poy