GMA Kapuso Foundation receives donation from PCCF
January 28 2016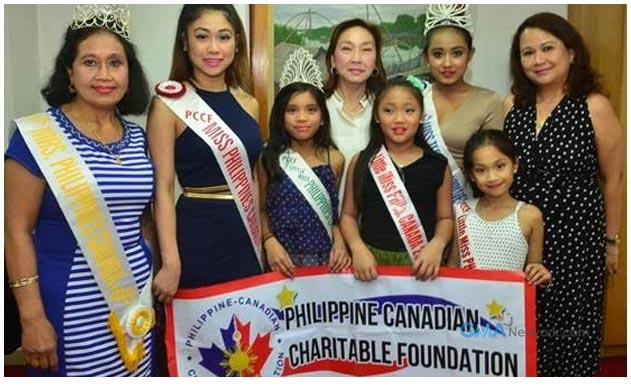 GMA Kapuso Foundation (GMAKF), the socio-civic arm of broadcast company GMA Network, received a donation from the Philippine Canadian Charitable Foundation (PCCF) during its recent visit to the Philippines this January.
The PCCF, a frequent partner of GMA's flagship international channel GMA Pinoy TV, is one of the largest non-profit organizations in Ontario, Canada. It aims to raise funds for less fortunate Filipinos through various events such as shows, festivals, and pageants that showcase the Filipino culture and lifestyle.

Leading the turnover of the check to GMAKF Executive Vice President and COO Mel C. Tiangco was PCCF Executive Vice President Rosemer Enverga. She was joined by Nathalie Ramos, Miss Philippines Canada 2015; Ansha Joy Hipolito, Miss Teen Philippines Canada; Ning Talandato, Mrs. Philippines Canada; Angeli Lachica, Little Miss Philippines Canada; and Alyssa Ong and Kayla Ventura, Little Miss Philippines Canada runners-up.

This year, the Toronto-based charitable organization chose to allot a portion of its funds to GMAKF's rehabilitation efforts for victims of typhoon Ondoy, which affected a great part of Metro Manila and Luzon in 2009.
"We've seen the magnitude of their support to our less fortunate countrymen especially to victims of calamities," said Enverga. "We admire how they really go out of their way just to bring help to those in need, and how they handle the donations with transparency."
For their part, Tiangco expressed their appreciation for the continued support they receive from PCCF. "The overwhelming support and trust that we receive from organizations like the PCCF is what drives us to continue on with our mission of providing Serbisyong Totoo to our less fortunate countrymen," she said.

GMA Kapuso Foundation has been a beneficiary of the Philippine Canadian Charitable Foundation for 5 years.