'Beware of ring sending mail-order brides to Korea'
Wed to strangers
---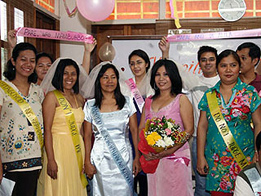 ---
The motivation for marrying foreigners among Korean men is not necessarily anchored on love or deep emotional commitment.
According to the Action Research on Marriage Migration Network (ARMMNet), interracial marriages in Korea are often consensual, but many unions "have not grown from genuine emotional investment and sustained by equal roles of partners."
If it's not love, then what prods Korean men to chase women from poorer Asian countries?
Read more: Wed to strangers, Pinays endure isolation in Korea
Beware of syndicates recruiting Filipino women as brides for Korean nationals.
The Philippine Embassy in Seoul has issued the warning as it reported having received many complaints from Filipino wives of abuses committed by their foreign husbands lately.
Such abuses resulted in "abandonment of the marital home, separation and divorce," Ambassador Luis Cruz was quoted saying in a report posted Thursday in the Department of Foreign Affairs (DFA) website (www.dfa.gov.ph).
The report said many Filipino women were quick to accept the whirlwind marriage to seek employment abroad and have better opportunities in life.
"However, they receive false information on the partner's family background and face abuses after the marriage," it said.
Republic Act 6955, the Anti-Mail-Order Bride Law, makes it illegal for a "person, natural or juridical, association, club or any other entity" to "establish or carry on a business which has for its purpose the matching of Filipino women for marriage to foreign nationals either on a mail-order basis or through personal introduction."
Under this law, the DFA report said, while international marriage broker agencies are legal in South Korea, they cannot legally operate as such in the Philippines.
As of April 2009, some 6,000 Filipinos married to South Koreans reside in the peninsula.
Officials estimate that there are 300,000 Filipinos married to foreigners, 92 percent of whom are women.
The foreigners are mainly from the United States, Japan, Canada, the United Kingdom and South Korea.
A
study
released by the Asian Development Bank in February noted that the inability of the Philippine economy to produce high-paying jobs especially for women has pushed Filipinos to marry foreigners as a way to provide for their families.
The number of Filipinos marrying foreigners have also tripled in just a span of eight years from 7,819 in 1998 to 24,954 in 2006, said the study.
A
report in 2007
also noted that the number of young Pinays marrying elderly Asians has become alarming.
Earlier, the Commission on Filipinos Overseas (CFO) reported that fake CFO Guidance and Counseling Certificates and Registration Stickers were being sold by so-called recruitment agencies or marriage brokers.
The documents appear to show that the women are married to foreign nationals and therefore can leave for work abroad.
CFO stated that such activities violate the Anti-Mail Order Bride Law and the Anti-Human Trafficking Law (RA 9208), which provide stiff fines and long prison terms.
Filipino spouses and partners of foreign nationals are required to undergo the Guidance and Counseling Program of the CFO prior to applying for a Philippine passport.
There are only two counseling service providers accredited by the CFO, including the St. Mary Euphrasia Foundation (SMEF-COW) and the People's Reform Initiative for Social Mobilization (PRISM).
"After complying with the counseling requirements, a certificate is issued to the Filipina spouse or partner of a foreign national," the DFA said.
- GMANews.TV