The son also rises: Who is Noynoy Aquino?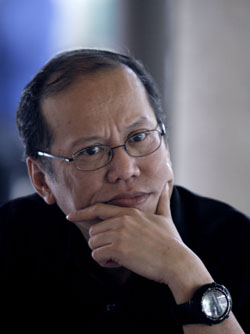 Sen. Benigno "Noynoy" Aquino III struck a pensive pose when he met with the press in Davao City last Sept. 3 before he took a 'spiritual retreat' in Zamboanga City. -
Keith Bacongco
After trailing in the shadow of his famous parents, Senator Benigno "Noynoy" Aquino III is starting to make a name for himself as he finally throws his hat in the presidential ring, with Wednesday's announcement of his candidacy for the post.
The only son of the country's democracy icons, Noynoy was born on Feb. 8, 1960 to former Senator Benigno "Ninoy" Aquino Jr. and former President Corazon Cojuangco Aquino. He attended the Ateneo de Manila University from elementary to college, and earned a degree in economics in 1981.
Upon graduation, Noynoy joined his family in Boston, where he described himself as the "jack of all trades" at home. "I was the assistant driver, handyman, gardener, electrician, plumber, dog handler at kung ano ano pa," he told GMANews.TV.
In 1983, the family returned to the country after Ninoy Aquino was assassinated upon arrival in Manila from US exile. For the next two years, Noynoy worked as an assistant of the executive director of the Philippine Business for Social Progress, a corporate-led non-profit organization.
Later, he joined Mondragon Industries Philippines Inc. as an assistant Retail Sales Supervisor and assistant promotions manager for the Nike shoe brand in the Philippines.
During his mother's term as president from 1986 to 1992, Noynoy was the vice president for Intra-Strata Assurance Corporation, a company owned by his uncle Antolin Oreta Jr.
After that, he worked for Central Azucarera de Tarlac, the sugar refinery in charge of the Cojuangco-owned Hacienda Luisita, as the executive assistant for administration from 1993 to 1996, and as manager for field services from 1996 until 1998.
With public service stamped in his blood line from both sides of the family, Noynoy continued the tradition of his parents and forebears. He served for three terms as representative for the second district of Tarlac, his parents' home province, from 1998 to 2007. He ran successfully for senator in 2007, with a term extending up to 2013.
As an economist, Noynoy put his background to good use by pushing for legislation in favor of Filipino workers and consumers. Among the bills he authored or proposed were the following:
* House Bill No. 4397, reinforcing the authority of the Department of Trade and Industry (DTI) to implement consumer laws;
* House Bill No. 4252, which raises penalties for employers who do not comply with the mandated increases and adjustments in the wage rates of workers; and
* House Bill No. 4251, which gives yearly productivity incentives for workers in the private sector.
Noynoy served as Deputy Speaker for the House of Representatives from 2004 until 2006. He was a member of several House committees including those on banks and financial intermediaries, public order and safety, good government, and civil, political and human rights.
As a senator, he pushed for transparency in the acquisition of the fuel needs of the Armed Forces of the Philippines by requiring public bidding for its purchase.
On the political front, Noynoy followed the footsteps of his father and became a member of the Liberal Party (LP). He has served as vice president for Luzon and secretary general of the party, and has been vice chairman since 2006.
Along with his four sisters, Noynoy's grief from the loss of his mother, who died on August 1 after suffering from colon cancer for more than a year, was exposed to the public as a result of the non-stop media coverage of her wake and funeral. Noynoy was thrust into the limelight along with the outpouring of support for his family.
Not a stranger to democratic struggles, Noynoy escaped death during a failed coup attempt in December 1989, one of several against his mother's administration. According to his
biography posted on the Senate website
, Noynoy sustained five bullet wounds when rogue soldiers met him at the gates of Malacañang, an attack that killed three of his bodyguards. A bullet remains embedded in his neck.
As the family marked the 40th day since his mother's death Wednesday, Noynoy announced his intention to seek the nation's highest post in 2010. Several other would-be presidential candidates, including party-mate and LP president Sen. Manuel "Mar" Roxas II, have since withdrawn their own bids to give way to Aquino. –
Melissa de los Santos and Amita O. Legaspi, GMANews.TV