Ravena's 33 points lift Eaglets past Junior Archers in Game 1
Game 1 of the Ateneo-La Salle junior finals was a nip and tuck battle until Blue Eaglet Kiefer Ravena took over.
Ravena scored 33 points including 15 in the fourth quarter as the defending champion Blue Eaglets won the best-of-three series opener defeating the Junior Archers, 80-73, Saturday in the UAAP junior's basketball finals at The Arena in San Juan City.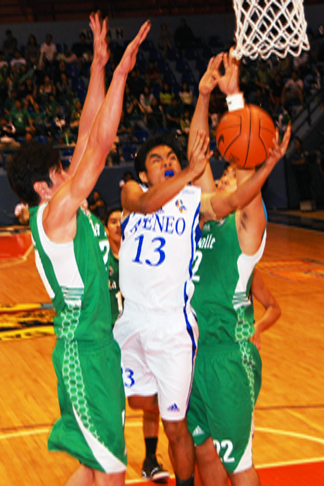 Ateneo's Charles Dumrique, center, tries to squeeze in a lay-up against the defense of La Salle's Anton Sevilla, left, and Luis De La Paz during Game 1 of the UAAP juniors finals on Saturday at The Arena in San Juan City.
Jeff Venancio
The 15-year-old Ravena, the son of former PBA cager Bong and ex volleyball player Mozzie, scored six straight points on isolation plays to give the Blue Eaglets a 74-67 lead with 1:52 left in the game.
"He (Ravena) works hard and plays hard," said Ateneo coach Jamike Jarin.
Jarin was actually surprised when he learned that Ravena scored 33 points during the postgame interview but added the Eaglets' win was a total team effort.
"He (Ravena) didn't do this alone. He had his teammates who set him up with those screens that's why he made those baskets," said Jarin.
"It's not Kiefer Ravena's team. It's Ateneo's team," Jarin added.
The Blue Eaglets can wrap up the series and win their second straight title on Tuesday at The Arena in San Juan.
Nico Elorde, grandson of boxing great Gabriel "Flash" Elorde, finished with 18 points and 10 boards while Gwyne Capacio, son of FEU coach Glenn Capacio, added 15 points and 12 rebounds for the Junior Archers.
Ateneo and La Salle has won the last six UAAP titles in the junior's division with the Eaglets winning it four times, the last one in 2008. The Junior Archers won the crown during the 2005 and 2007 seasons.
– GMANews.TV