Palace declares arnis as national martial art and sport
Malacañang on Friday declared arnis as the Philippines' national martial art and sport, giving the traditional Filipino martial art that employs sticks a big boost in terms of popularity and development.
Press Secretary Cerge Remondo, himself a former arnisador who trained under Supreme Grandmaster Ciriaco "Cacoy" Canete, said this is in accordance with the enactment of Republic Act 9850 which President Arroyo signed into law last Dec. 11, 2009.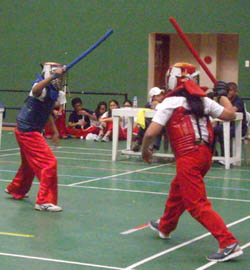 Arnis played as a sport. Arnis Philippines photo
RA 9850 is expected to help propagate arnis as a modern martial art/sport that can compete with its popular foreign-originated brethrens like taekwondo, karate and judo.
Under the law, arnis will be made a mandatory course or subject in all schools in the country unlike before when arnis was only offered in a few schools as an elective physical education subject. It also institutionalizes arnis as a regular event in the annual Palarong Pambansa.
The Department of Education, the National Commission for Culture and the Arts, and the Philippine Sports Commission (PSC) have been tapped to promulgate the rules and regulations to carry out the act.
RA 9850 is a consolidation of House Bill No. 6516 authored by South Cotabato Rep. Arthur Pingoy Jr., and Senate Bill No. 1424 authored by Majority leader Juan Miguel Zubiri, who himself has trained in arnis. -
GMANews.TV