Alas steers Patriots to 1st ASEAN cage league title
Louie Alas is no stranger to winning and he's proven many times over that he rules Southeast Asian basketball.

He coached Philippine teams to win titles in the Southeast Asian Basketball Association (SEABA) and to the 1999 Southeast Asian Games gold in Brunei. In 2007, Alas also helped the RP team to win the SEA Games gold in Thailand as assistant coach to Junel Baculi.
Alas went on to coach the Philippine Patriots in the 1st ASEAN Basketball League (ABL), where they took home the crown with a 75-67 triumph over Indonesia's Satria Muda BritAma Sunday at the BritAma Arena in Jakarta.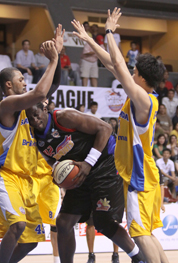 The Philippine Patriots' Jason Dixon, center, challenges the defense of Satria Muda Indonesia's Nakiea Miller, left, and Romy Gunawan. GMANews.TV
The Patriots completed a three-game sweep of their short best-of-five title series after winning Games 1 and 2 in Manila, 78-68 and 72-53.
"It's nice to win a championship again. I told the boys to play as if we're in the jungle and they responded well," said Alas, who also personally ended his title drought after also winning championships in the now defunct Metropolitan Basketball Association (MBA) and the NCAA.
Alas won the 1999 MBA National title while coaching the Manila Metrostars while also leading the Letran Knights to championships during the 1998, 2003 and 2005 seasons.
And Alas had plenty of help from his American reinforcements since his locals, who were active offensively in the first two games, went silent against the jeers and taunts of the hometown crowd.
Fortunately, they more than made up for their offensive weakness on the defensive end with Warren Ybanez, Jerwin Gaco, Christian Coronel, Nonoy Baclao, Elmer Espiritu and Rob Wainwright responding to Alas' challenge of shutting down their Indonesian counterparts.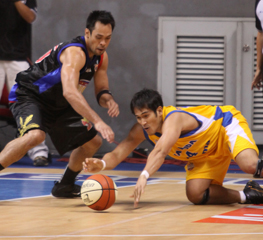 Satria Muda Indonesia's Welyamsong Sitomobang, right, and the Philippine Patriots' Jerwin Gaco battle for ball possession. GMANews.TV
"The whole season we really emphasized on defense, especially this series," said Alas.
Jason Dixon toyed with his Indonesian defenders and exploded for 28 points and grabbed 12 rebounds for his 15th double-double performance in the league while former PBA best import winner Gabe Freeman chipped in 17 markers and 19 caroms.
Dixon went 6-of-6 in the second period helping the Patriots enjoy a 35-31 halftime spread after trailing for most of the time in the opening quarter.
The Patriots then raced to a 13-point lead midway in the final canto, 68-52, with a Coronel steal and an assist to a cutting Freeman, who finished the fastbreak play, highlighting that scoring spree.
– GMANews.TV

Scores:
Philippines 75 – Dixon 28, Freeman 17, Wainwright 9, Gaco 9, Ybañez 7, Sta. Maria 3, Coronel 2, Alcaraz 0, Acuña 0, Espiritu 0, Baclao 0, Mirza 0.
Indonesia 67 – R. Gunawan R. 20, Hartman 14, Miller 13, Prihantono 9, Sondakh 8, Wuysang 2, Wijaya 1, Achmad 0, G. Gunawan 0, Siregar 0, Situmorang 0, Arifin 0.
Quarter scores: 13-17, 35-31, 64-52, 75-67.