Red Warriors take fight out of UP Maroons
It was a sweep that University of the Philippines would not want to achieve.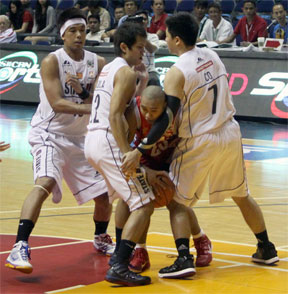 UE's Paul Lee (center) finds himself trapped against the triple-team defense of UP's Magi Sison (from left), Alvin Padilla and Woody Co during their game in the 73rd UAAP men's basketball tournament on Saturday atthe Araneta Coliseum. GMANews.TV
In a season full of changes and several misfortunes along the way, the Maroons completed their road towards a sorry 0-14 slate after bowing to University of the East, 67-61, in the 73rd UAAP men's basketball tournament on Saturday at the Araneta Coliseum.
The Diliman-based cagers played competitive basketball for the first two quarters before allowing the Red Warriors to mount a late run in the final minutes of the second period and a big scoring binge in the third quarter to complete their winless season.
UP thus equaled its miserable 2007 season when it failed to win a single game. Woody Co and Martin Reyes, who both played their final collegiate game with center Magi Sison, were members of that squad.
"I take the blame for all of our losses," said UP acting coach Boyet Fernandez, who tendered his courtesy resignation to team officials.
Whether he returns on the Maroons' bench or not, Fernandez, who will be one of the assistant coaches of the new Meralco franchise in the Philippine Basketball Association, said that he sees a strong team next season.
"I'll think about it," said Fernandez. "But I have no regrets even though we're 0-14."
Sison came up with 21 points, 17 rebounds and four blocks. Mike Silungan had nine points on a dismal 3-of-13 shooting clip.
Silungan, expected by many to be the team's savior entering this season, assured everyone that they won't be any repeat of UP's 0-14 season. "This 0-14 (record), it's not going to happen again."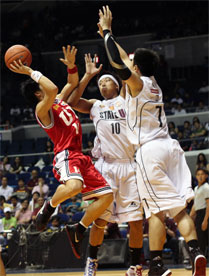 UE's Raffy Reyes (left) attempts to score against the defense of UP's Magi Sison (center) and Woody Co during their game in the 73rd UAAP men's basketball tournament on Saturday atthe Araneta Coliseum. GMANews.TV
James Martinez and Raffy Reyes, who also played their last season for UE, scored 17 and 11 points each as the Red Warriors closed out Season 73 with a 6-8 slate for a sixth-place finish.
"Not making the Final Four is an ultimate disappointment if there's any consolation we got from this season is that we learned a lot," said UE coach Lawrence Chongson, who a year ago steered the school to an unlikely finals berth losing to Ateneo in three games.
Like Fernandez, Chongson's job security remains doubtful. His two-year deal is set to expire and he thinks that it's unlikely that he will be back for another tour of duty on the UE bench.
Paul Lee, who guaranteed that he will return to finish his UAAP playing year with the team, had eight points, nine rebounds and nine assists while lanky center Kenneth Acibar tallied 11 points, eight rebounds and two blocks.
After enjoying a 36-29 halftime spread, the Recto-based dribblers held the Maroons scoreless for five minutes in the third where they scored 12 straight points for a 48-29 advantage.
The Warriors' even posted a 20-point margin but the Maroons tried to make one final comeback when they came to within six with a minute left but ran out of time,
UP suffered its 18th consecutive loss. The last time it won a game was on August 22, 2009 when it beat La Salle, 83-78.
– JVP, GMANews.TV


UE 67 - Martinez 17, Reyes 11, Acibar 11, Rosopa 9, Lee 8, Enguio 5, Santos 2, Zamar 2, Tagarda 2, Hernandez 0, Casajeros 0, Sumido 0, Noble 0, Duran 0.

UP 61 - Sison 21, Padilla 11, Silungan 9, Co 9, Saret 4, Maniego 4, Mi. Reyes 3, Pascual 0, Ma. Reyes 0, Hipolito 0, Juruena 0, Gomez 0.

Quarter scores: 21-14, 36-28, 53-38, 67-61.