Critics: DOT's 'Pilipinas Kay Ganda' not so pretty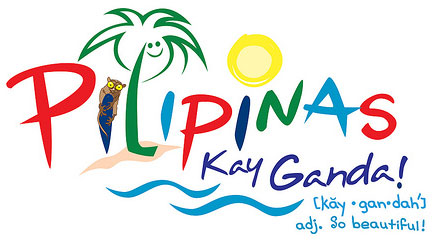 As far as the online community is concerned, the government's newly-launched tourism campaign highlighting the Philippines' beauty is off to a not-so-beautiful start.
On Monday, the Department of Tourism (DOT) introduced its "Pilipinas Kay Ganda" (Philippines So Beautiful) campaign, but the slogan and its accompanying website (beautifulpilipinas.com) were both met with heavy criticism online.
By Tuesday morning, barely a day after it was launched, the website was taken down for an overhaul.
The DOT said that its new slogan is "portrayed in a colorful, vibrant logo, which shows both the tropical scenery and the happy smiles of our people. A cute tarsier, a marsupial endemic to the country, highlights our unique and playful character."
The tarsier, however, is not a marsupial, but a primate.
The DOT also said that the line "Kay Ganda!" —a common Filipino phrase that literally means "So beautiful!"— can be used to express appreciation for anything, from people and landscapes to music, food and even attitude.
"In a region filled with similar promises, the use of 'Kay Ganda!' stands out, better expressing the joyful and exuberant spirit of the Filipino," it said.
The DOT added that it used the word "Pilipinas" instead of the more familiar English "Philippines" because "Pilipinas" captures the "renewed pride and hope that we're feeling."
Slogan criticized
But the slogan did not sit well with some online users.
On Monday, prominent Filipino tour guide Carlos Celdran posted live updates from the campaign launch on his Facebook fan page, where the new slogan was met with a barrage of criticism.
"Carlos, why is the new slogan in Tagalog? How are we going to target the international market? I kinda prefer the WOW Philippines," said one Facebook user.
Another user said the tagline "lacks oomph."
Still another commenter on Celdran's Facebook page wrote: "Website sucks, look at Manila, what to do 'Fun and Adventure', How much did they spend on that crap... Another case of pouring money down a hole run by someone's friend."
Filipino blogger Noemi Lardizabal-Dado also
pooled together
quotes from her Facebook friends about the DOT's campaign:
"Is this intended for pinoy balikbayans only? I don't think too many foreigners will understand this slogan —most of them don't read and understand Tagalog," one commenter said.
"The graphics are beautiful but the content is sorely lacking. it gives me the impression that the DOT people do not know their own country. We have more beautiful places to see which were not even mentioned," said another.
"Sounds like a morning show's title..." someone else quipped.
In-depth look at the website
Meanwhile, new media marketing expert Carlo Ople also posted
on his blog
: "I was a bit surprised to find out that the official slogan... we're carrying is in Tagalog. This is a bit weird since the target market is obviously the segment that can't understand our language."
Ople also gave an in-depth commentary on the website's layout.
"The first thing you guys see when you load the site is the vibrant and fun images showcasing what the Philippines is all about. It's also nice that the developers didn't use flash for the main banner since that will just make the site load longer and it also might screw up
search engine optimization
," he said.
Ople praised the site for its easy-to-navigate layout, but quickly pointed out several dead links and numerous copy mistakes.
"The website shouldn't have gone public yet. There are so many errors that could have been easily spotted with the proper QA. Also, the site really isn't too 'social' enough. There are no 'Facebook Share' or 'Retweet' buttons anywhere in the website. Since this is international, they should also think about how they could have tapped Digg, StumbleUpon, and other social networking sites that can potentially drive significant global traffic," Ople concluded.
DOT's response
In his official
Twitter account
, DOT undersecretary for planning and promotions Vicente "Enteng" Romano III vowed to address the online criticism of the DOT's campaign:
"#helpDOT tnks for pointing out problem with http://beautifulpilipinas.com. Will move to another name. Will also correct typos," he
tweeted
.
In an email to GMANews.TV, Romano said that the website was deactivated on Tuesday to make way for typographical and grammatical corrections. He also said that the site will be moved to a new address because of the existence of a pornography site with a similar name.
"We will just review pages and correct errors before we republish, hopefully in three to four weeks," Romano said.
Romano also clarified that a more improved website is already being planned.
"This is not yet the full-featured website that we are envisioning as part of our digital strategy. That will still be bidded out. Only the look and feel were changed to match the new brand, but the content was lifted from other existing DOT websites. So (the current site) is really just an interim site," he explained.
Romano defends Filipino slogan
Even as he acceded to criticism of the website, Romano upheld the choice of a Filipino slogan for the new DOT campaign.
"(Much) of the criticism comes from the apprehension that (the slogan 'Pilipinas Kay Ganda') might not be understood by foreigners. And yet, many of the foreigners who attended last night's Brand Preview Event —general managers of hotels and resorts, airline representatives, foreign dignitaries, etc.— loved the new brand," Romano said.
Offering a slogan in Pilipino not only makes us different. It also gives an opportunity to start a conversation and engage them more intimately. It is a matter of execution.
"We have a very limited budget compared to our neighbors in Asia. We're about 1/17th of Thailand's budget for 2011. All of our neighbors have chosen an English word to describe its character. If we follow the same path, our brand will simply be drowned out by our neighbors' bigger ad budgets," he added.
- TJD/HS, GMANews.TV