A new comics page for Manix Abrera on GMANews.TV
A caffeine-fueled, sleepless rookie reporter struggling with writing a story suddenly sees a head floating above her.
"Ako ang ulo ng mga balita,"
the apparition blurts out to the terrified journalist. Then the head bursts into flames, and declares himself
"nagbabagang balita."
Absurd, but the hallucination captures the dread of anyone rapidly nearing a deadline.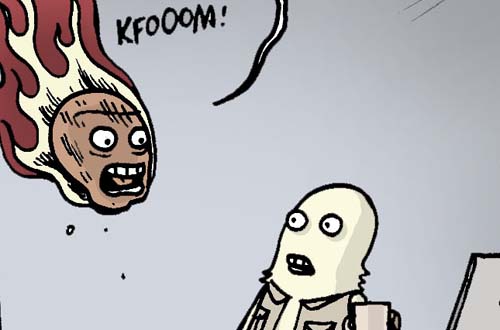 The heroine of Manix Abrera's News Hardcore is confronted by a caffeine-induced hallucination.
So goes one hysterical adventure in News Hardcore, Manix Abrera's online comic-strip satire of media that's rapidly gaining a following on GMANews.TV
Now in its 17th episode on GMANews.TV, News Hardcore has a new home in the
new comics and humor section
of the site.
The section will also feature The Daily Jeje, a photo where users will provide the punch line or a witty quote. The site will feature some of the funnier submissions.
The beta version of the section had a photo showing Vice President Binay sitting on a stage shortly before Christmas whispering to PNoy, "Psst,
sino nakuha mo sa
exchange gift?"
"The comics and humor section is another in a series of moves by GMANews.TV to add variety to our site and appeal to a wide range of audiences," says Howie Severino, editor-in-chief of GMANews.TV.
Manix Abrera has long been a rock star among comic-book artists, with a strong fan base among the college crowd. His fame began with his irreverent comic strip Kikomachine at the Philippine Collegian when he was a fine arts student at the University of the Philippines Diliman.
The son of Jess Abrera, the long-time editorial cartoonist of the Philipine Daily Inquirer, Manix acknowledges at least one advantage of being online:
"Hindi ako napagsasabihan ng magulang ko sa mga nailalabas ko
online
(yung mga tipong
guest
s
i God
sa
comics haha)," he says via email.
"Kasi hindi naman sila nagbabasa masyado
online! Hahaha."
– GMANews.TV