The price of love: How much does a wedding cost?
I've often heard that marriage is just a piece of paper, but I've learned it isn't. It's a lot of paper. It's also a lot of money.
Asking around for an estimate of how much it costs to have a wedding, I came across some shocking answers. "350 thousand should be enough for a small wedding," someone volunteered on an online forum, and several agreed.
Does a wedding really cost that much? Well, it depends on what kind of wedding you want. Who do you want to attend -- friends and family, the whole barangay, all your Facebook friends? Where do you want it to be -- a small chapel, a cathedral, or out of town?
Answering these questions will help you figure out just how much you'll need. And if you need professional help, there are countless suppliers in the wedding industry who will be more than happy to give you advice. Or, you could ask those who've been there for their own tips.
Planning your wedding
Hotels and restaurants usually have wedding packages, which can be quite expensive. But it saves you the trouble of having to deal with several suppliers, and all you have to do is show up. For the obsessive-compulsive types, there is also the now-trendy option of having a d-i-y wedding.
Martha Stewart Weddings Philippines' Paulynn Chang-Afable shared some practical wedding planning tips at the Manila Peninsula's bridal fair "Weddings at the Peninsula."
With all the available choices out there, it's easy to get overwhelmed, so Afable suggests listing down what you dislike and what you don't want in your wedding. Narrowing your selection will help a lot, and eventually, you'll have a very clear idea of what you want. You may find that no one has it, so the obvious solution is to do it yourself.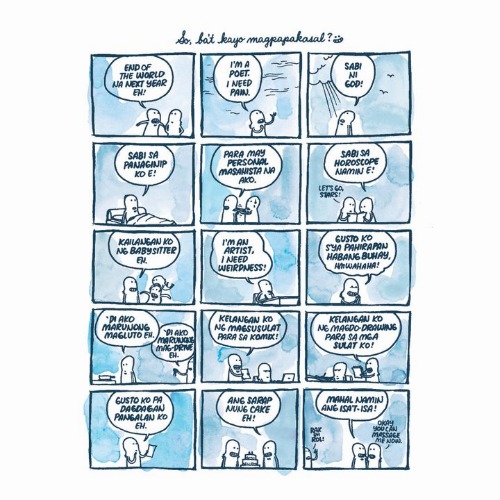 Invitations don't have to be stiff and formal.
Wedding invitation by Manix Abrera
"You can even use clip art," says Afable, showing photos of various wedding elements made with commonly used computer graphics. I hadn't heard the phrase clip art in a long time, but as she showed us charming tokens, invitations, and even flower girl dresses, all made pretty with the use of clip art, I was almost convinced.
Afable also suggests having a theme. "Before, themes were limited to a color motif," she says. Nowadays, weddings follow a wide range of themes, from countries to periods. "There was one Thai-themed wedding, so everything revolved around that, even the food," she says.
Having a theme not only makes it easier to come up with ideas for different parts of the wedding, like the clothing, decor and food; it also creates a certain mood. Usually, the theme is something that the couples can relate to. For instance, a couple that loves the water might choose to have a beach wedding.
Themes don't have to be grand, either. "Even a piece of fabric can serve as your theme," says Afable. The idea is that everything will somehow relate to the theme, from how the reception looks to the tiny details, like boutonneires.
Accessories are often overlooked, but when given enough attention, they can make even simple weddings interesting. For instance, accessories maker Jae Buenafe of Jaewelry began to make customized wedding cords when her friends started getting married. Guests of her friends noticed the creative and unique cords, and Jae got more customers.
"The wedding cords I create are based on the wedding's motif colors. The standard length is 9 feet. I make sure that it's 'free-flowing,' that is, it's like one, long necklace. The bride usually wears it during the reception. Or they ask me to cut shorter pieces of it para they can use it as any other accessory," says Jae.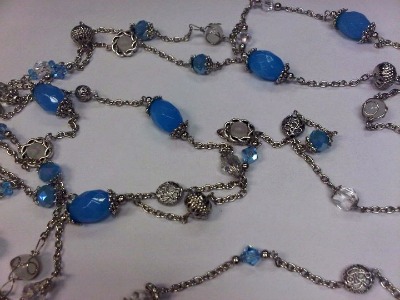 The Divine cord was made with aqua blue crystals with floral stoppers and gradient shades of aqua blue crystals. Photo courtesy of JAEwelry
"Also, my design depends on the bride & groom's personalities. I don't use big stones if shy type yung bride. If the bride is super girly, you'll probably see a lot of flower charms," says Jae. Her cords cost from 600 to more than 1,000 pesos, depending on the charms and other additional details.
Making happy memories
But Jae's advice to couples is to really plan for the marriage. "Their planning should not only stop when they have their wedding and honeymoon covered. Ideally, they plan and save enough for when they face the marriage part," says Jae.
Myca Lucindo, who got married in 2002, agrees. "Don't spend too much on the ceremony. Spend more on the honeymoon and the house. If you can find a nice wedding gown for rent, better. Invest on a good photographer and videographer to capture the moments," she says.
Still, it's difficult not to obsess about wedding planning. After all, it only happens once, at least most of the time.
"To stay within budget, watch out for discounts. We got a 50% discount from our catering service because of their anniversary--LUCKY! if not, we would have gone beyond," says Myca, who recalls spending about 300,000 pesos for her wedding.
Teresa Hayward, who got married in 2000 in Calaruega in Tagaytay, describes her wedding as memorable. "It was exactly what we wanted and we spent every minute of it with people we love and would be with forever. Our entourage was made up of family and the roles were assigned according to age. My dress was classic, and my hair and make-up simple - I don't shudder and think 'what was i thinking!' when I look at the photos, she says.
As for the cost, they spent a few hundred thousand pesos, but it wasn't all blown in one night. "Because we had very good friends and immediate family coming in from all over, we wanted to make sure it was worth the journey over so we had celebrations spread out over several days - nothing extravagant, just a whole lot of bonding, conversation, eating, laughing ... we made a lot of memories," she says.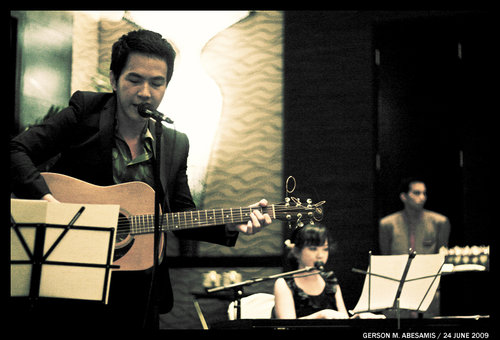 "The highlight was the program, where our friends played music and prepared videos for us," says Nice.
Weddings aren't just about making memories, but remembering as well. For those who can't have everyone present, there are ways to offer small tributes to loved ones who have passed away.
"It was her dying wish to have me get married and she'd have been very happy to see me walk down the aisle. But we made sure she was there anyway. I had a table set up right next to the altar where photos of my mom, his brother, his brother-in-law and his dad were set up (a place of honor, if you will) and we incorporated a flower offering into the ceremony. They may not have been there physically, but they were in our hearts," says Teresa.
It's about marriage
Her advice from a marriage perspective is to make sure you marry someone who could be your best friend. "From a wedding perspective, don't overspend because there are a lot more things (better things) you'll be spending on after the wedding. Oh, and another thing - don't forget we live in the tropics ... very high humidity levels ... AND that pictures will be taken, nuff said," says Teresa.
Given the weather, evening weddings are nice. But of course, there's nothing like natural light for photos. "We paid extra for the air-conditioning so everybody would be happy. Or comfortable at least. We all know how weddings could drag," says Nice Buenaventura, who got married in 2009.
She says it also pays to have connections. "The entourage looked lovely in their impeccably-tailored dresses and suits. My then-boss, Kate Torralba, designed them for less than half of her published rate," says Nice.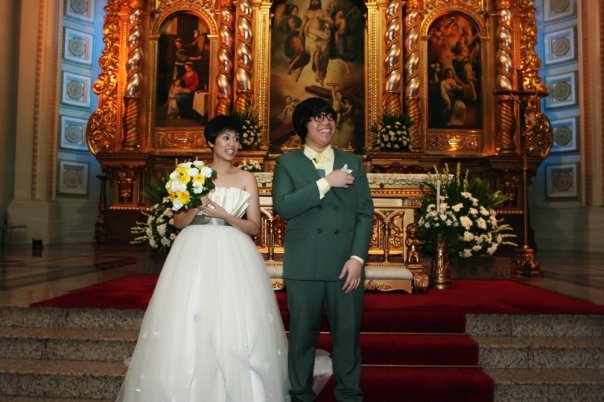 Impeccably-tailored dresses and suits by Kate Torralba.
Although she conformed to tradition by being a June bride, a lot of their wedding details were personalized, and here, Nice put her skills to use. "I happen to be good with my hands, so I took care of the invitation, the missalette, the souvenir and the boutonnieres. So I designed the first three and only shelled out for production. The people who helped produce these are friends, too, so I got huge discounts again. The boutonnieres were origami flowers so I just printed patterns on bond paper and then folded them three hours before the wedding," Nice recalls.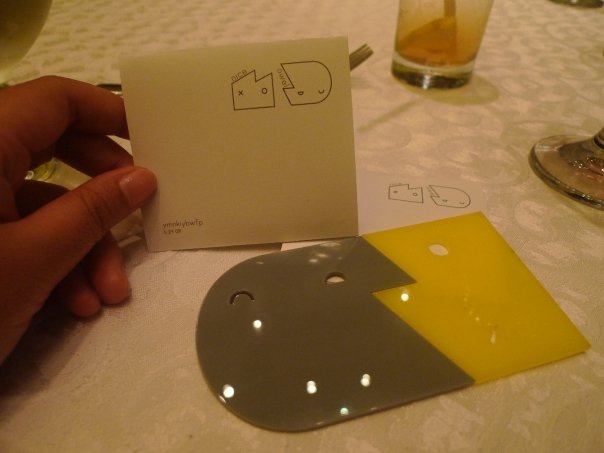 Tangram-inspired acrylic sculptures are some of the souvenirs made by Nice.
Her advice is to get the paperwork done first. "Planning should be fun, and trips to government offices are major buzzkills," says Nice.
In the end, it isn't so much how much you spend for your wedding. Nice recalls going a bit over their budget of 100,000 pesos, but it was the program that became a hit during the reception. "Food was plenty. But the highlight was the program, where our friends played music and prepared videos for us. Our best man made a short film that was just painfully spot on, and I died," says Nice.
After all, the wedding is just the beginning. It's really about the marriage. -
YA, GMA News