A dreamy butanding in Donsol
I was afraid to come out of the water. Not because I was wearing an eensy weensy yellow polka dot bikini - it was a modest one-piece bathing suit. The trouble was, it was black and white and polka dotted - not the best choice for butanding-watching.
It was also raining. The sky, which was a lovely bright blue when we woke up, slowly clouded over to a murky gray as we walked along the shore from our resort to the Barangay Dancalan Municipal Tourism Office.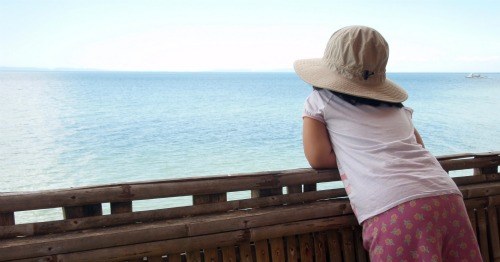 Sunny days are perfect for butanding spotting.
Soaked and shivering, we registered for a boat, then huddled together next to a stall renting out masks and fins. A family returned their unused equipment, saying they'd return the next day. "
Bumaba na raw yung mga butanding! Umuulan kasi
," said the mother. I wondered if we should just spend the day indoors, but my companions didn't look like they were going to give up hope.
Since they were regulars at Donsol every summer when the butandings were around, I decided to trust their judgment. I also didn't really have a choice but to try, as we would be heading back to Manila that evening. While waiting for boat 23 to come in, I stared at my mask and fins, wondering how to use them. I tried to remember the guidelines, and wondered how I would be able to determine the correct distance from the butanding.
I'd never seen a butanding before. I'd only seen the occasional dolphin at the sad shows, with seals and sealions as frontacts. Once, there were penguins at Harrison Plaza in Manila. I went with some college friends, and we were all excited to see penguins. But when we got there, they were just huddled in a corner looking extremely uncomfortable. It was rather depressing.
So I was really looking forward to seeing the famous butanding, and the possibility of actually swimming with the gentle giants in their natural habitat. But it didn't look like the rain would stop, so I began to prepare myself for disappointment.
HOW TO INTERACT with A BUTANDING
---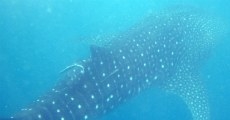 ---
Do not touch or ride the Whale Shark.
Do not restrict the movement of the Whale Shark, or impede its natural path.
Maintain a distance of 3 meters from the head or body of the Whale Shark, and 4 meters from its tail.
Do not use flash photography.
Do not use SCUBA gear, scooters, jet skis or any other motorized underwater propulsion machines.
A maximum of six (6) swimmers per Whale Shark is allowed, and only one (1) boat per Whale Shark.
from the Donsol Code of Conduct and Regulation on Tourist Deployment Municipal Executive Order No. 23, Series of 2009
By the time our number was called, my fingers were wrinkled from the rain and we were still shivering. But the sun was finally beginning to grace us with its warmth, so we set out with high hopes. Our guide, who looked tired, mumbled an introduction, and told us the last group he had accompanied saw two butandings. "Maybe we see less, maybe more. I cannot warranty, because that is a nature," he said, deadpan and wise despite his mysterious language. Just like Yoda, I thought as I squinted at the water stretched out like a comforting blue blanket.
I imagined the butandings playing hide and seek beneath the surface, and soon enough, the spotter signaled to our guide, and we were told to sit along the boat's edge. The Donsol regulars explained that our guide was probably not in his best mood, because their guide on a previous trip had given them a lot more information. I was told that to a boat, there was a guide, a spotter, and a bioman - that is, a Butanding Interaction Officer who was in charge of making sure the people didn't do anything they weren't supposed to do.
I sat on the edge of the boat, still wearing my lifevest. I wasn't a particularly good swimmer, my training having been limited to splashing around in a batya in the nineties, and a strange swimming class in high school with an instructor who never actually went in the pool. "Go! Go! Go!" shouted our guide, and before I could ask where we were going, my friend pulled me in. The boat turned away, leaving us to swim after the butanding.
Wearing a lifevest is not the best way to swim after a butanding, so in the end I only managed to see its massive spotted back and a bit of fin for a few seconds before it disappeared in the blue haze. We swam back to the boat, and I couldn't stop smiling, despite the glassful of salt water I happened to swallow while struggling with my mask. It was like a dream.
After a few minutes, the spotter signaled again, and everyone sat on the edge of the boat, poised to jump in the water. But it had started to rain again, and the butanding quickly disappeared from view. I wondered if we'd be able to see another, and decided if we did I'd swim without a lifevest. Just making the decision was empowering, and I was so excited I didn't mind so much that we were cold and wet. A couple of hours later, we still hadn't seen another butanding.
A couple of times, the other boats would suddenly speed in one direction, and we would follow suit. But it was all in vain. It wasn't a very good day to spot butandings, it seemed. There wasn't anything to do on the boat, so we told stories. There were six of us, myself and my two friends, my seven year-old daughter, an Australian couple and one other foreigner, who said she was just traveling. "I don't really know where I'm going next," she said.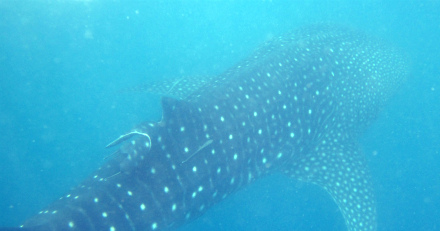 The butanding glides by, oblivious to the awkward humans trying to swim with it. Photo by Bryan Quesada
The boat's motor was whirring too loudly for us to attempt a proper conversation, so I was content to sneak glances at her. I considered her blonde hair, her eyes that were blue one second then green the next. Her freckled skin, the tiny bits that were covered by her string bikini. I thought about where she might have come from, and where she'd go after Donsol. We suggested Palawan, and she nodded, saying she was trying to stick to land travel but would fly for Palawan.
I was fascinated at how we would all probably never cross paths again, but at that moment we were all in the same boat Literally, and in the sense that we were just tiny people wanting to swim with the butanding. The butanding on the other hand, couldn't be bothered. It was nearing noon, and they had probably had their fill of plankton. How could they know there were thirty boats out, just waiting to swim with them?
Our three hours were up, so we headed back to shore. By this time, the rain had gotten stronger, so the boatmen let my daughter stay under the roof, next to the motor. She had a grand time observing what was kept there - a plate, a spoon, a fork, a watch, and a pack of cigarettes. Some clothes were spread out, and rolled to serve as a pillow. "This is where they sleep," she whispered to me, as if having discovered the secret to happiness.
In truth, sleep sounded like an excellent idea. But we had a bus to catch, and there was only time for lunch before the two-hour drive to Legazpi, where we would board the bus back to Manila. It was the sort of place that made you want to stay, which is what my friend did. The next day, when we were back in the polluted city, he joined another boat and saw seven butandings. Needless to say, we were envious.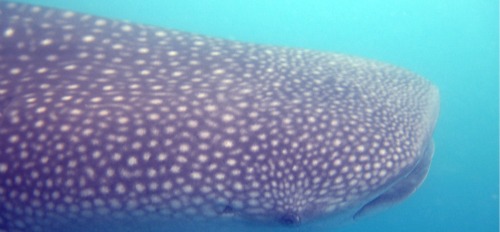 The gentle giants are a sight to see over and over again. Photo by Bryan Quesada
But the one butanding I saw was already more than enough. The silence underwater was sacred, and swimming with the huge, graceful creature felt almost like a prayer. A friend of ours who had been to Donsol a couple of years ago summed it up perfectly when we asked her if she'd like to go back with us next year. "It's the sort of thing you can do over and over," she said, as we all nodded in agreement.
- GMA News