Two prized recruits stoke Ateneo hopes for a four-peat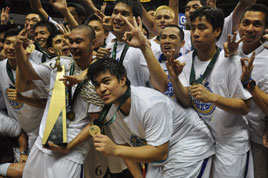 The Ateneo Blue Eagles celebrate after winning their third straight UAAP crown against the FEU Tamaraws. GMA News
With exactly one month left before the Ateneo's University Athletic Association of the Philippines (UAAP) opening game on July 10, Pilipinas-Smart Gilas stalwart and rookie Blue Eagle Greg Slaughter is sure of one thing.
"They can expect another championship from Ateneo," he said.
The cocky prediction makes him a marked man, along with the 15 other players who will seek to continue a dynasty, a team gunning for entry into the four-peat club, of which only the De La Salle Green Archers and the University of Santo Tomas (UST) Growling Tigers are the members since the introduction of the Final Four format.
Hype's the word
After winning three UAAP championships over rival La Salle in 2008, University of the East in 2009, and Far Eastern U last year, the Blue Eagles know everyone's out to get them.
"Every year it gets a little bit more difficult because the bull's-eye on our chest get a little bigger and every other team wants to bring us down and reclaim their own glory," said Kirk Long who's already in his final UAAP playing year.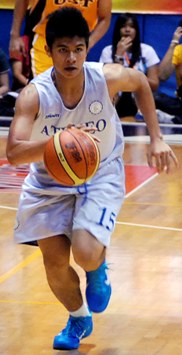 Ateneo rookie Kiefer Ravena hopes to continue the Blue Eagles' winning tradition in the UAAP. GMA News
The team will also be seeing the inclusion of two high-profile newcomers –
former Blue Eaglet Keifer "The Phenom" Ravena
and the 6-foot-11
Slaughter from the University of Visayas.
The team's pre-season has matched the hype. Ateneo's first game in the
FilOil league against San Beda welcomed Ravena and Slaughter into the Manila collegiate scene with 25 and 26 points
, respectively.
They will also be welcoming Cebuano point guard Mark Talio, former Blue Eaglet Von Pessumal and ex-De La Salle Zobel Junior Archer and former under-18 squad member Gwyne Capacio into the fray. Long and most of last year's veterans are also coming back, save for Eric Salamat who's already used up his playing years and Ryan Buenafe who is out "for personal reasons."
Coach Norman Black waves off the pressure and hype. "I'm coaching in one of the best universities in the Philippines and probably one of the best basketball programs in the Philippines. We don't really think about [the pressure] anymore," he said.
Oping Sumalinog, who was out last year due to an ACL injury, takes to heart his coach's take on the pressure they face. "
Yung
pressure
puwede mo rin tignan
as a privilege to do more
para mas gumaling ka
, instead
na magpapa
-control
ka sa
."
Defense, defense, defense
Black was a little more conservative than his players when asked about the next season. "We're in unchartered waters here as far as accomplishments go."
The only other time an Ateneo team had a chance at a four-peat was in 1934 when the team was still playing in the NCAA. "We're still trying to find out what we can grasp on to so we win this fourth championship. We'll find out the character of the team, we'll find out where we're headed," said Black.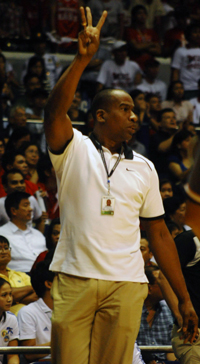 Norman Black tries to steer the Blue Eagles to a fourth straight crown. GMA News
He is sure of one thing, though—the on-court strategies will remain the same. Black emphasized that he has the same goals for the team as in the past few seasons: to lead the league in defense, speed, fast breaks and assists.
Defense aside, the team will be playing a different game compared to last year. With Slaughter, Justin Chua, Frank Golla and JP Erram crowding the middle, the team will be poised to shift to an outside-inside game.
"Coach Norman has already told me that I'll be playing heavy minutes. I'm really gonna focus on rebounding and defense 'cause this team already has so much offensive power," said Slaughter, who was enrolled in Ateneo last school year, making him eligible for two UAAP seasons according to Black.
Slaughter's height might also give Black the option to press a bit more, knowing that the towering center will be there to protect the basket.
"The make-up and look of the team will probably be similar to when Rabeh [Al-Hussaini] was here," said Black. He pointed out, however, that they would also be utilizing Ravena like they did Salamat in the previous years.
When the 6-foot-7 Al-Hussaini rose to a key position in the 2008 and 2009 squads, the Ateneo offense and defense were anchored primarily on him and Nonoy Baclao, both of whom now play for the Petron Blaze Boosters in the Philippine Basketball Association (PBA).
Ravena and Slaughter know that they're coming into a team with a winning tradition. The "winning mentality," Ravena said, was one of the reasons why he decided to join the Blue Eagles in the first place.
"I bring size and everything but it's really coach Norman and this team who've already won three championships in a row. I'm just gonna be here to play my part in the team," Slaughter said.
Staying on top
Two rookies will be in the forefront for the Eagles, a departure from the team's usual mold of veterans heading the team and players only shining in their latter years. But Black warned people not to forget the veterans just yet.
"From my experience in coaching, it's normally the veterans who make the difference in the team," he said.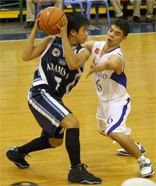 Emman Montfort (right) aims to win another crown in his final year as a Blue Eagle. GMA News
Five players will be playing their final UAAP year in the coming season: Long, Sumalinog, Bacon Austria, Emman Monfort and Tonino Gonzaga. The "seniors" aren't taking things lightly at all.
"I'm more aware of what's going on around me. I know that personal matters aren't as important as winning it in my last year," said Long.
Sumalinog and Austria meanwhile, are looking forward to doing "the little things that people don't notice."
"
Hindi naman ako gaano ka
-excited next season
kasi kung baga, gusto ko 'yung
role player
kaysa ako yung nasa
spotlight" said Sumalinog. He was referring to the screens, hustle plays, and dives for the ball that aren't recorded by game statisticians.
"It's been working for the past three years so
bakit ko babaguhin yung
something that works," said Austria.
Incoming senior Nico Salva, who'll be starting most games in the coming season, knows he has to bring his three-peat experience into play and said that the team ought to keep one thing in mind: the three-peat isn't enough.
"
Dapat
hungry
kami
, [
dapat
]
may
fire.
Meron na kaming
edge cause we already know how to win," he said.
Black added that as far as rookies go, Slaughter and Ravena were exceptions to the rule. Slaughter,
who already has four years of collegiate basketball experience to speak
of, is a "veteran rookie" while Keifer plays mature for his age.
"Our veterans will be the leaders of the team but we're also expecting big contributions from Keifer and Greg," he said.
Eyes on the prize
The Blue Eagles have two more pre-season games left; four if they win both games and move on in the championship matches of the FilOil and Father Martin's Cup.
After their sixth game in the FilOil league, a 63-62 loss to the San Sebastian Stags, the team left for a three-week stint in the United States to train and unwind. The first two weeks, Black said, were intense for the Eagles with six hours a day devoted to working out.
"I think it was very beneficial. It gave them a chance to get in better condition, to improve their individual skills and at the same time, it helped the chemistry and bonding of the team," he said.
The team returned to the much-hyped clash between UAAP rival school De La Salle University which
they lost, 66-61
.
"We'll try to win all the games but if we don't, we'll keep our eyes on the prize. The idea is to stay focused on the goal which is in October [the UAAP Finals]," he said.
"If the FilOil or Fr. Martin's was the ultimate goal, we would never go to the States to train. You can't leave for three weeks in the middle of the league and expect to [come back and] win everything," he added.
Slaughter echoed the sentiment – the Blue Eagles have much more in store for the UAAP. "We haven't really been doing the 100% I know we can be, so the summer league hasn't been going as good as we're going to do in the UAAP," he said.
The players themselves are looking forward to the new season as well as the rivalries and heated matches that are sure to come. Ravena is eager to see a showdown between him and National University's Ray Parks,
should Parks be granted eligibility to play in the UAAP
.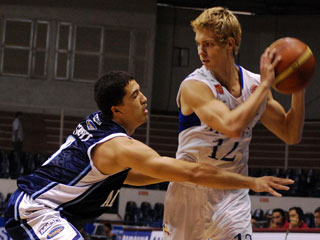 Ateneo's Kirk Long (right) will try to help his team complete a rare four-peat in the UAAP. GMA News
Long, on the other hand, is anticipating his match-up with UAAP "batch mate" and De La Salle counterpart Simon Atkins and the games against UST, a team which Long always seems to do best against.
In 2009, it was Long who
drained the three-pointer against UST
which sealed Ateneo's entry into the Final Four.
"I've had some good experiences against UST, I've had some tough shots go in so that gives me that confidence," he said.
Austria has a different rivalry to look forward to—the one between him and his father, Adamson Soaring Falcon coach Leo Austria. "It was awkward at first," the younger Austria admitted.
"Skyflakes
nga lang kinakain niya ngayon
," quipped Emman Monfort. The Blue Eagles squared off with the Falcons in the semi-finals last year,
emerging victorious, 55-52
.
"Historically
naman
, we win against them," said Austria. "Sana ganoon pa rin this year."
Black is especially eyeing three teams this season: the FEU Tamaraws, a team they defeated in the FilOil Premier Cup semifinals, the Soaring Falcons and the Green Archers.
"FEU is probably the toughest team out there for us this year and Adamson is right there with FEU," he said. "La Salle has already proven that they can beat us," he continued.
Secrets in store
The final line-up of the UAAP teams, however, has yet to be revealed. Black himself didn't want to reveal who exactly would be donning the Blue and White this season.
He said that the "top 11 or 12 players" would be coming from last year's team with only Ravena and Slaughter assured of a rookie slot. The remaining slots have to be deliberated upon by team management.
He did say, however, that the other rookies—Pessumal, Capacio and Talio will be the "future" of the squad, should they train and wait patiently.
"If you're a freshman coming in and you wanna play 25, 30 minutes for the Ateneo team. You're probably playing for the wrong team," he said.
Some third and fourth year players have also improved a lot since last year's Finals. Gonzaga in particular, has attracted attention with his scrappy plays and on-court hustle. Austria surprised the crowd with his two three-pointers in Ateneo's loss to La Salle in a preseason tournament, while Sumalinog's possible return from a debilitating injury is something people are looking forward to.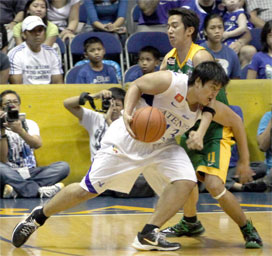 Ryan Buenafe's game-long brilliance will be missed this season. GMA News
Buenafe's exit from the team, however, leaves a few questions hanging. His explosiveness on both sides of the court, end game heroics and game maturity will be something the 2011 Blue Eagles will have to do without.
For Black, the star player's exit shouldn't been too difficult for the team. Save for him and Salamat, the line-up is intact alongside key additions.
Everyone will have to wait for when the final team line-ups are due. Until then, the Blue Eagles soldier on in preparing for the four-peat while everyone else prepare to prevent it from happening.
"All heart," Long said. "I just wanna do whatever it takes to win."
Black, who is on his seventh year as the Eagles' head coach, is as focused as ever on that fourth crown. "I have no idea [as to how long I'll be coaching the Blue Eagles]. I still have a contract so I'm just going to do the best I can to help Ateneo win this year." --
OMG, JVP, GMA News