'Sputnik,' 'Bahala Na' gang members share cells with Maguindanao massacre detainees
After a heavy wave of public criticism over special treatment allegedly given to high-profile Maguindanao massacre detainees, the Bureau of Jail Management and Penology (BJMP) has reacted by instituting "reforms" at the detention facility where they are being kept.
Senior Inspector Bernardino Edgar Camus, officer-in-charge jail warden of the Quezon City Jail Annex in Taguig City, said one of the most obvious changes he had introduced since taking the post last month was "segregating" the more than 80 massacre detainees there.
While they used to be staying together inside the jail facility, the massacre detainees have now been spread out to several cells, according to Camus.
"At least kapag magkakahiwalay sila, hindi sila makakapag-usap-usap kasi may mga accusations before na baka nagpa-plano sila habang nasa loob ng kulungan,"
Camus said in an interview.
(At least with them separated, they can no longer confer with each other. This will put an end to accusations that they are hatching plans while in detention.)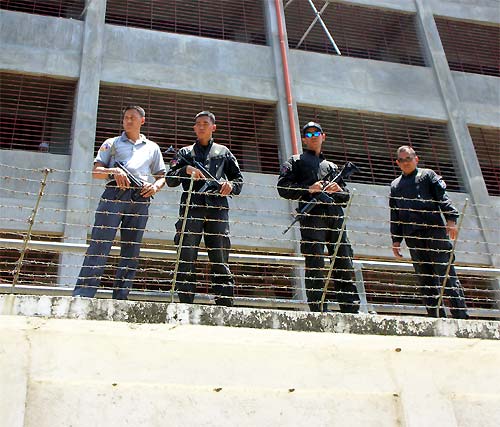 Police on top of the towering walls of the Quezon City Jail Annex building secure every hearing of the Maguindanao massacre case. Mark Merueñas
Camus follows a long list of jail officials who had taken the helm of the Quezon City Jail Annex inside Camp Bagong Diwa. The BJMP regularly re-shuffles jail officials at the facility every three months to prevent them from getting too acquainted with the inmates and prevent giving detainees any special treatment.
Camus' predecessor, Chief Inspector Glennford Valdepeñas, was sacked in May after Maguindanao Gov. Esmael "Toto' Mangudadatu revealed photographs — taken in secret — of Andal Ampatuan Sr. seemingly getting special treatment at the facility such as being able to go out of his detention cell, receiving more than three visitors at the same time, and having servants.
BJMP Director Rosendo Dial already dismissed the photos, saying these depict nothing "irregular". An investigation by the Department of Interior and Local Government later revealed that the photographs had been taken in 2009, when Valdepeñas had not yet been assigned to the facility.
Sputnik, Bahala Na gangs
An added feature of Camus's segregation system is that other accused facing charges in different criminal cases have already been mixed and thrown in with the massacre suspects.
For instance, suspended Gov. Rizaldy "Zaldy" Ampatuan of the Autonomous Region in Muslim Mindanao (ARMM) has earlier been taken out of Cell Number 1, where his fellow massacre detainees are, and has been transferred to a separate cell.
At his new area at Cell Number 6, Zaldy is now joined by three of his co-accused in the massacre case but at the same time shares it with three other detainees, who face charges in separate criminal cases.
Camus said suspected members of notorious gangs like "Sputnik" and "Bahala Na" have already been placed together with the massacre suspects.
Considered two of the biggest organized crime groups in the Philippines, the "Sputnik" and "Bahala Na" gangs are said to be involved in drug trafficking, murder, carjacking, kidnapping, and other crimes.
"At least,
mas mababantayan namin ang galaw nila kapag may nakahalong ibang mga preso
[It's easier to monitor the movements of the massacre detainees by mixing them with other accused with other pending cases]," the warden said.
Remaining at Cell Number 1, where Zaldy originally used to stay, are clan patriarch Andal Sr. and his sons Andal Jr., Sajid, as well as his son-in-law Akmad Ampatuan Sr. They share Cell Number 1 with five other detainees.
Camus admitted that some lawyers of the massacre detainees objected to the segregation but the warden said he had explained to the lawyers that this was for their clients' own interests. "So far, I think the changes I made are effective," he said.
Managing visitors
Camus also said spreading out the massacre detainees to several cells greatly helped decongest the prison cells during visiting hours and helped jail officials better monitor visitors dropping by.
Each prisoner is entitled to receive a maximum of three visitors per day and before the new policy was introduced, the detention cells of the massacre detainees used to get too crowded whenever their visitors would squeeze themselves inside.
Zaldy's
health condition
was also part of the reason why he had to be transferred to a separate cell. His lawyer, Howard Calleja, earlier told GMA News Online that the immune system of his client is no longer as strong as it used to be because Zaldy suffers from diabetes and has been insulin-dependent since 2001 — so he has to be isolated from the others to prevent him from easily contracting diseases.
On Thursday, Judge Jocelyn Solis-Reyes of the Regional Trial Court Branch 221 which handles the multiple murder case
allowed
Zaldy and his father Andal Sr to undergo regular medical check-up by a BJMP physician. Apart from diabetes, the clan patriarch also suffers from hypertension, asthma, osteoarthritis, and external hemorrhoids, and has a history of chronic obstructive pulmonary disease.
Religious concerns
Camus also confirmed that relatives of the accused Ampatuan clan members are allowed to bring their own food for their detained loves one due to religious concerns.
"Hindi sila kumakain ng pagkain namin dito kasi Muslim sila. Kaya pinapayagan namin na dalhan sila ng pagkain na puwede nilang kainin,"
he said.
(The massacre detainees follow a strict Muslims diet, which is why we allow their relatives to bring in for them food allowed by their religion.)
The warden however insisted that he would not allow visitors to bring in an "excessive" amount of food because that would already constitute a special treatment.
He also said Zaldy would not be allowed to have his own cell, where only he and no one else can stay in, because that too is already considered very-important-person (VIP) treatment.
— MRT/KBK, GMA News