La Salle's Revilla reviving stalled UAAP career
La Salle playmaker LA Revilla has come a long way in such a short period of time in his return to active competition in Season 74 of the UAAP men's basketball tournament after acquiring an illness that threatened to end his young basketball career.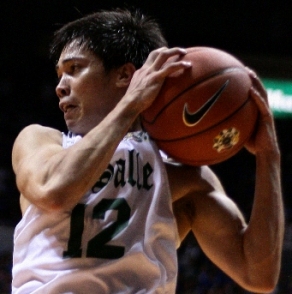 LA Revilla grabs the rebound in La Salle's game against Ateneo Blue Eagles on July 16. Photo by Roehl Niño Bautista
In 2009, Revilla was diagnosed with diabetes and hyperthyroidism which required him to sit for two seasons. But now Revilla is back and even better than ever.
But who would have thought that in his return, the 5-foot-8 court general would became La Salle's top scorer and even the league's second leading point maker?
"I'm just keeping my dream alive," said Revilla. "I just play hard and want to continue inspiring my teammates."
But what is Revilla's dream actually? It's only a small goal, according to the former San Beda Red Cub.
"I just want to win basketball games and tell myself that I can compete again and try to overcome challenges and try to make the school proud."
This early, Revilla leads the Green Archers in scoring with a 16.3 points per game average behind National University rookie Bobby Ray Parks Jr. (19). His scoring output is close to the average of last year's Most Valuable Player RR Garcia (19) of Far Eastern U and slightly better than Ateneo's six-foot-11 center Greg Slaughter (16).
Green Archers coach Dindo Pumaren said that Revilla's vast improvement is the way how his chief playmaker changed his attitude after recovering from his illness.
"He is so determined to play again. He has been working hard every practice. He is really a big factor for us," said Pumaren.
Revilla, however, said that he is still monitoring his health condition every day despite his recovery. "My number one priority is to stay healthy. I watch my diet to make sure that it is in proper order and I continue to seek advice from my physical therapist and doctors."
Revilla said he has found a new lease in life after his bout with diabetes and hyperthyroidism. "I have a lot of realizations and a lot of different views in my life that I learned especially in terms of work ethics and dedication."
With his return, Revilla enjoys playing now than ever before as he gets a second chance at basketball.
"The way I'm playing right now, as if I'm a kid who's playing in the park. That is how I feel," said Revilla.
- JVP, GMA News