Pimentel proclaimed 12th winning senator in '07 polls
(Updated 5:13 p.m.)
After an electoral protest that dragged on for four years, lawyer Aquilino "Koko" Pimentel III was proclaimed on Thursday as the 12th winning senator in the controversial 2007 polls.
In a landmark decision, the Senate Electoral Tribunal (SET) ruled that Pimentel, son of former Senate President Aquilino Pimentel Jr., won over Juan Miguel Zubiri, who resigned as senator Wednesday last week.
"The tribunal's decision promulgated today declares that Aquilino Pimentel III as the duly elected 12th senator in the 2007 national and local elections... The decision is immediately executory," SET secretary said in the proclamation held at Sofitel Hotel in Pasay City.
According to SET's final tally, Pimentel got 10,898,786 votes while Zubiri got 10,640,620.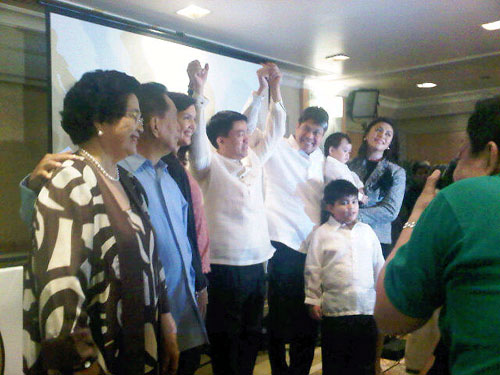 Newly-proclaimed Senator Koko Pimentel (center) is hailed by Senators Pia Cayetano and Kiko Pangilinan at the Sofitel Philippine Plaza in Pasay City.
Sandra Aguinaldo
The Commission on Elections (Comelec) initially declared Zubiri as the 12th winning senator in 2007, with 11,005,866 votes. Pimentel initially ranked 13th in the 2007 elections with 10,987,347 votes.
The proclamation marked the first time the SET proclaimed a defeated candidate as the rightful winner of a Senate post.
Palace congratulates Koko
Malacañang immediately congratulated Pimentel for his victory.
"We congratulate Senator Koko Pimentel. At the very least, the people's mandate has been served," deputy presidential spokesperson Abigail Valte said.
Koko Pimentel to focus on electoral reforms as senator
Senator-elect Aquilino "Koko" Pimentel III on Thursday vowed to focus on electoral reforms when he starts his work at the Senate so that no candidates in future elections will suffer the same fate as he did.
"Sa ayaw at gusto ko naging expert ako sa electoral reform, kasi nga for four years, ito yung aking nilabanan, 'yung electoral fraud. In the course of time, naging familiar na ako sa electoral system," he said in an interview before his proclamation on Thursday.
Pimentel said as a senator, he will make sure that people who rigged past polls and plan to manipulate results of future elections will be punished.
"Una sa lahat, gusto ko mag-focus sa accountability. Walang napaparusahan. Kahit na may fraud na nagde-deny pa, kahit na nakita na, ayaw pa file-an ng kaso. Dapat lahat ng involved diyan sampahan na ng kaso," he said. (
Read more here
.)
Presidential political adviser Ronald Llamas said the proclamation showed why Zubiri resigned. "The numbers at the SET were the ones that pressured him to resign, no one else," he said.
In his speech after his proclamation, Pimentel thanked his family and his legal team for the support, and the SET for "dedicating its full attention" on his electoral protest.
"Although people congratulate me for being the victor in this case, I would also like to congratulate the SET for this great achievement. Never in recorded history that a case has been decided based on merits," he said.
Two of Pimentel's future colleagues also extended their congratulatory messages.
"I am glad justice has been done. Koko deserves it," said Senator Franklin Drilon.
For his part, Sen. Francis Escudero said: "I congratulate him and wish him well."
Spurious ballots
The SET gave weight to Pimentel's claim in his electoral protest that votes were rigged in 2,658 precincts in the Autonomous Region in Muslim Mindanao (ARMM) and the province of Lanao del Norte.
In its decision, the electoral tribunal said it rejected 254,222 of the 384,680 ballots it re-examined for being "spurious" or "not bearing the security marks and features of genuine ballots."
The SET said the some of the rejected ballots were "filled up by two or more persons, with one person usually writing the names of the candidates voted for national positions, and another writing the names of the candidates chosen for the local positions."
The tribunal also observed how "groups or batches of ballots were prepared by only one person, as shown by the same style and stroke of handwriting."
After the rejection of the spurious ballots, Zubiri's original votes were reduced by 365,246 while Pimentel's initial figures were deducted by 88,561 votes. As a result, Pimentel took the lead over Zubiri by 258,166 votes.
With the SET ruling in his favor, Pimentel can now take his oath of office as senator and finish his remaining term, which will last for a year and 10 months, or until 2013.
- with Kim Tan/KBK/RSJ, GMA News