Assassins on motorcycle kill PUP vice president in Manila
(Updated 8:30 a.m.)
Two gunshots to the head instantly killed the vice president for administration of the Polytechnic University of the Philippines (PUP) in a Wednesday evening ambush in Sta. Mesa, Manila, according to the Manila Police District (MPD).
MPD Sta. Mesa Police Station investigators said Attorney Augustus F. Cezar was killed while he was inside his light van, which stopped at the corner of Pureza Street and Ramon Magsaysay Boulevard at around 10:15 p.m.
Investigators learned from bystanders that two men on a motorcycle, quickly fled the scene of the crime as heavy rain fell over Sta. Mesa.
A nurse, initially identified as Niña Norolla, who was inside a convenience store at the intersection when the two shots rang out, was injured.
The investigators said the bullets that killed Cezar exited through the left side window of the victim's van.
Two empty shells were recovered from the section of the pavement where the vehicle stopped. Two slugs were retrieved from inside the convenience store.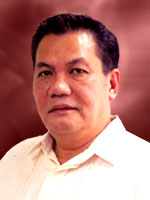 Atty. Augustus F. Cezar, vice president for administration of the Polytechnic University of the Philippines (PUP) died of gunshot wounds Wednesday evening near the PUP campus. www.pup.edu.ph
MPD Sta. Mesa station commander Frumencio Bernal III said in the incident report that the suspects' escape vehicle was a black Enduro motorcycle with plate number 4991.
Witnesses
Meanwhile, MPD head Chief Superintendent Roberto Rongavilla said at least four witnesses are now being questioned to shed more light on the killing.
MPD's Scene of the Crime Operations (SOCO) team continues to gather more forensic evidence at the crime scene, radio dzBB's Carlo Mateo quoted Rongavilla as saying.
According to Rongavilla, the police are not singling out the possibility the incident was related to his work at PUP.
However, Rongavilla also said they are looking into Cezar's personal life to see if he had any enemies who would want him dead.
Atty. Cezar was a native of Aklan, a resident of Makati City, and taught accounting and law subjects at PUP.
— Earl Victor Rosero/HS, GMA News