LGBTs go caroling at CBCP to protest 'discrimination'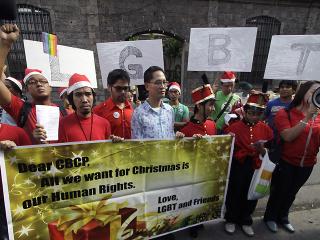 Gays call on bishops to respect their rights. Members of the gay community sing Christmas carols outside the CBCP in Intramuros, Manila on Thursday and call on the prelates to stop opposing the inclusion of their rights in the proposed Anti-Discrimination bill. Danny Pata
Members of the lesbian, gay, bisexual and transgender (LGBT) community on Thursday went caroling in front of the Catholic Bishops' Conference of the Philippines (CBCP) headquarters in Manila to press for their rights against discrimination.
The protesters, led by political organization "Ang Ladlad," trooped in front of the CBCP office in Intramuros clad in red and green, with some even wearing Santa hats, and carrying a banner which says "All We Want For Christmas is our Human Rights."

LGBT members also sang Christmas carols such as "Pasko Na Naman" and "Jingle Bells" with edited lyrics to focus on human rights.

The protesters, for example, sang "All We Want for Christmas is our Human Rights" instead of the usual "All I Want for Christmas is My Two Front Teeth," an original composition by Don Gardner.
Danton Remoto, Ang Ladlad chairman emeritus, said the LGBT community wanted to express indignation over the CBCP's move to ask for the removal of sexual orientation and gender identity in the list of punishable forms of discrimination under Senate Bill 2814 (The Anti-Ethnic or Racial Profiling and Discrimination Act of 2011).
"The CBCP's proposition is lamentable, defective and thoughtless because it claims that being LGBT is a choice, which makes them ineligible for being protected under the law," he said in a statement Thursday.
He added that CBCP is "propagating hatred, fear and prejudice against LGBT people" by trying to remove these provisions in the proposed legislation.
"These discriminatory remarks and false claims from the CBCP have negative repercussions on the daily lives of Filipino LGBTS," he said.
Remoto likewise appealed to the Roman Catholic Church to give "recognition of, and respect for" the rights of LGBTs this Christmas season.
The Senate approved late last month the measure prohibiting
racial profiling and discrimination
against persons based on ethnicity, race, religious belief and sexual orientation.
The CBCP, however, wants discrimination based on sexual orientation removed as one of the punishable offenses in the bill, since it may supposedly pave the way for the legalization of same-sex marriages in the country.
— Andreo Calonzo/RSJ, GMA News