Ang Panday 2: A timely preachy movie
A movie full of motherhood statements about justice and peace? Why not? We need it now especially during these times when our concept of justice and peace is challenged by the detention of a former President and the impeachment of the Chief Justice of the Supreme Court. For this reason alone, Ang Panday 2 is worth watching during this Christmas season. This movie is the entry of Imus Productions and GMA Films to the 2011 Metro Manila Film Festival.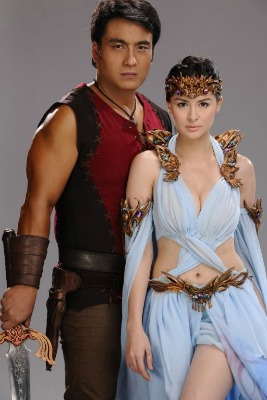 Marian Rivera as Arlana, who is also the dragon Bagwis, is simply beautiful.

Directed by "fantasy director" Mac Alejandre, this second installment of a remake of an old Fernando Poe Jr. movie was penned by R.J. Nuevas based on the characters created by Carlo J. Caparas. If there is one thing that is excellent about this movie, it is the cinematography by Toto Uy. The picture is clear and colorful, a real delight for children and the child at heart.
The visual effects by Jay Santiago and the production design by Richard Somes are lovely to say the least. I love the garden with a pond and lots of pretty butterflies of Inang Encantada played by the equally enchanting Lucy Torres-Gomez. Marian Rivera as Arlana, who is also the dragon Bagwis, is simply beautiful. She is pleasant to the eye and is a good actress, too.
The weak point of the movie is the screenplay. It is too talky for a fantasy movie, or for any movie for that matter. The repetitive discussion of the importance of justice and peace is tedious and hampers the movement of the narrative toward the climax. I watched it during the special screening for the entertainment press and invited orphans from selected Metro Manila orphanages. The movie could not hold the attention of the children especially the preachy parts, so they tinkered with the gifts that they just received from Senator Ramon Bong Revilla, Jr. (who is Panday himself) and Congresswoman Lani Mercado. They were only attentive when there was action on-screen and the visual effects were spectacular.
But I don't mind this particular movie being preachy. While watching the characters talking lengthily about good and evil, my imagination was working overtime. Like, can you imagine Lizardo (played competently by Philip Salvador) having three spokespersons? Yes, when you watch Ang Panday 2 you will remember faces of spokespersons for hire. The witch was the noisiest of all. Or imagine that the cave of the witch is the Supreme Court itself? That is why I like the ending when the ugly witch transformed into a beautiful black enchantress played by the ever lovely Lorna Tolentino. We learned from children's storybooks that appearances are deceiving, that the evil stepmother, or even a hungry and greedy wolf, may hide behind the appearance of a kind, magnanimous, and loving woman.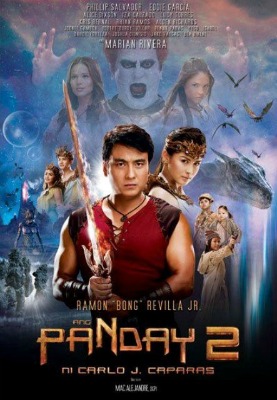 A few weeks ago, I was channel-surfing and came across this talk show on another TV channel during prime time where a congresswoman was one of the anchors. I almost threw the apple that I was munching at my television when she said, "
Bakit, bababa ba ang presyo ng gasolina kung ikukulong si Gloria? Bakit, magkakaroon ba ng trabaho ang mga tao kung ikukulong si Gloria? Bakit, magkakaroon ba ng bahay ang mga tao kung ikukulong si Gloria?
" If logical thinking can only be bought from a famous drug store chain named after the god of speed, I will buy this woman one hundred tablets of this medicine! I'm not rich but I will do this as my vital contribution to nation building. This brilliant congresswoman should watch
Ang Panday 2
and learn the simple philosophical (and theological too for this idea was already expounded on by St. Augustine many centuries ago) concept that there is no peace when there is no justice, that the foundation of peace is justice and definitely not grimy politics as conceived by mosquito-brained, to borrow Miriam Defensor Santiago's terminologies, traditional politicians.
The children clapped and cheered every time Flavio defeated his evil opponents. Of course they have this simplistic concept of good and evil. But it is simplicity that is pure and sincere. It is a real faith tA phat good will always triumph over evil. That Flavio will always win against Lizardo. It is good for us adults to embrace this kind of faith.
At the end of the movie, Flavio with his magic sword is walking and running through the mountains. We can hear his voice discoursing about justice and peace for the nth time. If we follow Aristotle's idea that art is a mirror of life, if I'm the impeached one or someone who is comfortably imprisoned in a presidential suite today, I will be very afraid. Especially that Flavio, the Panday himself, is being played by someone who already took his oath as a senator-judge. —KG/HS, GMA News