Greenpeace and Google hit back vs. SOPA 'censorship'
Environemental watchdog Greenpeace's Philippine website went dark Wednesday afternoon in protest against the Stop Online Piracy Act (SOPA) and Protect-IP Act (PIPA), two pending US bills that the group says threaten to "censor the Internet."
"If SOPA/PIPA become law, sites like Greenpeace.org could go dark simply because one of our corporate targets files a claim that its intellectual property rights have been violated. No proof required, no court hearing. Don't let corporate interests censor the Internet," it said
in its darkened site
.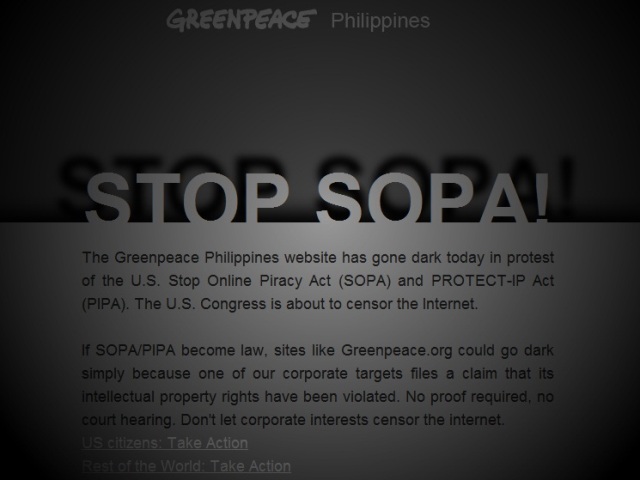 It asked the visitors to "petition the State Department" which it said constantly speaks out about internet censorship in other countries.
"Pressure them to speak out about America's new domestic censorship system," it said.

Google joins the fight

Meanwhile, search giant Google joined the fight as well, but not as darkly.
Google's English home page (
www.google.com
) still performed searches, but had a message underneath the search box: "Tell Congress: Please don't censor the web!"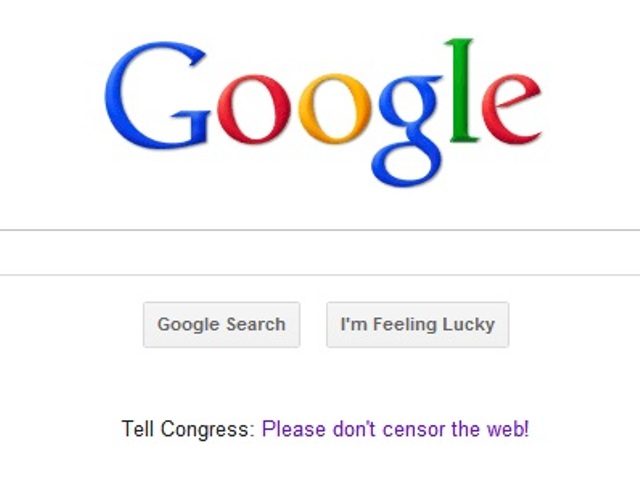 Millions of Internet users and entrepreneurs already oppose SOPA and PIPA, Google said in its message opposing the two measures.
It also noted that the US Senate will begin voting on January 24th.
"Please let them know how you feel. Sign this petition urging Congress to vote NO on PIPA and SOPA before it is too late," it said.
Earlier Wednesday afternoon, open-source encyclopedia Wikipedia went dark for 24 hours also to oppose the pending legislation. — TJD, GMA News