Hello, Smithers! Gizmodo likens SOPA to Mr. Burns
While other sites blacked out their home pages to oppose a US anti-piracy bill for its censorship potential, some sites became more creative in showing their disapproval of the legislation.
Tech site Gizmodo drew a parallel between the US Stop Online Piracy Act (SOPA) to Charles Montgomery Burns, the rich and powerful villain in the popular TV series "The Simpsons."
Visitors to Gizmodo.com were greeted with an image of a laughing Burns, the "Simpsons" antagonist depicted as one of Springfield's richest and most powerful citizens.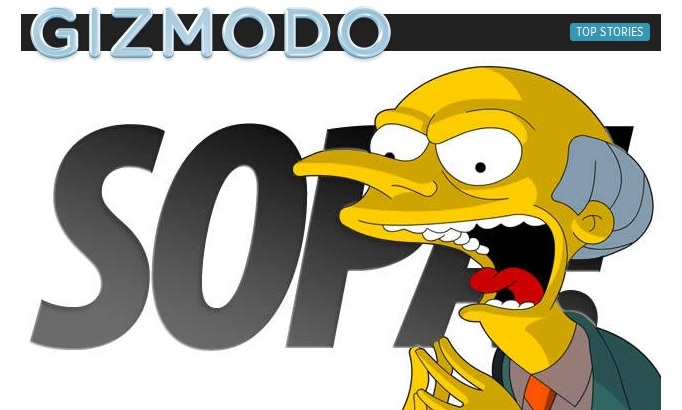 "SOPA is an anti-piracy bill working its way through Congress ... that would grant content creators extraordinary power over the Internet ... which would go almost comedically unchecked ... to the point of potentially creating an 'Internet blacklist' ... while exacting a huge cost from nearly every site you use daily... and potentially disappearing your entire digital life ... while still managing to be both unnecessary and ineffective" it said in
its message against the SOPA
.
Yet, it said the SOPA "stands a shockingly good chance of passing... unless we do something about it."
Several sites had radically changed the look of their home pages or went dark for 24 hours to oppose the passage of the SOPA.
Open-source encyclopedia Wikipedia also went dark for 24 hours, as did other tech sites opposing the proposed law.
Even international media watchdog group Reporters Without Borders (RSF) kept its home page dark on Thursday (Manila time) against the SOPA.
RSF said it was shutting down its English-language website for 24 hours to support the campaign against SOPA.
It said freedom of information is in danger if the SOPA is adopted, as it would "sacrifice online freedom of expression in the name of combating privacy."
"To show its opposition, Reporters Without Borders has decided to shut down its English-language website for 24 hours and to support the campaign against these bills that has been launched by Internet freedom activists," it said (
http://en.rsf.org/
).
— TJD, GMA News