Movie: Around her neck a razorblade: 'The Girl with the Dragon Tattoo'
This is a briefing for a descent into the dark of snow.
As Lisbeth Salander, the titular hacker girl, enacts her elaborate and righteous vengeance on her legal guardian, Nils Bjurman, by tattooing his crimes on his chest, a moment of clarity illuminates her face. "I AM insane!" she declares as we see the delicate, pixie features of actor Rooney Mara in close-up, her eyebrows bleached white, her mohawk a black halo, and eyes lit up by what might be the throes of retribution… or the onset of total dementia.
That is what this movie is, as much as it is about the story of a journalist aided in his search for a woman who has been missing (and presumed dead) for 40 years by a young hacker: an exploration of the interior black. Dark, exquisite, and oh so very cold, Fincher's version of this movie differs greatly and on so many levels from the original 2009 original Swedish version directed by Niels Arden Oplev in that it's like talking about the disparity between chess and rock, paper, scissors. But we'll get to that, later.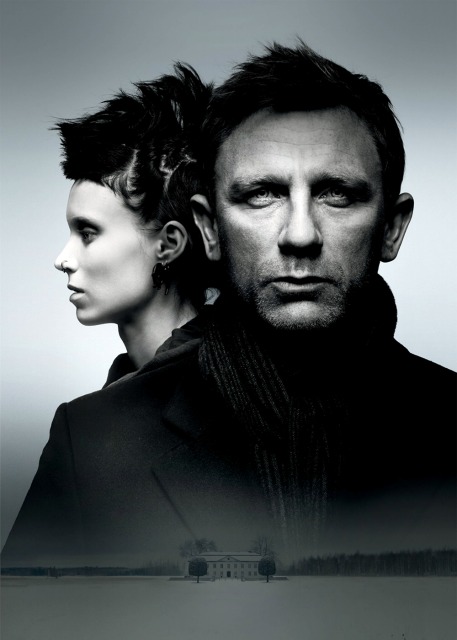 Fincher's version of this movie is dark, exquisite, and oh so very cold.
What you need to know about this movie is that it's based on the first book of Stieg Larsson's "Millenium Trilogy," the central and recurring character of which is Lisbeth. When he was 15 years old, Larsson witnessed the gang rape of a young girl and never forgave himself for failing to aid her. Her name was Lisbeth and in tribute he named his trilogy's protagonist after her. The Lisbeth in the books is a rape victim as well, which fuels the theme of sexual violence against women in his books.
Take note, Larsson's original title in the Swedish is "Män som hatar kvinnor," which directly translates as "Men Who Hate Women."
"We were committed to the tack that this is a movie about violence against women, about specific kinds of degradation, and you can't shy away from that," director David Fincher says in the international production notes. "But at the same time you have to walk a razor-thin line so that the audience can viscerally feel the need for revenge but also see the power of the ideas being expressed."
Fincher's night vision
Fincher has a knack for illuminating the dark side of humanity whether in mainstream or fringe subculture in his previous outings like "Fight Club," "Seven," or more recently "The Social Network" (from which he drew his current lead star from, who played Mark Zuckerberg's former flame Erica Albright). It's no different on this one. He simply turns his energy to making a whodunit, a thriller and a socio-political commentary the Fincher way.
The film opens with a James Bond-ish animated, stylized introduction of women, insects and melting ice edited to the tune of a cover of Led Zeppelin's "Immigrant Song" sung by Karen O.
Set in the Swedish city of Stockholm and a small island off the coast, there are two parallel stories running through this movie that intertwine in the middle of the narrative arc. There's Mikael Blomkvist (played by current James Bond Daniel Craig), a financial reporter and magazine publisher determined to restore his honor after being convicted of libel. Then there's Lisbeth, a punk prodigy whose multiple-pierced and tattooed appearance warns people to stay away, who doesn't interact "normally" with others and as testament is a ward of the state. Lisbeth is a "researcher" for Milton Security who uses her hacking and cyber-invasive skills to do a background check on Blomkvist.
Blomkvist is hired by one of Sweden's wealthiest industrialists, Henrik Vanger (played by Christopher Plummer), to get to the bottom of the disappearance of his beloved niece, Harriet; an incident that's 40 years old. Vanger believes his niece was murdered by someone in his large family—some of which were former Nazis.
Blomkvist heads to a remote island on the frozen Swedish coast to the Vanger estate, soon joined by Salander (when he discovers that she hacked into his laptop) as his assistant whose personal link to those who have been violated and victimized attracts her to the mystery of Harriet.
The two awkward partners begin to trace a chain of homicides from decades past, forging a fragile and unexpected trust as well as a more unlikely affair. Unprepared for the monstrous revelations they are about to uncover, Lisbeth and Blomkvist encounter a labyrinthine story of lies, murder, corruption, religious fanaticism, the darkest of familial secrets and their own inner demons.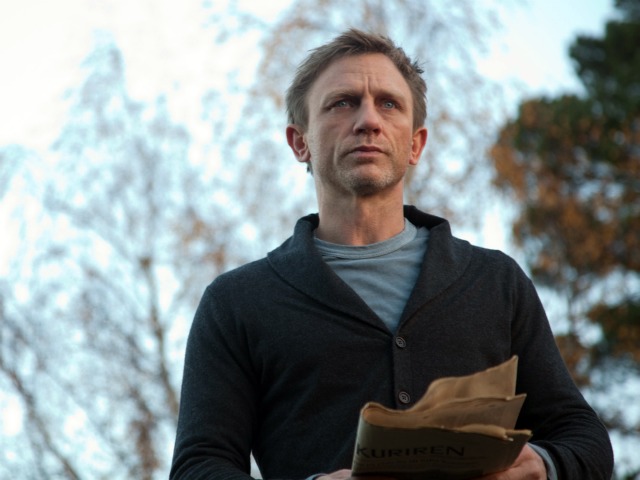 Craig plays Mikael Blomkvist, a reporter and magazine publisher determined to restore his honor after being convicted of libel..
The bloody winter
What I can tell you is that "The Girl with the Dragon Tattoo" is a sprawling and novelistic experience of a film. It mimics the work done to solve a riddle without the fancy "CSI" hooha, putting it down in an almost vérité narrative. It's all here from the initial fascination for a mystery that's like listening to something beyond a locked door, to the frustrations of dead ends, the eureka moment when data slips into narrative fact.
Beyond the mohawk:
Choosing Rooney Mara as Lisbeth:

• The lengthy and exhaustive search for the role of Lisbeth had in its roster Mara, who had a small but memorable role in "The Social Network." Fincher put Mara through a seemingly unending series of intensive auditions—in which he asked her to do everything from recite Swedish poetry to pose with motorcycles—to prove what she could do in the role.

• When she was chosen, Mara chopped her hair off, learned to ride a motorcycle, went to Sweden on her own and disappeared off the grid.

• Mara: "David [Fincher] told me, 'You're going to have to go to Sweden and be alone and experience this girl's life.' He told me, 'The movie is going to consume you. You'll have to say goodbye for a time to your family and friends.' But he didn't really know me yet, then," she explains. "He didn't know that I'm actually a loner and that what he wanted didn't scare me. It might have scared someone else, but not me."

• Mara eventually radically transformed her entire appearance for the role: cutting her long hair, undertaking numerous body piercings, and bleaching her eyebrows. Mara says the bleaching was the most shocking of all the alterations: "I looked in the mirror and I really freaked out."
Much praise must be heaped on screenwriter Steven Zaillian, who aimed to stay true to Larsson's unflinching tone about social and personal corrosion. The violence does not occur in surprising bursts but actually leads up to them with foreshadowed finesse. Pay attention to the cues, Fincher shows here that he is capable of displaying the most heinous and vehement of acts in filmmaking delicacy, echoing his work in "Seven." Vacillating between claustrophobic close-ups and sweeping, agoraphobic shots of the landscape with nary a person in it is part of his post-noughties repertoire.
Aside from the top-notch acting and the layer of visual metaphor like unfolding origami, I loved the use of snow as a character in the movie. The weather element obscures, reveals, and forces its way into nooks and crannies, punishes and rewards, and freezes the skin of the protagonists. In one scene, Blomkvist tears up pages off a book to throw into a paltry fire, shivering visibly. There are many moods and dimensions to the snow that lends itself well to the metaphor of the scene. There's even snow that blows sideways.
"The Swedish weather was a huge part of this movie," comments Jeff Cronenweth, the cinematographer. "The winter becomes like a silent character in the film giving everything a low, cool-colored light that is super soft and non-direct."
The term "whitewash" comes to mind quite often. With the use of snow, Sweden's link to the Third Reich and the legacy of fascism is commented on without actually being commented on. A grand touch, that.
Because it has such a novelistic and sprawling arc, it has very quiet moments broken up by sporadic plot explosions. As such, your attention may be led astray but if you ever get lost and find yourself scratching your head what the point of a scene is, simply listen to the excellent soundtrack by Trent Reznor and Atticus Ross (who also scored "The Social Network"). The ambient music will provide enough clues to draw you back in.
There are layers of ideas and thoughts centered on the theme of violence, especially sexual violence, and how the seeds that they plant come to fruition and affect the people around it even 40 years later. Violent acts you commit or committed on your person, the fruits of sustained violent behavior through generations, the various forms it takes in rape, ritual murder, incest, psychological manipulation done on individuals and nations.

Tale of two dragons
There's something to be said about Hollywood remakes that often fall flat on their face (see "My Sassy Girl," "Let Me In"). Not so with this one with its faster, sleeker pace. Whereas the original 2009 movie starring Noomi Rapace progressed as patiently as ice melting on a spring day, Fincher packed his chainsaw and blowtorch and a squad of Tyler Durden's space monkeys to this one and sped things along to its inevitable collision and conclusion.
Everything is bigger and more exaggerated. Everything is grander and more vivid. I think the most notable contrast shows in the weathered, lined and worried faces of Blomkvist and Erika Berger (played by Robin Wright-Penn). They're stooping and exhausted, plus, there's something to be said about James Bond now looking paunchy. Craig was in the best shape of his life when he was cast. But it wasn't right for a journalist who spends much of his time hovering over a desk or interviewing sources.
"David [Fincher] told me to get fatter, and it was a struggle, but I managed," laughs Craig.
Personally, it's amazing to see Craig play against type and witness James Bond in extremely delicate, awkward and distressing situations. Blomkvist is an excellent detective and journalist, but he's no man of action (we have Lisbeth for that). The climax of the movie with the killer is painful and visceral on several levels: including the one in which we see Bond helpless to do anything about it.
While Noomi Rapace was a long-legged, lean and tall Swedish beauty with all hardcore curves, Mara Rooney is small, waifish and extremely cute (not even her combat boots and leather can hide it). I never thought for a moment that Rapace's Lisbeth couldn't handle, recover or revenge herself in any of the scenes she was victimized. Rooney, meanwhile, you fear for, care for and weep to see such a pretty young thing defiled in such perverse ways.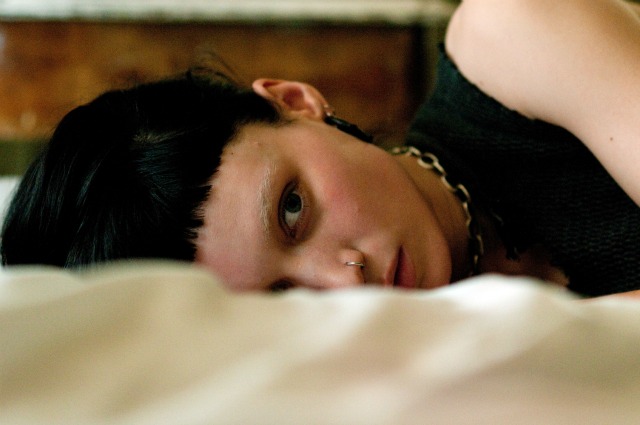 Small, waifish and extremely cute, Rooney plays Lisbeth Salander, the titular hacker girl.
One notable scene stealer is Stellan Skarsgard as Martin Wagner, especially in the big reveal, which I won't spoil. At this point, I will end with two suggestions before I implore you to drop this review and rush out to experience this film: 1) Lisbeth scorned is Lisbeth triumphant, and 2) Watch for the cat. –KG, GMA News
"The Girl with the Dragon Tattoo" opens February 1, rated "R-18 Without Cuts" by the MTRCB.
All photos courtesy of Columbia Pictures
Karl R. De Mesa has been a journalist for the past 14 years. He is also the author of the horror books "Damaged People" and "News of the Shaman," available in print and international e-book formats. His collected non-fiction is forthcoming very soon in "Report from the Abyss." He plays guitar for the post-beat, drone metal band Gonzo Army. When stumped, he lets a stud-collared Snoopy push him around and call him names because it's better than having a polar bear do it. The views expressed in this article are solely his own.