Payments to Prudentialife planholders, creditors stopped on orders of Insurance Commission
Prudentialife Plans Inc, revealed on Tuesday that it has suspended all payments on claims of planholders after it received on February 6 a "Notice of Stay Order" from the Insurance Commission dated February 3, 2012.
Conservator Rosario Bernaldo explained to GMA News' Raffy Tima that the payments were "suspended indefinitely" to enable the firm to implement its rehabilitation plan designed to bring it out of its current financial problems.
Prudentialife started as a pre-need insurance firm in 1978 and later diversified into related businesses. The commission placed Prudentialife under conservatorship on Sept. 13, 2010 after it was determined the the firm was in financial trouble. Last December, the company submitted a corporate rehabilitation plan, which the conservator endorsed to the Insurance Commission.
Bernaldo said there will be consultation meetings on March 2 and March 13 about the proposed rehab program. Planholders, creditors, stockholders, other stakeholders or interested parties may attend the consultations at the offices of the Insurance Commission in Manila.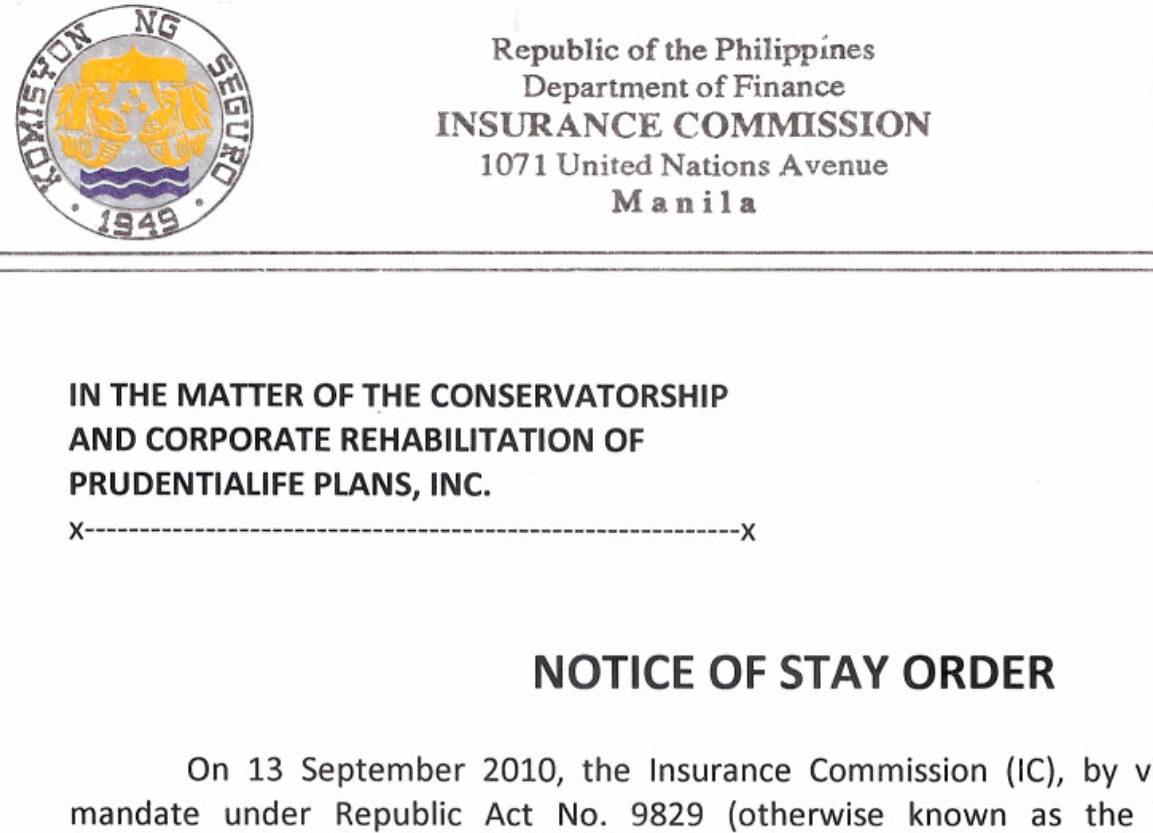 The Insurance Commission ordered Prudentialife Plans Inc. to suspend all payements to planholders and creditors while a pending corporate rehabilitation plan is under review. Screen grab by Earl Rosero
The "Notice of Stay Order" was signed by Bernaldo and Insurance Commissioner Emmanuel F. Dooc. Prudentialife posted an electronic copy of the order on its website.
The order prohibits the firm from "selling, encumbering, transferring or disposing in any many whatsoever any of its properties except in the ordinary course of business." Payment of outstanding liabilities was also stopped.
— ELR, GMA News